Triple Chocolate Banana Caramel Dessert Recipe
Today we are making a dessert with a choc chip base, covered with a banana caramel, a sinfully rich baked chocolate ganache all topped with a gooey chocolate coffee cremeux.
coffee cremeux recipe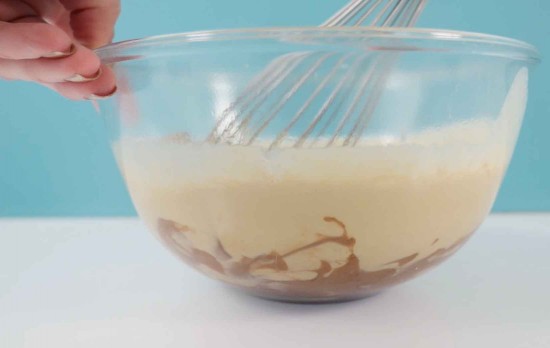 470g (16.58 ounces) chocolate, broken into pieces in a large bowl
120g (4.23 ounces) or 7 egg yolks
60g (2.12 ounces) sugar
1 tsp ground coffee
500mL (16.91 fluid ounces) or 2 cups cream
2 sheets of gelatin bloomed in cold water (optional for a firmer cremeux, I did not use gelatin)
Whisk together the sugar and the egg yolks.
Heat the cream and the coffee in a pan until it just starts to boil.
Whisk some of the hot cream into the yolks. Then add the rest and whisk together. Stir over high heat until it reaches 85C (185 degrees Fahrenheit). Immediately remove from the heat and pour over the chocolate.
Leave that for a few minutes for the chocolate to melt and then whisk it well. If you want a firmer cremeux add the gelatin here and stir through.
Pour the mixture into a hemisphere tinned place int he freezer.
Chocolate Chip Base
(makes enough for 2 bases)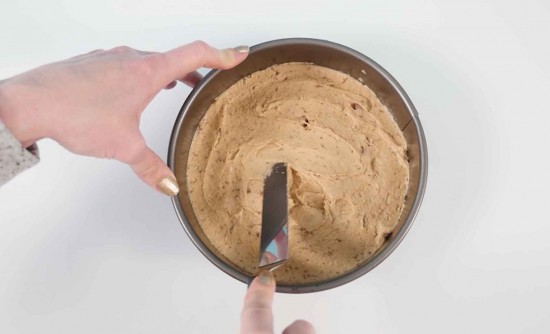 70g (2.47 ounces) chocolate
100g (3.53 ounces) or 3/4 cup icing sugar
30g (1.06 ounces) or 1/3 cup hazelnut or almond meal
1 whole egg and 1 extra egg yolk
170g (6 ounces) or 3/4 cup butter
230g (8.11 ounces) or 1 1/2 cups plain or all-purpose flour
Preheat the oven to 180C (356 degrees Fahrenheit).
Place all the ingredients into a food processor. Alternatively you can grate the chocolate and mix altogether in a bowl.
Lined a loose based tin and spread the paste into an even layer.
Bake for 20 minutes.
Banana Caramel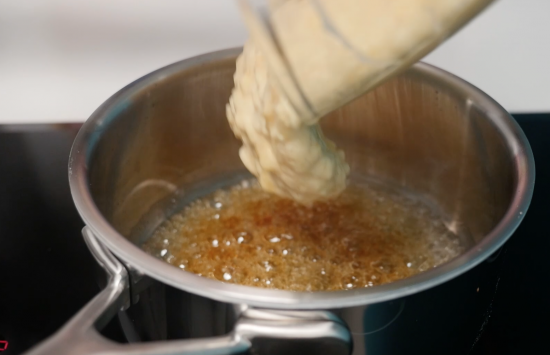 200g (7.05 ounces) or 1 cup mashed banana
40mL (1.35 fluid ounces) or 3 Tblspns cream
10g (0.35 ounces) or 1 tablespoon butter
80g (2.82 ounces) or 1/3 cup sugar
40mL (1.35 fluid ounces) or or 3 Tblspns water
20g (0.71 ounces) or 1 Tblspn glucose syrup or light corn syrup
1 teaspoon vanilla essence
Mash the bananas with the cream and vanilla.
Place the water, sugar and glucose syrup into a pan over high heat. Wash down the sides of the pan using a wet pastry brush then leave it heating over high heat unstirred until it starts to go golden brown.
Tip in the banana and the butter and stir over the heat until it is smooth. Spread over the base while the caramel is still hot.
Baked chocolate ganache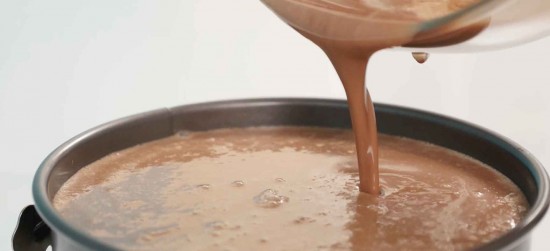 300g (10.58 ounces) chocolate
1 whole egg and 2 yolks
90g (3.17 ounces) or 1/2 cup sugar
400mL (13.53 fluid ounces) or 1 2/3 cups cream
130mL (4.4 fluid ounces) or 1/2 cup milk.
Preheat oven to 150C (302 degrees Fahrenheit).
Whisk together the eggs and the sugar. In a seperate bowl mis the cream and milk. Heat the cream mixture in the microwave until hot. While whisking add the egg mixture to the hot cream. Add the chocolate and allow to melt.
Whisk again until all that chocolate is evenly mixed into the cream.
Pour this mixture over the banana caramel and bake in a slow oven for just under 2 hours. When it is ready it will be set but still have a slight wobble to it (see the video).
Allow to cool in the fridge.
Chocolate decoration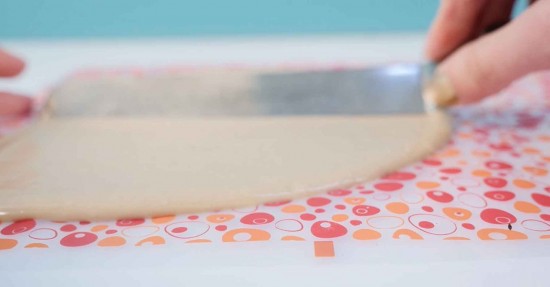 300g (10.58 ounces) white chocolate
Temper some white chocolate, pour it onto some acetate and spread it out evenly.
Lift up the sheet so that you get straight edges and place it back down on the baking paper to set a little more.
Once it is firmer but still flexible wrap it tightly around your dessert.
Spread some more chocolate onto a patterned chocolate transfer sheet and let it start to set.
Use a round cookie cutter to out cut different sized circles. Once set remove the acetate and add chocolate circles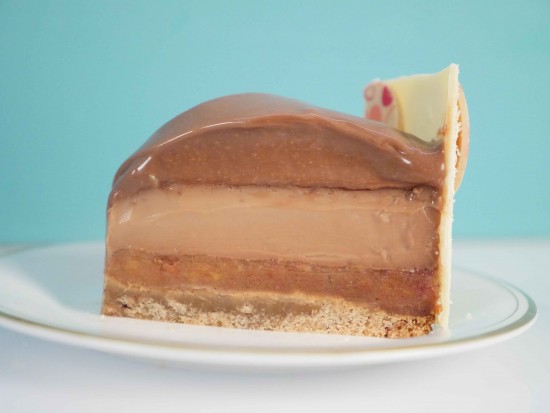 Copyright © 2017 Reardon Media Pty Ltd. All rights reserved. How To Cook That
My Cookbook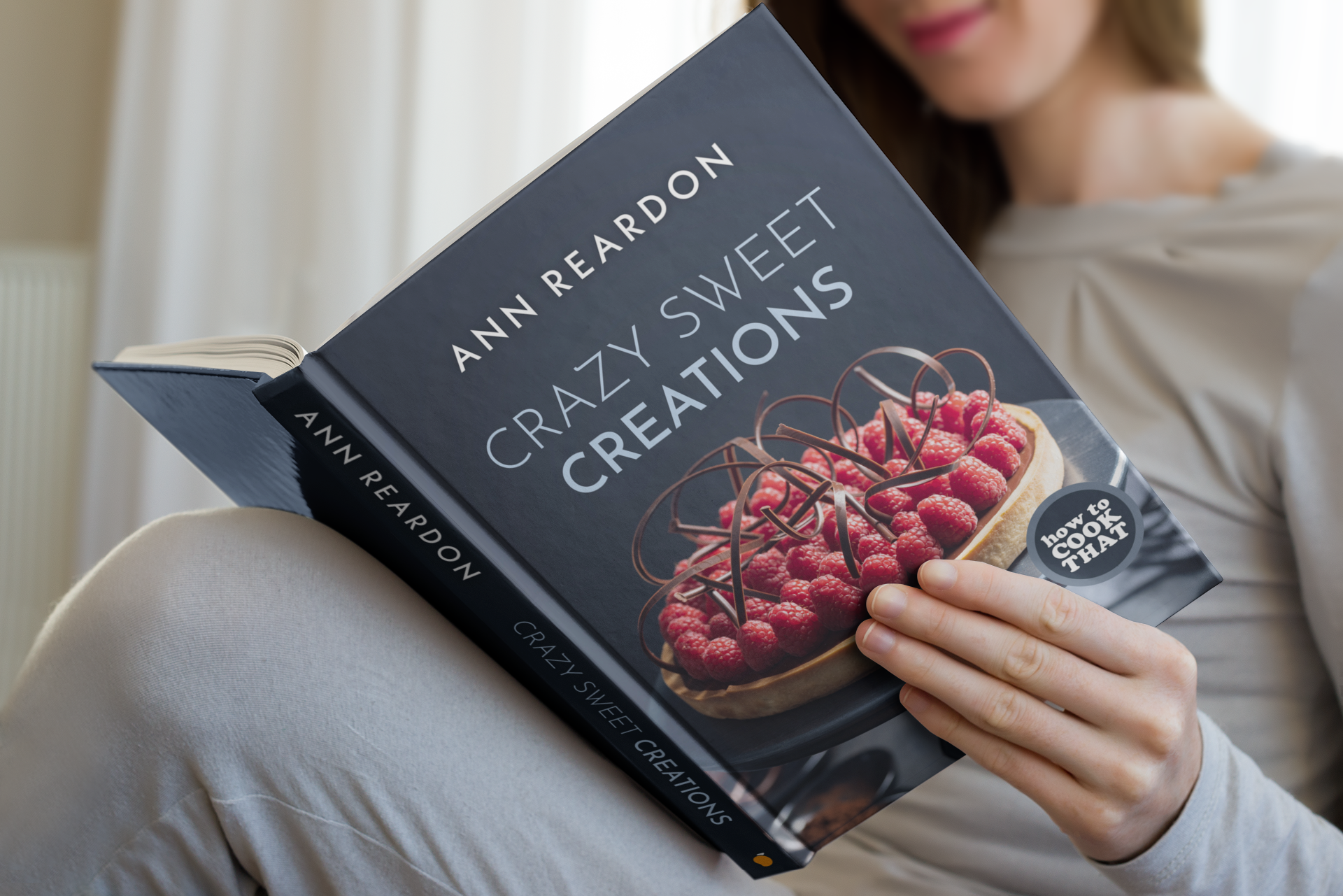 Stores that sell my book listed by country: http://bit.ly/ARcookbook All recipe quantities in the book are in grams, ounces and cups.