Truck Birthday Cake How To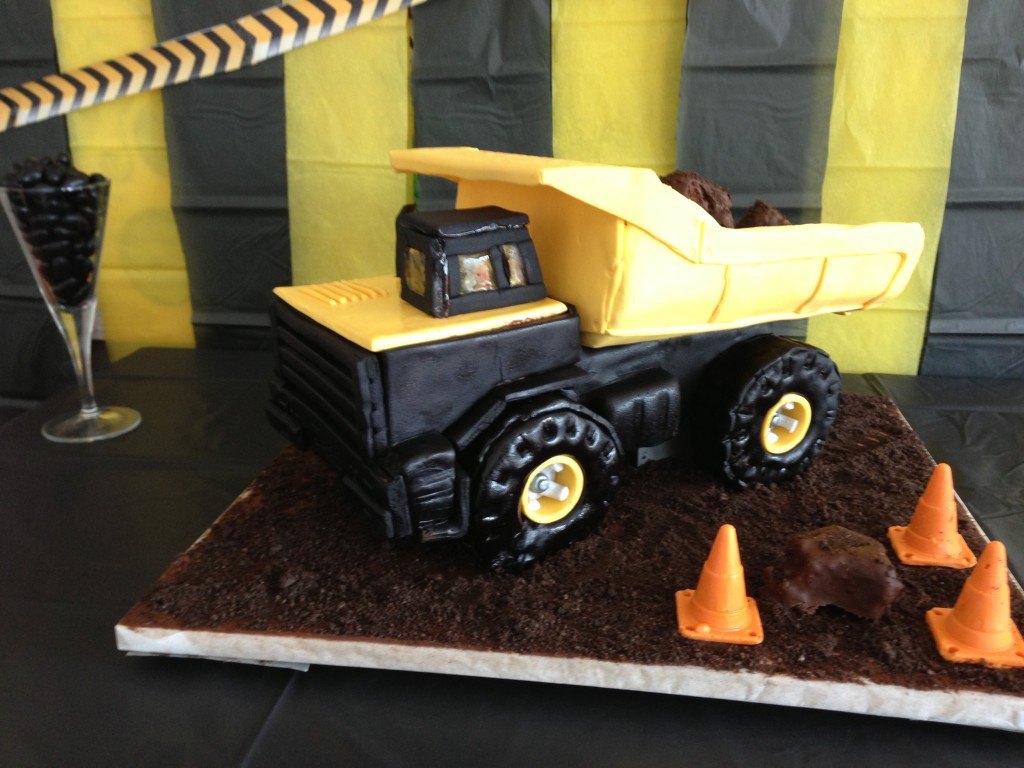 "Truck truck" a cute little nearly two year old voice said when I asked him what type of cake he would like for his birthday. The next day the response was 'raa raa'.  He swapped back and forth between the two answers like he was playing ping pong.  So the final decision came down to what he said on the day I started making it.
When it was finished and in the fridge he said saw it, smiled a beaming smile and then said 'yuck yuck'.  It took me a moment to realize he thought it had real dirt on it, which I have to agree would be yuck yuck. After giving him a quick explanation and a little taste of 'dirt' he loved his 'truck truck'.
To make your dump truck cake you will need:
* The fondant and cake cutting template
* 1 kg (2.2 pounds) white fondant (colour it to make 900g (31.75 ounces) yellow and 100g (3.53 ounces) light grey, to make the light grey mix a little of the black fondant with the white).
* Yellow gel food colouring
* 1.5kg (3.31 pounds) Black fondant (you will have approximately 200g (7.05 ounces) left over, store in two ziplock plastic bags for a later date).
* Thick cardboard to support the cake
* Aluminium foil
* Cake board.  The one I used was 45cm (17.72 inches) x 40cm (15.75 inches)  Tip: make sure it will fit in your fridge before you put the cake on it.
* double quantity of this moist chocolate cake
* ganache (see details further down in step 5)
* non stick baking paper
* isomalt or sugar for windows
* 2 packets of oreos for dirt
*silver luster dust
*rolling pin, knife & pizza cutter for cutting the fondant
* optional rock candy geodes for in the back of the truck
* rectangle cake tin Cake Tin Rectangle Extendable (or see video for alternative) slightly bigger than the cake template.
Step 1. Make the fondant details. This can be done up to a month ahead. You will need to leave at least a few days for the fondant to dry out before you want to decorate the cake. The downloadable template gives you a guide to cut out all the 'make ahead' fondant pieces. Watch the video for instructions.
Step 2. Once the fondant has dried hard make the centre of the wheels. This can be done ahead.
Step 3. Cover your cake board and make your cardboard cake board in the shape of the template.
Step 4. Make your chocolate cake. I used a double quantity of this chocolate cake recipe and baked it at 150°C (302 degrees Fahrenheit) for 3 hours 20 minutes. Place an empty baking tray on a shelf above it to shield the top for heat. Check that it is cooked through to the centre by inserting a knife into the middle. You can do this the day before you want to decorate your cake (ie 2 days before the party). Once it is completely cool cover in plastic wrap to store.
Step 5. Make your ganache and leave in the fridge overnight. The start of the chocolate cake recipe video shows you how to make ganache. For the consistency of ganache on this truck I used 875g (30.86 ounces) chocolate, a mixture of milk and dark chocolate, with 320 millilitres (10.82 fluid ounces) cream (35% fat).  If you are not covering the rocks in the back of the truck in ganache you will only need half as much.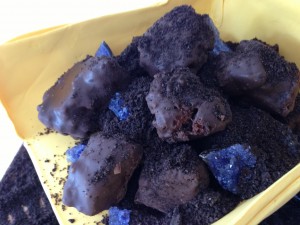 Step 6: Cut out and decorate your cake (either on the day of the party or the day before the party depending on the time of day). Full instructions on the video.  Store in the fridge until ready to use. (If making ahead do not add your truck tray until the day of the party or it may crack or split when it becomes moist in the fridge).
Step 7: Fill your isomalt windows and add to the cake.  If using sugar not isomalt follow the sugar decorations recipe. Do this on the day of the party.  This cake should make 30-35 serves depending on how you cut it.
Step 8: Take a photo and upload it in the comments section below.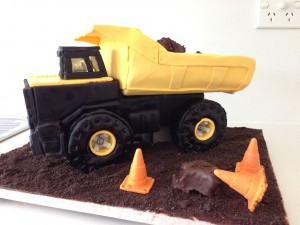 Popping sugar traffic cones: Use a traffic cone toy and reusable food grade casting gel to make a mold of your traffic cone.  Melt some candy melts or nestle white chocolate melts and colour using oil based red and yellow food colouring.    Fill the mold, wait a until it starts setting a little and tip it out.  Fill the middle with popping sugar or filling of choice.  Seal off the top with more melts.  Set in the fridge or freezer and then tip push out of the mold.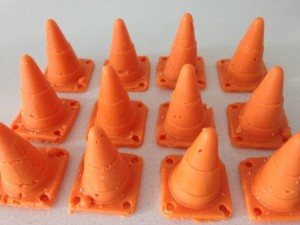 by Ann Reardon How To Cook That
My Cookbook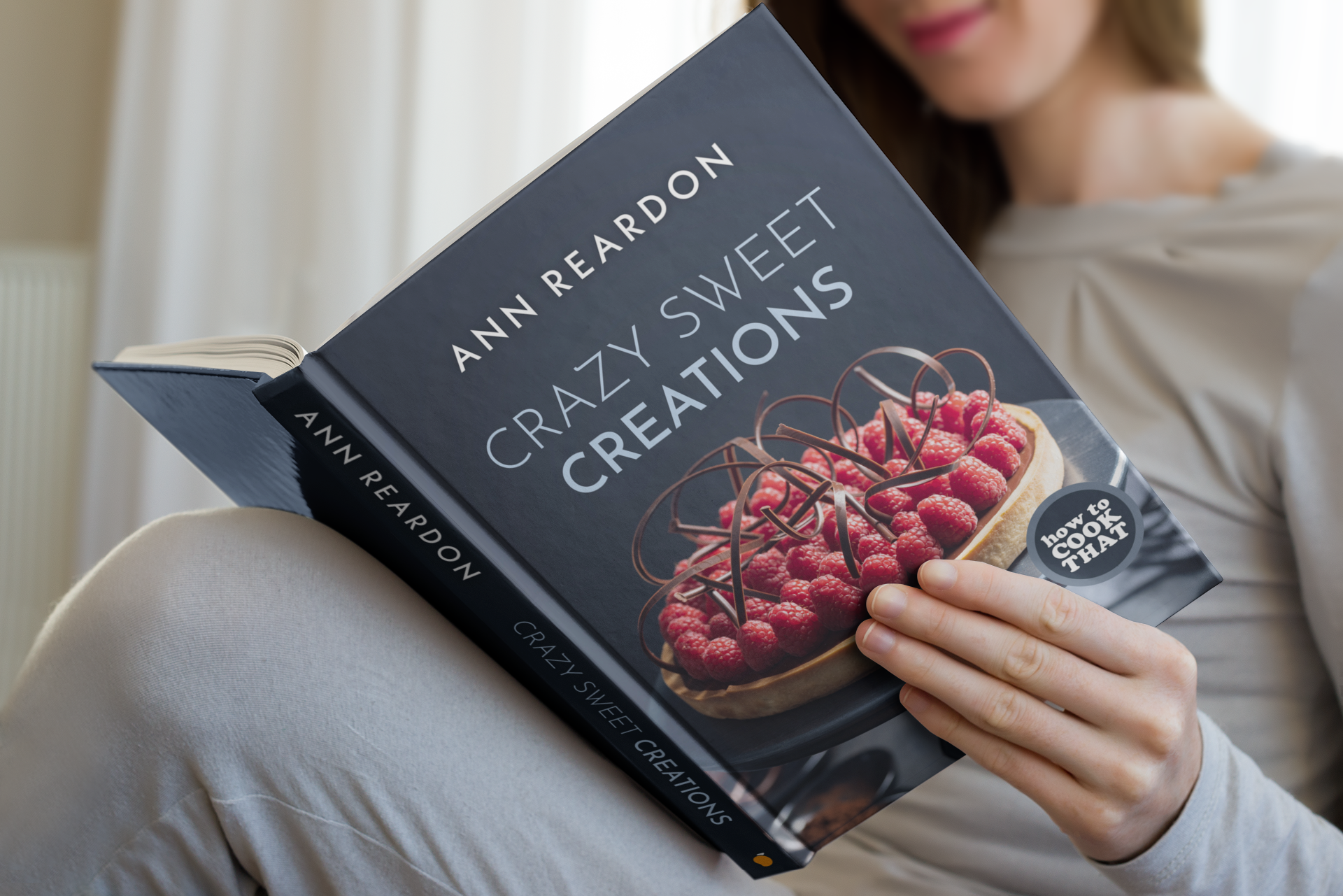 Stores that sell my book listed by country: http://bit.ly/ARcookbook All recipe quantities in the book are in grams, ounces and cups.