Chocolate Cake Recipe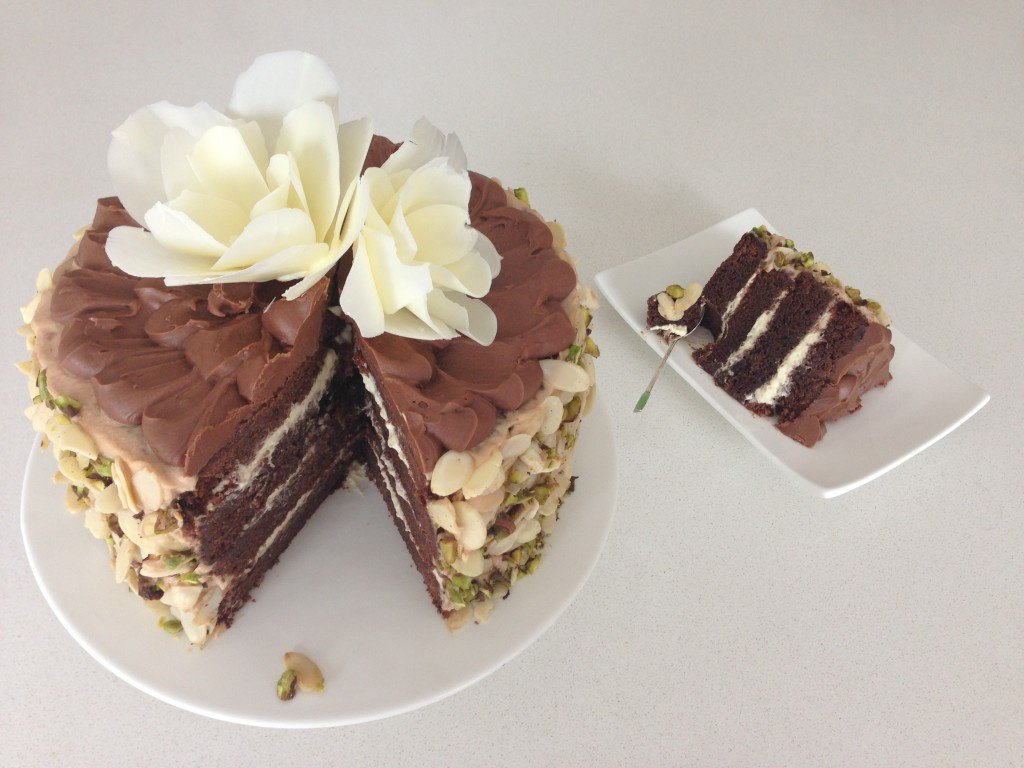 This is a beautiful moist and delicious chocolate cake with the crunch of toasted pistachios and almonds on the side topped off with rich ganache and chocolate flowers. Perfect for Christmas or any other special gathering.
Chocolate Cake Ingredients:
Makes two 8inch (20.32 centimetres) round cakes or 24 cupcakes
200g (7.05 ounces) of 70% cocoa dark chocolate
315g (11.11 ounces) or 1 1/3 cups margarine or butter
8 large eggs
2 1/4 cups or 485g (17.11 ounces) caster sugar (super fine sugar)
1 1/4 cups or 200g (7.05 ounces) plain flour (use GF flour if coeliac, this recipe has been tested with gluten free flour and works well)
1/4 cup or 30g (1.06 ounces) cocoa powder
1 1/2 tsp baking powder
Chocolate Cake Recipe Directions:
Preheat the oven to 180C (356 degrees Fahrenheit).
Place chocolate and margarine into a bowl.
Melt in the microwave (30seconds, stir, 30sec, stir…).
Whisk in the sugar and then the eggs.
Sift flour, cocoa powder and baking powder together and mix into cake mixture until just combined.
Pour into two lined 20cm (7.87 inches) round cake tins.
Bake in the oven for 20-25 minutes.  Test if its done by inserting a skewer into the centre, if it comes out clean it is ready. If the cake is looking done on top but is not yet cooked through put an empty baking tray on the shelf above it in the oven.
For the decoration
600 mL (20.29 fluid ounces) or 2 1/3 cup cream
2 tablesppons icing sugar
dash of vanilla essence
Whip the cream, vanilla and icing sugar until just thickened. Divide your bowl into half and then one half into thirds. Use one of these smaller portions between the layers. Add a generous spoon of ganache to the larger portion and mix in, use this to cover the sides of the cake.
100g (3.53 ounces) or 1 cup flaked almonds
100g (3.53 ounces) or 3/4 cup pistachios, chopped
Roast the almonds and pistachios on a tray in the oven at 180ºC or approx 5 minutes. Leave to cool
Press the nuts onto the side of the cake as shown in the video.
Ganache Recipe
300g (10.58 ounces) milk chocolate
100 mL (3.38 fluid ounces) or 1/3 cup cream
Break the chocolate and put into a bowl. Bring the cream to a boil and then pour over the chocolate. Leave to sit for a couple of minutes and then stir until smooth. Cover with plastic wrap and leave on the bench overnight to firm up.
Use the ganache to decorate the top of the cake.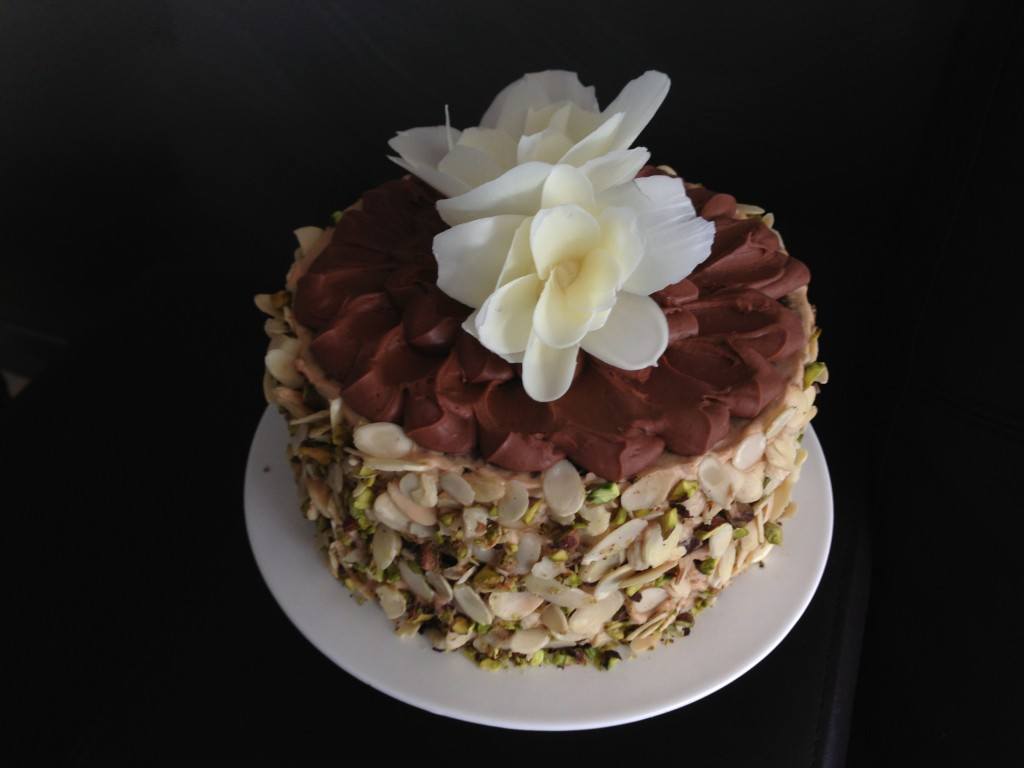 Chocolate Flower Tutorial
How to temper chocolate and what chocolate to use for chocolate decorations
2014
My Cookbook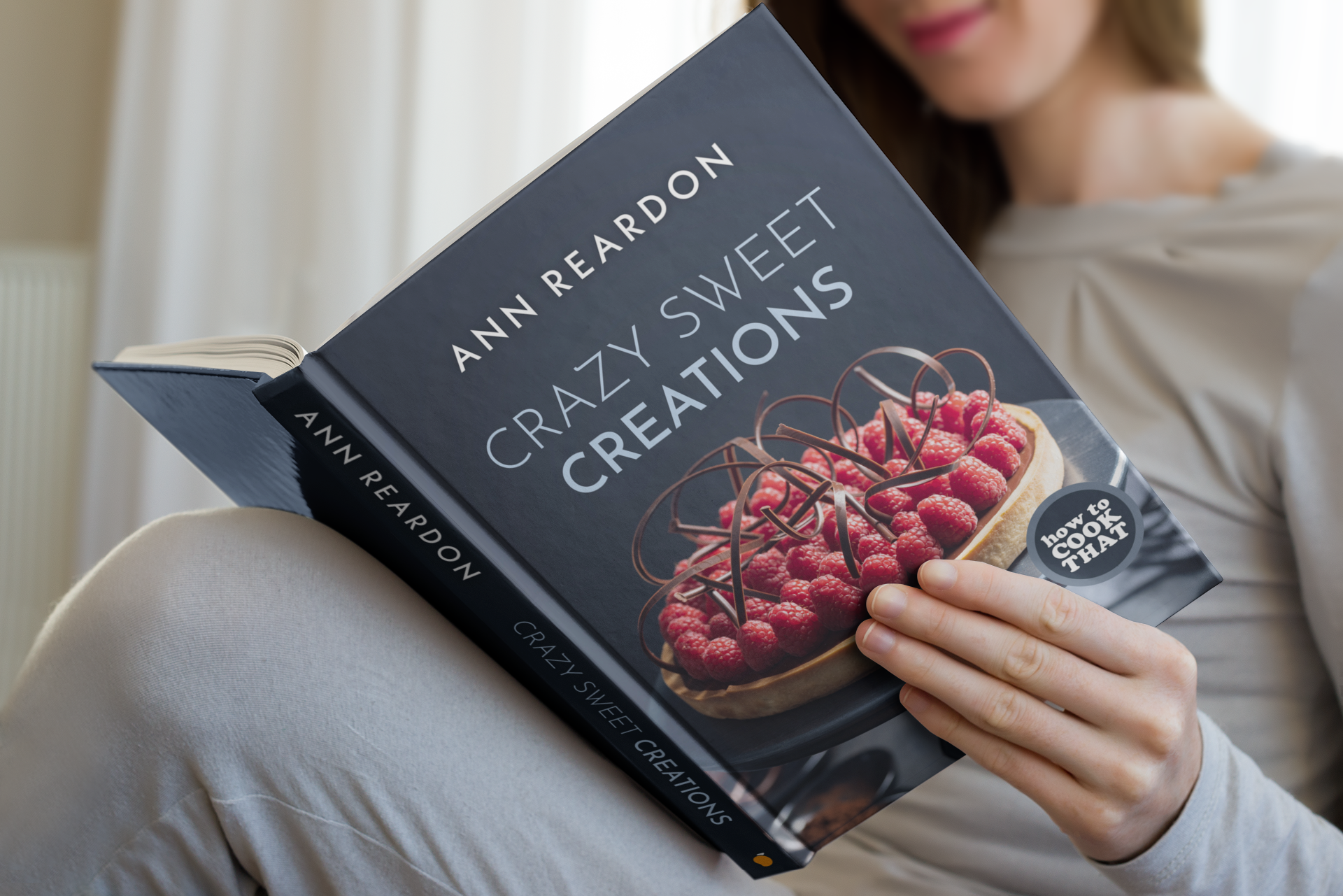 Stores that sell my book listed by country: http://bit.ly/ARcookbook All recipe quantities in the book are in grams, ounces and cups.