Ultimate Blueberry Muffins
Easy
The easiest option is to buy blueberry muffins from the store. They look good, but tend to lack flavour. Try out the expert level muffin with crunchy topping and your tastebuds will thank you. Or if you're up for a challenge make the insane deconstructed plated blueberry muffin with blueberry lace.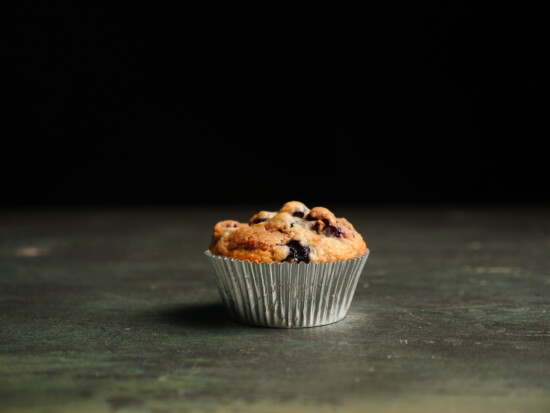 Expert – Blueberry Muffin Recipe
240g (8.47 ounces) or 1 1/2 cups flour
162g (5.71 ounces) or 3/4 cup sugar
1/2 tsp baking powder
2 cups frozen blueberries
1/3 cup or 85mL (2.87 fluid ounces) vegetable oil
1 egg
milk to make up 1 cup or 250mL (8.45 fluid ounces) total liquid
crunchy topping
100g (3.53 ounces) or 1/2 cup white sugar
50g (1.76 ounces) 1/3 cup flour
75g (2.65 ounces)t 1/4 cup butter
1 1/2 tsp cinnamon
This makes more topping than you need, place any extra in a ziplock bag in the freezer until the next time you make muffins.
Place the flour, sugar and baking powder into a bowl and stir with a whisk. Add the frozen blueberries and mix through.
In a measuring jug measure out the oil, add an egg and then top up with milk to make 1 cup or 250mL (8.45 fluid ounces) of total liquid.
Pour into the dry mixture and stir until just combined.
Scoop into muffin cases.
To make the crunchy topping place all ingredients into a bowl and rub the butter into the flour using your finger tips. Sprinkle this mixture over the top of the muffins before baking.
Bake at 180C (356 degrees Fahrenheit) for approximately 15 minutes.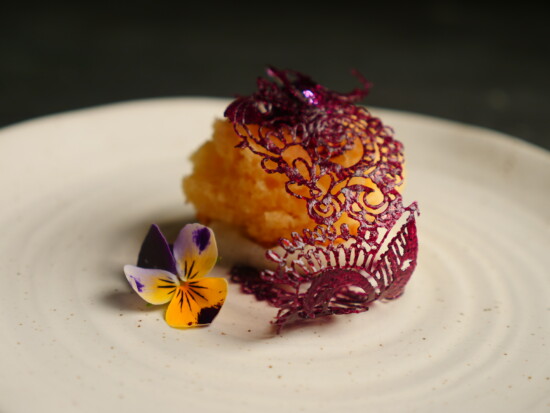 Insane – Pastry Chef Recipe
Blueberry lace
150g (5.29 ounces) blueberry puree (puree blueberries in a blender and strain through a fine sieve to remove seeds)
50g (1.76 ounces) isomalt
20g (0.71 ounces) confectioners or icing sugar
10g (0.35 ounces) glucose syrup
20g (0.71 ounces) maltodextrin powder
This recipe by Loretta Fanella came with very little instructions, here is what I found worked best after many experiments.
Combine half the puree with the rest of the ingredients and stir over high heat for 5 minutes or until the isomalt is melted. Stir in the rest of the blue berry puree. Spray a silicone lace mold with cooking oil then use paper towel to get off as much oil as possible leaving only a thin coat.
Using a spatula spread the blueberry mixture over the mold making sure all the lace is filled with mixture. Place a little bit of mixture on the edge so you can use that to test the dryness of your lace. Place in a dehydrator at 70C (158 degrees Fahrenheit) for 4 hours. While hot and flexible carefully remove from the mold. Place on a sheet of non-stick baking paper and return to the dehydrator at 60C (140 degrees Fahrenheit) for 15 hours to make it crisp. Store in an airtight container or it will absorb moisture form the air and become soft.
White chocolate muffins recipe
2 eggs
100g (3.53 ounces) sugar
150g (5.29 ounces) white chocolate, melted
75g (2.65 ounces) butter, melted
80g (2.82 ounces) yoghurt
80g (2.82 ounces) cream
210g (7.41 ounces) flour
16g (0.56 ounces) baking powder
Whisk together the eggs and sugar. Add the chocolate, butter, yoghurt and cream and mix well. Sift in the flour and baking powder and mix until just combined.
Vanilla Cream
250g (8.82 ounces) milk
70g (2.47 ounces) sugar
2 eggs
35g (1.23 ounces) cornflour
1/2 vanilla bean
Combine all the ingredients and stir over heat until it thickens. Continue to heat for a minute and then leave to cool.
To serve you will need a fresh blueberry rolled in edible glitter and an edible purple flower.
BIG ANNOUNCEMENT
I have been busy over the last year planning, writing and overseeing the photography and layout for my first ever cookbook! There are heaps of my favourite dessert recipes in there with a chapter on pastries, ice-cream, yummy cakes, artistic desserts and of course chocolate desserts. Each chapter has its own intro explaining the food science that you'll need to know for success every time. Booksellers where you can purchase your very own copy: http://bit.ly/ARcookbook
All recipe quantities in the book are in grams, ounces and cups.