10 best easy oreo recipes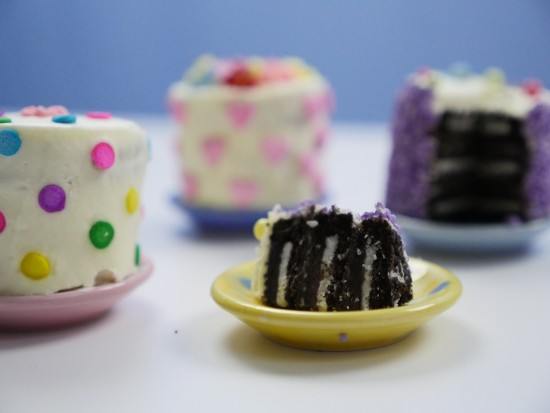 Oreos, who doesn't love them? The lady at the checkout looked at me strangely when I bought an extraordinarily large supply of Oreos for this week's recipes. What followed was LOTS of fun testing a few old recipes and designing delicious NEW ones just for YOU 🙂 The two-ingredient mousse and cute Mini Cakes are my favourite. How about you?
CLICK BELOW for Oreo Art Competition


OREO ART COMPETITION PAGE

Open up an Oreo and draw something – anything you want – in the icing. Take a photo and upload it ON THE PAGE LINKED ABOVE. Vote for your favourite ones (one vote per photo per day, you can vote for multiple photos & you can ask friends to vote too). Please note we'll be running a Google Image Check on winning pictures just to make sure they are not pre-existing photos, so make sure it's your own work made fresh for this competition 🙂
Most of these are quick and easy so you can make them yourself this weekend or just watch the video and dream that you're eating them. We invited some friends over for a BBQ and surprised them with 10 desserts at the end of evening!
3 Ingredient Oreo Truffles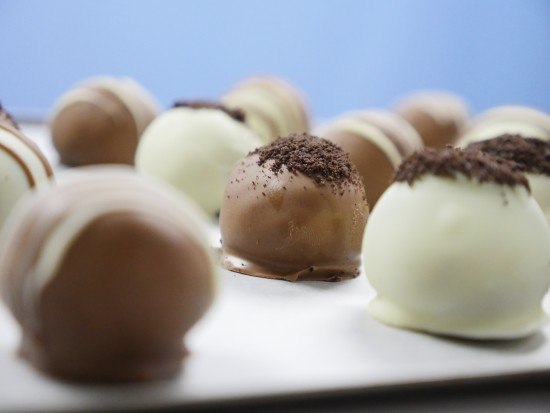 36 oreos
8oz (226.8 grams) cream cheese
16oz (453.59 grams) chocolate to coat
Put the Oreos and cream cheese into a food processor and process on high speed until it begins to form a ball. If you don't have a food processor you can place the Oreos in a bag and crush them using a rolling pin, then mix with the cream cheese.
Take a tablespoon of mixture roll it into a ball and place it on a tray. Once they are made put them in the fridge to firm up.
Coat each one in chocolate and decorate as desired.
Oreo Freakshakes

Makes 4 freakshakes
1 packet oreos thins (crush 1/4 packet to use on the glasses use the rest in the shake)
150g (5.29 ounces) milk chocolate
1 L (0.26 gallons) ice cream
400ml cream whipped
2 packets mini oreos
Take a tall glass and smother the top in tempered chocolate and dip the chocolate into roughly chopped Oreos so they coat the glass. Place into the freezer for a couple of minutes.
Place a generous amount of ice cream into a blender and add oreo thins and some milk. Blend on high speed until it is smooth.
Add some more chocolate to the inside of the glass the pour in the thickshake. Pipe whipped cream on top. Drizzle with chocolate and then decorate with mini oreos.
Serve immediately.
Deep Fried Chocolate Oreos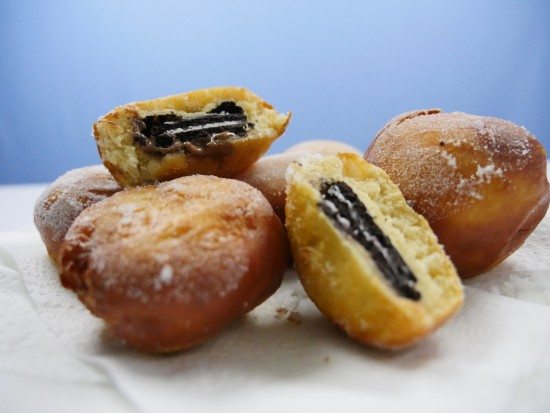 makes 20
1 packet Oreos
donut dough
100g (3.53 ounces) milk chocolate
Make up a batch of donut dough and let it rise once.
Break off a piece of dough flatten it out, add and Oreo to the centre with a square of milk chocolate. Wrap the dough around the oreo sealing it in.
Leave in a warm place to rise.
Deep fry and serve hot.
3 Ingredient Oreo Fudge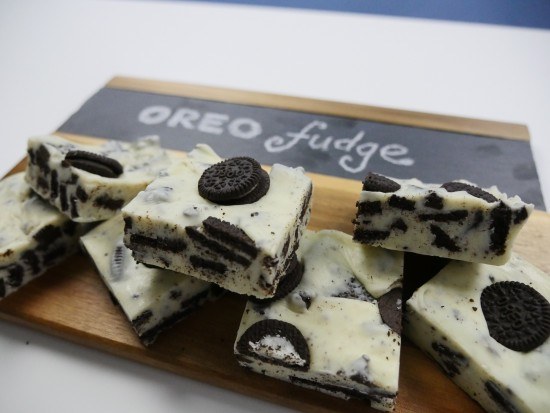 makes one tray 7″ x 11″
1 1/4 cups oreos
200g (7.05 ounces) sweetened condensed milk
225g (7.94 ounces) white chocolate.
1 packet mini oreos to decorate
Roughly chop your oreos.
Pour the sweetened condensed milk over the white chocolate. Heat in the microwave until the chocolate is melted, stirring every 30 seconds. Add in the oreos and stir again, don't over-mix this we want big chunks of oreos not little pieces.
Pour that into a lined tray, then spread it out into all the corners. Add mini oreos on top or you could use some more chunks of normal oreos. Then place that in the fridge to set.
Once it is firm use the baking paper to lift it our of the tin. Slice into squares and place onto board or plate to serve.
Easy Ice Cream Sandwich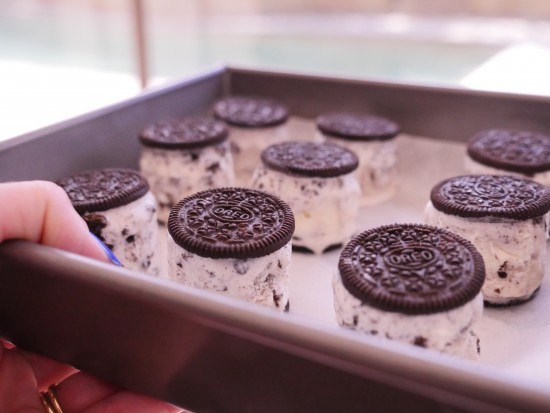 2L (0.53 gallons) vanilla icecream
2 packets of oreos
Leave your ice-cream out of the freezer for 30 minutes to soften. Roughly crush one packet of oreos. Pour it into bowl and add the ice-cream. Stir it all around to mix the oreo chunks and crumbs into the ice-cream.
Spread into a lined baking tray and put it back in the freezer for an hour or two to re-harden.
Open up the other packet of oreos and remove the filling.
Using a cookie cutter cut cylinders of ice cream in the size of the oreos. Place it between two cookies and put back in the freezer until you are ready to serve.
Triple Layer Oreo Cheesecake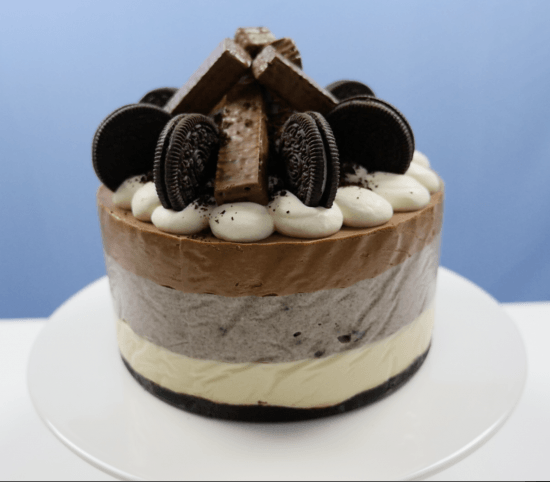 1/4 cup butter
150g (5.29 ounces) oreos for the base
2 Tablespoons gelatin
85mL (2.87 fluid ounces) or 1/3 cup water
750g (26.46 ounces) or 2 3/4 cups cream cheese
218g (7.69 ounces) or 1 cup sugar
190mL (6.42 fluid ounces) or 3/4 cup milk
oreos
100g (3.53 ounces) dark chocolate
180mL (6.09 fluid ounces) or 3/4 cup cream
To decorate:
1 packet oreo wafer sticks
1 packet of oreos
100g (3.53 ounces) chocolate
Melt the butter in the microwave. Process the oreos until you have fine crumbs (or crush with rolling pin), add in the melted butter and stir to combine.
Line the sides and base of a container and press the oreo mixture onto the base. Place in the fridge while you make the filling.
Add the cold water to the gelatin, stir well and leave to one side.
Place the cream cheese and sugar into the bowl of an electric mixer and mix together until you have a smooth mixture. Add in the milk and whip together until there are no lumps. Split the mixture into three bowls making one slightly bigger.
To the first bigger bowl add some vanilla and stir it through. For the second bowl crush up a packet of oreos pour them in and mix them through.
For the last bowl take a scoop of cream cheese mixture and stir it into the melted chocolate, then add the rest and mix together.
Place the cream in a separate bowl and whip to form soft peaks. Split the whipped cream equally between the three bowls but don't mix it in yet.
Place the gelatin in the microwave to melt it. Add three tablespoons of gelatin to the vanilla bowl and fold it altogether. Pour the vanilla layer onto the base then put it in the freezer for 15 minutes.
Add 2 tablespoons of melted gelatin to the oreo layer (microwave fro 10 second burst if you need to remelt it) and mix it together well so your cream and gelatin are all mixed into the cheesecake. Then pour the oreo layer over the vanilla layer and return it to the freezer.
Once it is starting to set and the remaining melted gelatin tot he chocoolate layer fold together and pour over the oreo layer. Give it a little shake to smooth out the top then place in the freezer overnight.
In the morning remove from the container (see video for tips) and place on serving plate. Decorate with whipped cream, oreos and oreo wafer sticks. Cover in plastic wrap and let it defrost in the fridge for at least a few hours before serving.

My super easy 2 ingredient oreo mousse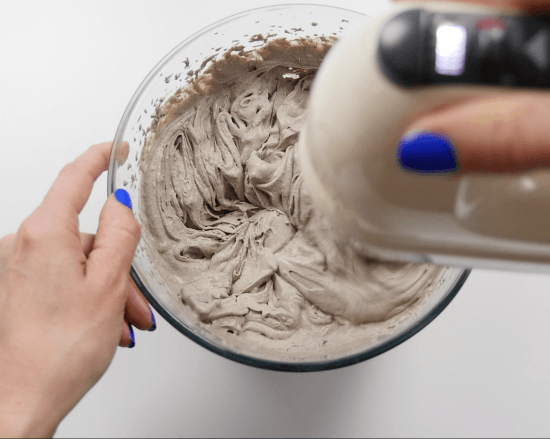 1 packet of oreos
600ml cream (what cream should you use?)
Place the oreos in a bowl and pour over the cream. Cover in plastic wrap and leave in the fridge overnight. In the morning whip into a thick mousse using electric beaters.
Place that into serving glasses and decorate with mini oreos and a sprinkling of grated chocolate.
Cute mini cakes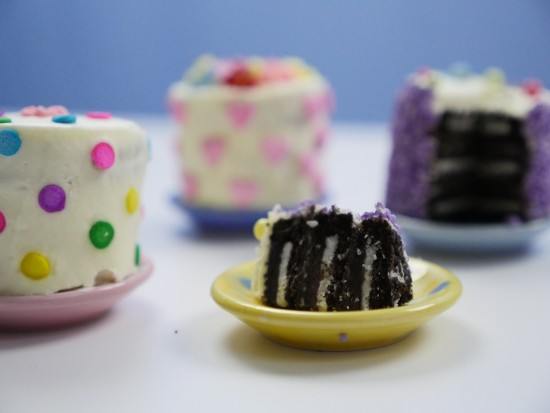 Cream
Icing Sugar
Vanilla
Oreos
Add the vanilla and icing sugar to the cream and whip until you get firm peaks.
Place an oreo on some baking paper, add some cream on top, stack with another oreo, more cream and another oreo. Spread the cream evenly around the sides and level off the top so that it looks like a tall cake.
Decorate as you wish.
Leave in an airtight container in the fridge for a few hours or overnight before serving. This allows the oreos to soften.
Mint oreo plant pots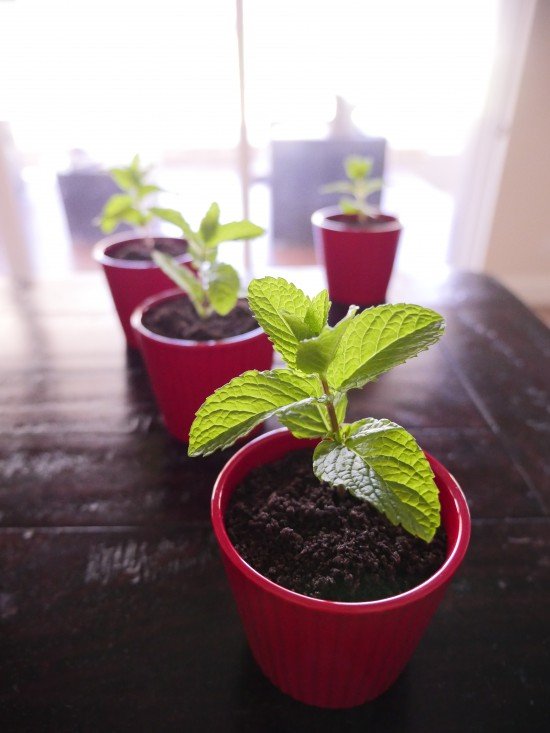 2 ingredient oreo mousse see above)
peppermint essence to taste
oreos
sprigs of mint
new mini plant pots that are glazed inside and out so the can be washed
Stir the peppermint essence into the mousse, youll only need a few drops.
Spoon into mini plant pots. Spoon over some crushed oreos. Just before serving add a sprig of mint into the top of each one.
Oreo Art Competition
OREO ART COMPETITION PAGE

Open up an Oreo and draw something – anything you want – in the icing. Take a photo and upload it ON THE PAGE LINKED ABOVE. Vote for your favourite ones (one vote per photo per day, you can vote for multiple photos & you can ask friends to vote too). Please note we'll be running a Google Image Check on winning pictures just to make sure they are not pre-existing photos, so make sure it's your own work made fresh for this competition 🙂
Copyright © 2017 Reardon Media Pty Ltd. All rights reserved. How To Cook That