Apple Shaped Dessert
I've seen chefs make apple shaped desserts but they all use expensive apple-shaped silicone molds. If you want to make these at home the expense for the mold can't really be justified. So my challenge today is to find a way to make apple shaped desserts without using a mold.
How To Make Apple Desserts
Serves 4
3 Apples, peeled and finely diced
1 container of apple puree
1/4 tsp cinnamon
1 teaspoon vanilla extract
4 balloons washed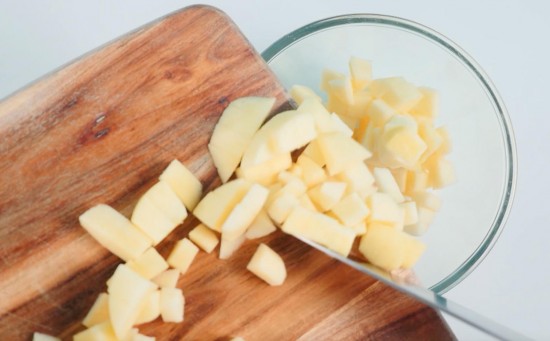 Combine the diced apple with the apple puree and the vanilla and cinnamon. Place spoonfuls of mixture into the balloons. Use you hands to round out the shape and put them in the freezer for several hours.
Vanilla Mousse
500mL (16.91 fluid ounces) or 2 cups milk
1 tablespoon vanilla
2.5 Tablespoons or 35g (1.23 ounces) gelatin gelatin
6 egg yolks
50g (1.76 ounces) or 7 Tablespoons cornflour or cornstarch
80g (2.82 ounces) or 1/3 cup sugar
800mL (27.05 fluid ounces) or 3 1/4 cups cream
empty soda bottle
Add enough milk to the gelatin to make a runny paste and leave to one side. Put the remaining milk and vanilla into a pan.
In a bowl whisk together the egg yolks, sugar and cornflour. Once smooth add the the pan.
Heat over high heat, stirring constantly until it thickens. Keep stirring over a medium heat for another minute. Remove from the stove and stir in the softened gelatin.
Mix in your cream and leave to cool to room temperature.
Whip until it is airy and slightly thickened.
Pour into a washed soda bottle. Working quickly before the mousse sets, take the balloons out of the freezer one at a time, inflate it to about the size of an apple. Twist it and put it over the top of the bottle.
Allow it to untwist, tip it and squeeze the bottle to tip in some mousse.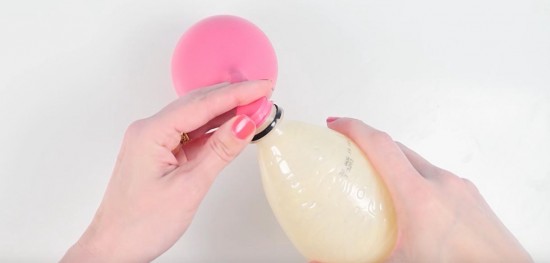 Once that feels full pull the balloon of, tie a knot and return to the freezer for 3 hours to freeze solid.
Apple Stems
Chocolate
Marsala or other similar percentage alcohol (Marsala is 15-20% acohol)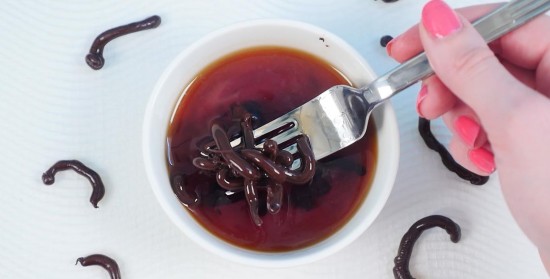 Place a small bowl of marsala int he freezer and leave for several hours to chill.
Melt some chocolate in the microwave and then pour into a piping bag.
Pipe lines into the marsala and once they are set remove with a fork and drain on paper towel. Store in the fridge until you are ready to use them.
Red Apple Glaze
250mL (8.45 fluid ounces) or 1 cup water
2 tablespoons gelatin
300g (10.58 ounces) or 1 1/3 cups caster sugar or superfine sugar
2/3 cup sweetened condensed milk
300g (10.58 ounces) white chocolate
red food colouring
Stir some of the water in with the gelatin and set aside.
Place the sugar, the rest of the water and the sweetened condensed milk into a heat proof bowl and microwave until the sugar is dissolved. Stir after every 30 seconds to make sure you don't get any hot-spots that may burn, microwaves heat unevenly.
Add the gelatin and stir that through until you can't see any more lumps. Then add in your white chocolate and leave it for a few minutes.
Stir the mixture and add colouring of your choice.
Before use let it cool to room temperature.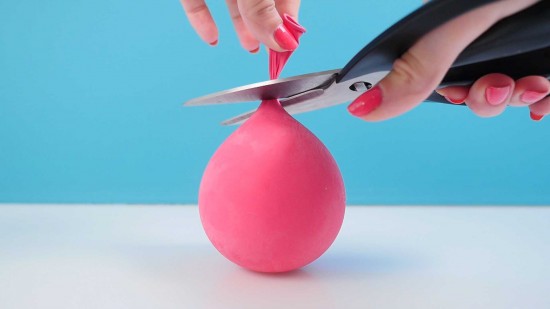 Take your balloons out of the freezer and cut off the top, peel back the balloon and cut the mousse to shape. See the video for demonstration.
Stick a skewer in the top so you can lift the apple. Paint strips with red food colouring and then dip the apple into the glaze.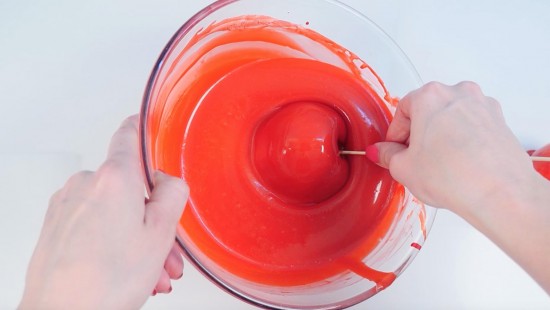 Allow the excess to drip off and then move the apple to a new piece of baking paper or onto plates.
Add the apple stem to the top. Leave for at least 3 hours in the fridge for the mousse to defrost before serving.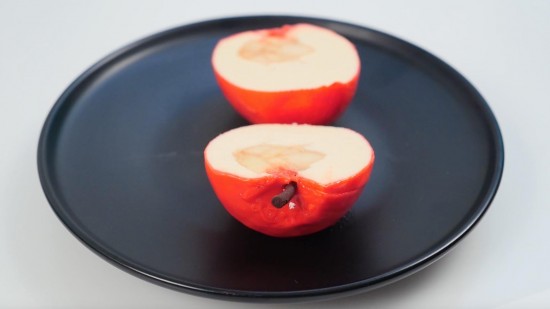 Enjoy
© All Rights Reserved Reardon Media PL
Copyright © 2018 Reardon Media Pty Ltd. All rights reserved. How To Cook That
My Cookbook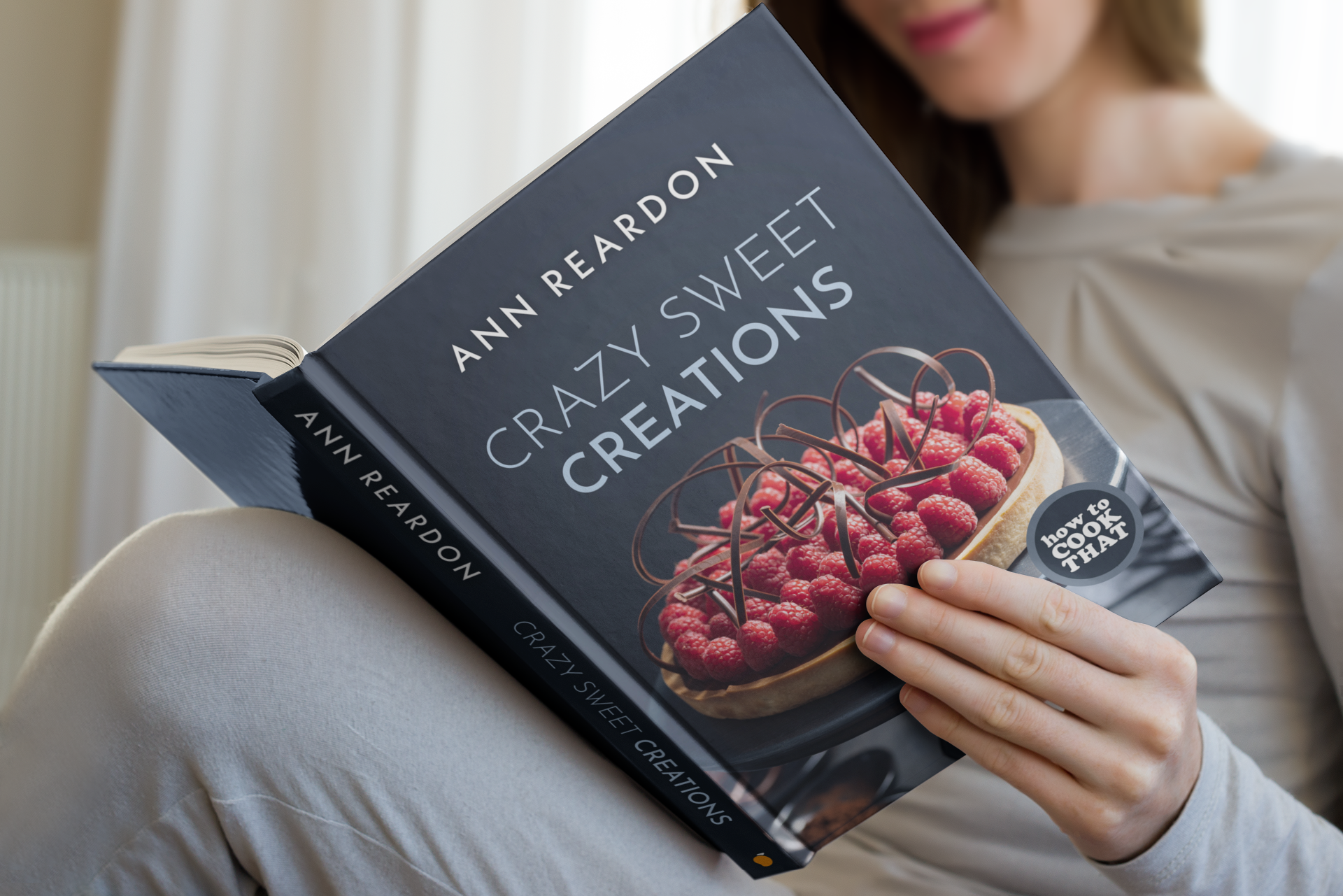 Stores that sell my book listed by country: http://bit.ly/ARcookbook All recipe quantities in the book are in grams, ounces and cups.