Banoffee Pie (Caramel Banana Cream Pie) Recipe with home made banana ice cream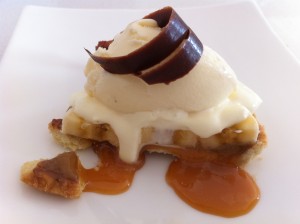 Crisp pastry lined with milk chocolate, gooey caramel, fresh banana, a dollop of cream topped off with home made banana ice cream. Every element of this banoffee pie is yummy, put it all together and it is irresistable.
Pastry
You can make your own pastry – I will post on that another day, or buy individual sweet pastry cases and pre-bake according to instructions on the pack.
Caramel Recipe
There are so many different ways of making caramel for banoffee pie from using tinned pre-made caramel to melted mars bars mixed with cream.  My favourite however is simple dulce de leche (milk caramel).
4 cups or 1 litre (0.26 gallons (0.98 litres)) milk (4% fat)
2 cups or 432g (15.24 ounces) sugar
1 teaspoon baking soda
Vanilla extract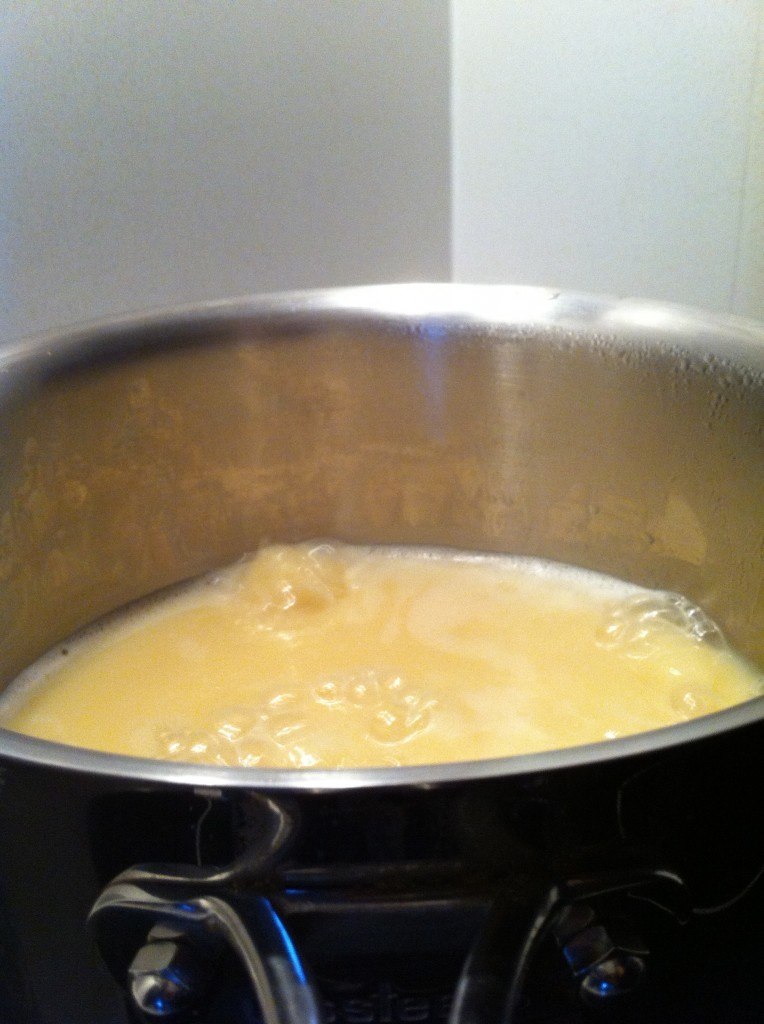 Bring the milk to the boil, add the sugar, vanilla and baking soda. Stir until the sugar is dissolved.
Reduce the heat and simmer over medium-low heat for about 1 hour stirring occasionally.   Periodically place a spoonful on a plate in the fridge to check the thickness of the caramel.  I like mine to still be gooey but you can make it thicker by simmering for longer.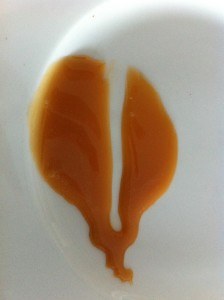 Banana ice cream recipe – without using an ice cream machine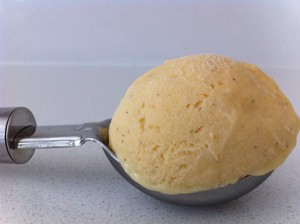 The natural banana flavour of this icecream finishes off the dish so well.  This makes a small quantity so you may wish to double if you want leftovers.
150mL (5.07 fluid ounces) or 1/2 cup plus 1Tbsp and 2tsp cream (35% fat)
100mL (3.38 fluid ounces) or 1/3 cup plus 1Tbsp milk (4% fat)
1 ripe banana mashed
3 egg yolks or 45g (1.59 ounces)
100g (3.53 ounces) or 1/3 cup plus 2Tbsp caster sugar
50mL (1.69 fluid ounces) or 3Tbsp plus 1tsp extra cream (35% fat)
2g (0.07 ounces) xanthum gum
Boil the cream and milk with whatever you want to flavour it, in this case a mashed ripe banana. Leave to cool and then strain through a seive.

Whisk egg yolks and sugar in a bowl over a pan of boiling water until pale and thick. Take off heat and slowly mix in the flavoured cream milk mixture and extra 50ml cream.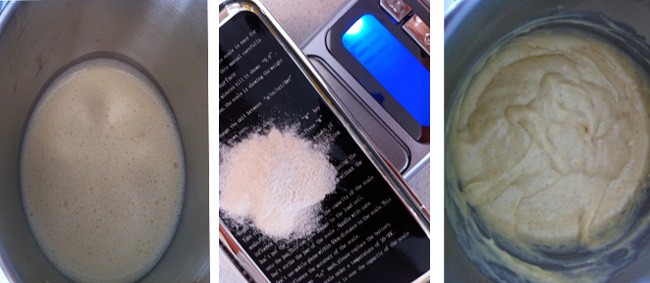 Sprinkle 1g (0.04 ounces) xanthum gum over the surface and whisk in, repeat with the second gram.  The mixture will thicken.  Beat with electric mixers to incorporate air.   Place in a container in the freezer for at least 4 hours to freeze.
The xanthum gum is the secret to not needing an ice cream machine, it is regularly used in commercial ice cream.  If you have a machine I suggest halve the amount of xanthum gum and put mixture in your machine as normal.  But for those of us without an ice cream machine this is an economical way to achieve a delicious home made ice cream with a beautiful smooth mouth feel.
Assembling the banoffee pie


Melt chocolate in the microwave 30 sec stir, 30 sec stir… pour some melted chocolate into each pastry case and place upside down on a sheet of baking paper to drain any excess.
Fill each case with caramel, top with generous slices of fresh ripe banana and a dollop of cream.
Finish with a scoop of home-made banana ice cream and tempered dark chocolate.  Serve immediately.
My Cookbook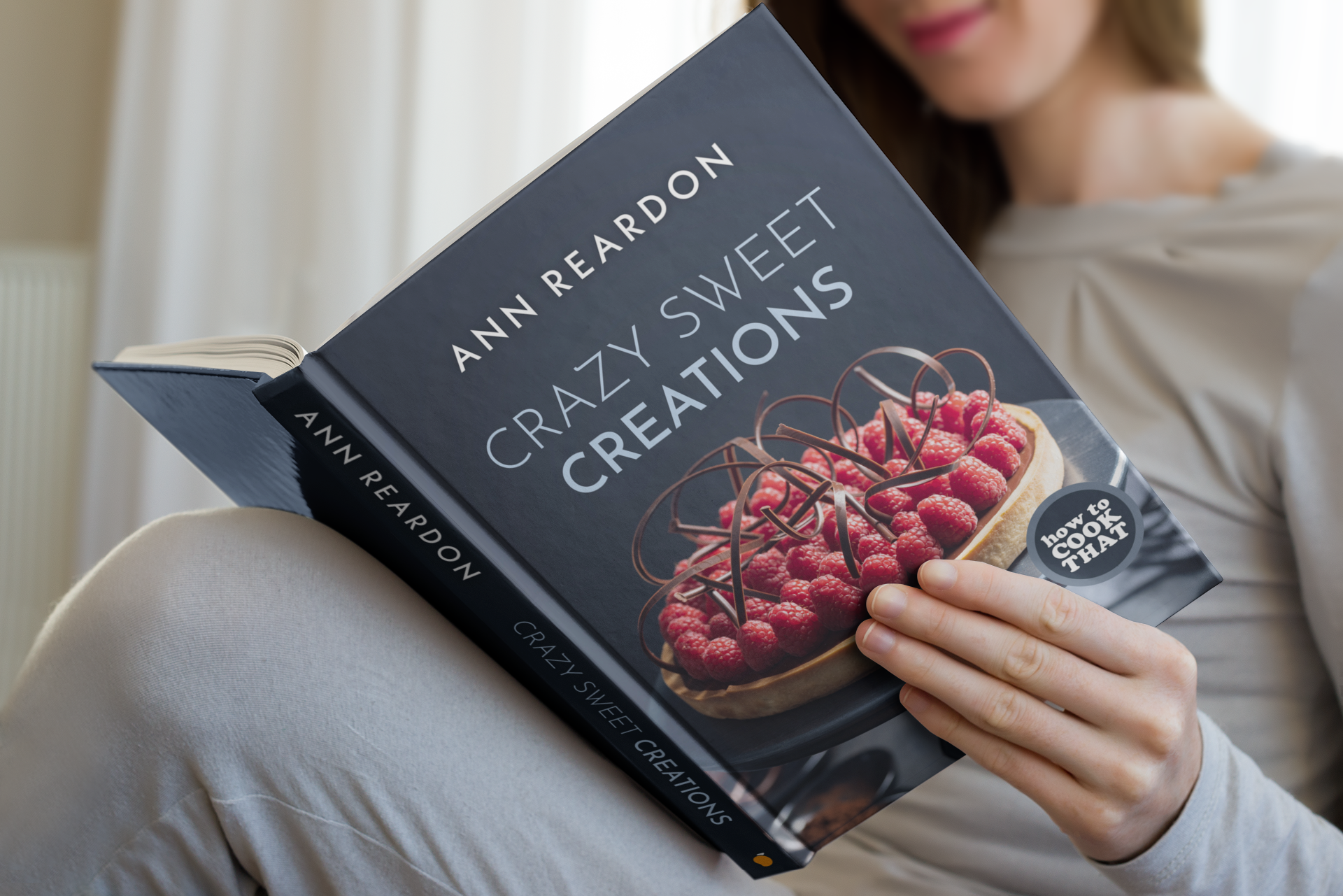 Stores that sell my book listed by country: http://bit.ly/ARcookbook All recipe quantities in the book are in grams, ounces and cups.