Recipe Cake Pops that Taste Good
Cake Pops seem to be everywhere in the US, even starbucks has them, yet I have heard very little of them here in the land down under.  Their decoration can range from pretty, like my ones above, to extraordinarily intricate designs.  So I thought I'd give them a go.
I made three mistakes on my first attempt.   MISTAKE ONE: I assumed this would be a good activity for the kids.  It's not!  The cake balls fall off when you dip them in chocolate unless you are very gentle.  MISTAKE TWO: Buying cheap white chocolate melts, they did not melt and  MISTAKE THREE: thinking they would taste as good as they looked.  Their texture was soggy, and tasted like what I imagine pre chewed cake would be like.
So I experimented and made up two of my own filling recipes for cake pops that are delicious, non-soggy and I believe will better suit the Australian palate.
Brownie Cake Pop Filling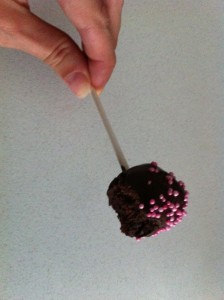 This first filling is based on a great chocolate brownie recipe from my friend Tamalisa
100g (3.53 ounces) or 1/3 cup plus 2Tbsp butter
2 eggs
1 cup or 216g (7.62 ounces) sugar
1tsp vanilla essence and a dash of marsala (optional)
3/4 cup or 120g (4.23 ounces) flour (for those with coeliac I have tested this recipe with gluten free flour and it works well)
1/4 cup or 30g (1.06 ounces) cocoa powder
1tsp baking powder
Melt butter in the microwave.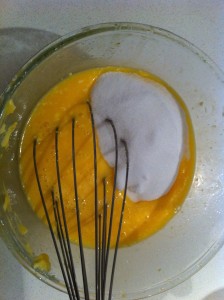 Beat in eggs, sugar, vanilla essence and marsala.
Mix in flour, cocoa powder and baking powder.  Do not over-mix.
Pour into a microwave cake pan and zap on high for 4 minutes.  Then for an additional 1 minute at a time until it is just done.  If it is still a little moist in sections that is just perfect for cake pops.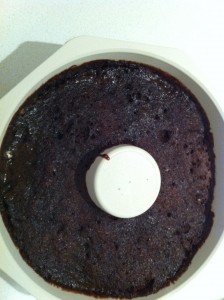 While it is still warm use an ice cream scoop to make it into pop shaped chunks and gently press it into balls.  Do not completely squash the brownie or try to roll it into balls.  The idea is to keep the cake consistency and texture.
Place balls on a tray, allow to cool and then put in the freezer for about 10 minutes.  (for dipping instructions skip past recipe 2).
White Chocolate and Raspberry Cake Pop Filling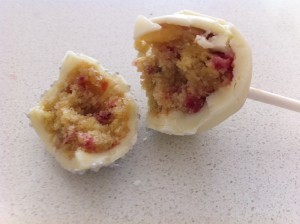 This one is my favourite, but it is harder to form into balls as the raspberries are scalding hot and the texture is a bit more crumbly.
To make these follow the brownie recipe above with the following alterations.  Omit the cocoa powder and add an additional 1/4 cup or 40g (1.41 ounces) plain flour. Add 1 cup or 140g (4.94 ounces) frozen raspberries, crushed into small pieces.
Put scooped cake in the freezer for about half an hour, then gently press into rounded balls.
Dipping Cake Pops
To make cake pops you will need some sort of stand to put them in while they are setting, you can use polystyrene, a big lump of playdoh or go out to the shed, get a piece of wood and drill a bunch of holes in it  – perfect!
You can buy sticks from cake decorating stores, or online.
Take the balls of cake out of the freezer and shape them a little more – not too much or they will crumble.
Melt a small amount of chocolate in a cup in the microwave – 30 secs stir, 30 sec stir…  Then take a stick, dip the end into chocolate and then poke it into the ball – not all the way through.  Place the tray back into the freezer until set.  This first bit of chocolate acts like glue to hold the cake on the stick.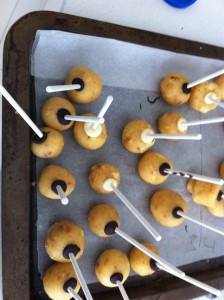 Melt remaining chocolate so you have a full cup of chocolate.  GENTLY dip the pop into the chocolate, do not stir it around or it will fall off.  Tilt the pop or the cup until it is completely covered in chocolate.  Then hold it over the cup and with your other hand gently tap the hand that is holding the stick until the excess chocolate finishes dripping off.
(Note I took the pic above when using the tradition recipe so balls look a lot neater and rounder, brownie ones will not look as smooth as this pre-coated.)
Sprinkle with decorations and place the pops into your stand to set.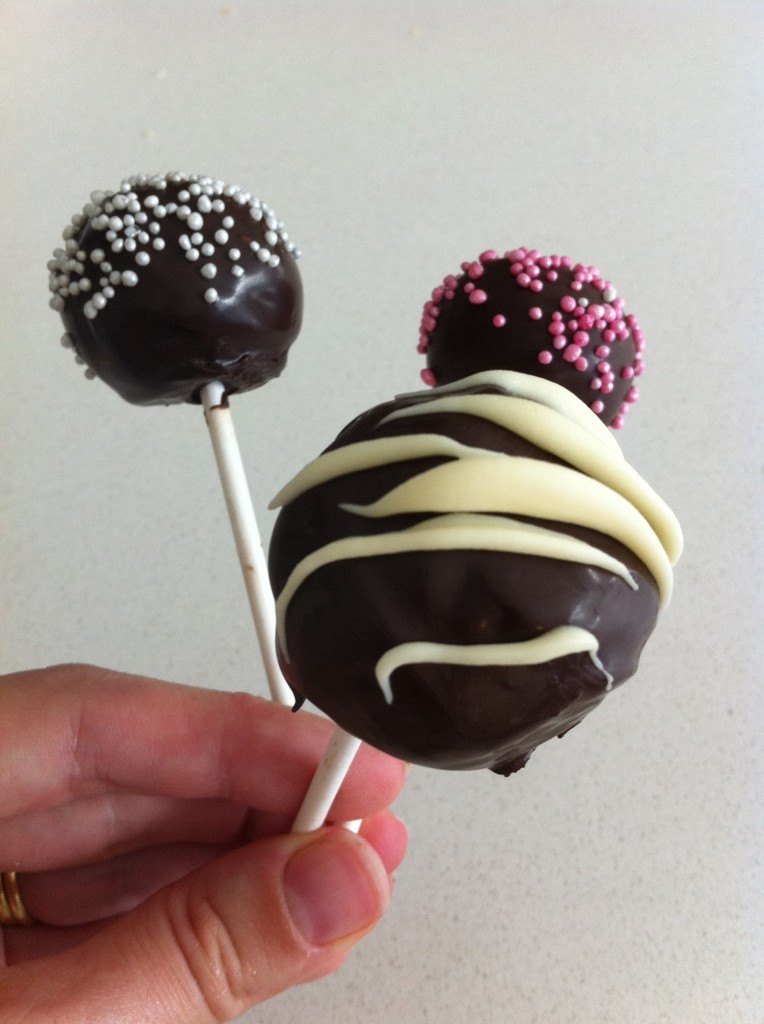 You may also find the following video clips helpful:
Cake pop video instructions for dipping and decorating
Nestle white chocolate melts v wilton candy melts
My Cookbook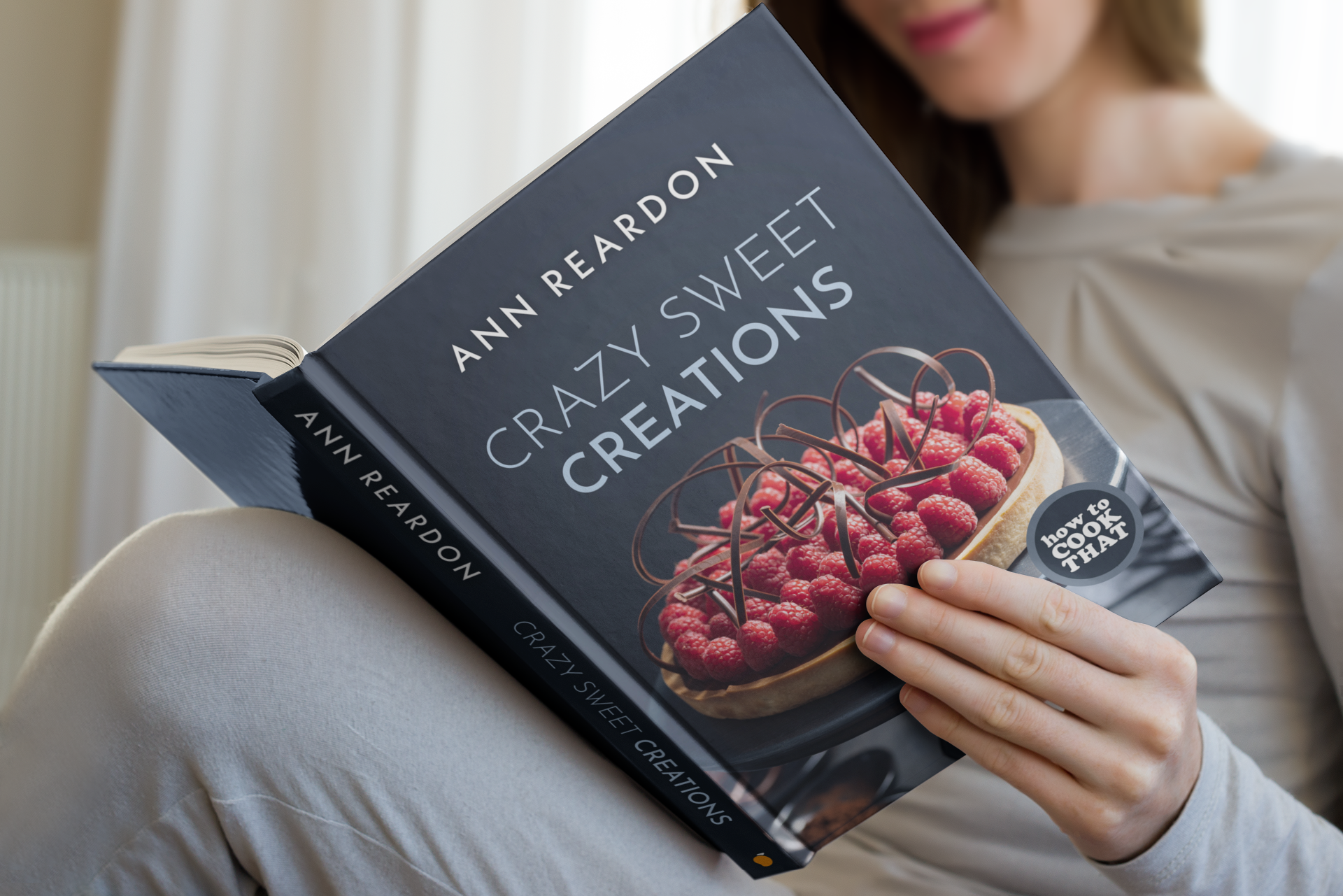 Stores that sell my book listed by country: http://bit.ly/ARcookbook All recipe quantities in the book are in grams, ounces and cups.