Chocolate Paper and Pencils eat your own artwork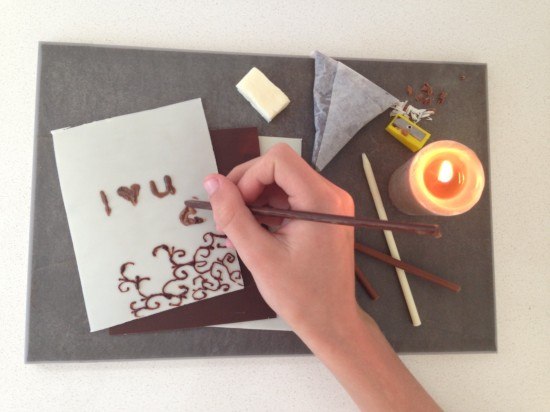 A perfect dessert for a creative evening. The paper and pencils are all made from chocolate and there is a candle to melt the pencil so you can draw to your hearts content.  Add a mini piping bag of ganache and watch your friends blank pages turn into works of art.  Snap some pics and then eat your artwork.
To make chocolate pencils and paper you will need:
375g (13.23 ounces) White Compound Chocolate, 375g (13.23 ounces) dark or milk compound chocolate for the pencils.
Compound chocolate contains vegetable oil instead of cocoa butter and has a higher melting point so it wont melt on your hands.
Candles
Unused sharpeners (not really required just for presentation)
Non-stick baking paper
Cheap plastic drinking straws (don't buy good quality ones)
Tiles or flat plates for serving
Optional – ganache and mini piping bags
For how to make chocolate paper and pencils watch the video below: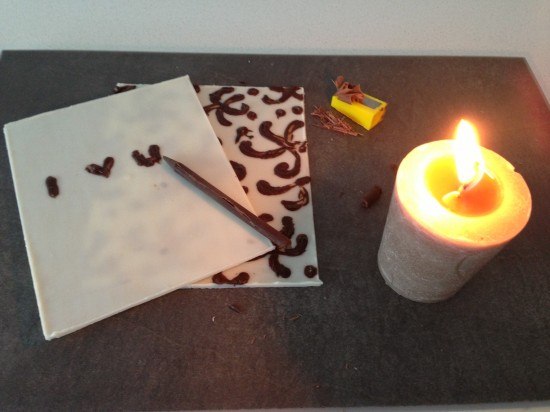 2013
BIG ANNOUNCEMENT
I have been busy over the last year planning, writing and overseeing the photography and layout for my first ever cookbook! There are heaps of my favourite dessert recipes in there with a chapter on pastries, ice-cream, yummy cakes, artistic desserts and of course chocolate desserts. Each chapter has its own intro explaining the food science that you'll need to know for success every time. Booksellers where you can pre-order your very own copy: http://bit.ly/ARcookbook
All recipe quantities in the book are in grams, ounces and cups.