Clash of Clans Cake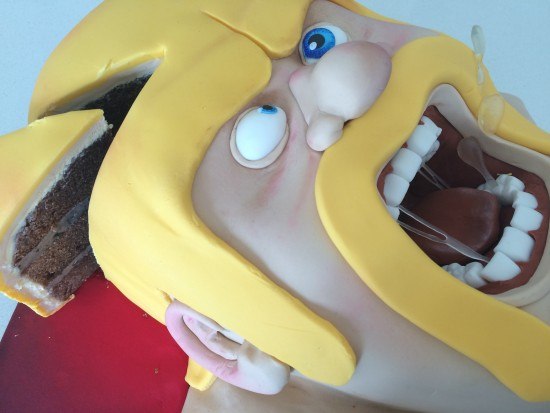 I am really pleased with how this Clash of Clans cake came out. The saliva spraying out of his mouth just finishes it off perfectly. Whether you are good enough at Clash of Clans to represent your country or you can't seem to win many of the battles this cake will be a show stopper at your next party.
To make the clash of clans cake you will need:
3 quantities of my chocolate cake recipe baked in six 8″ round cake tins
Template for cutting the cake and fondant pieces
10in (25.4 centimetres) square cake board
cocoa powder and pink and black petal dust or powdered food colouring for shading
Fondant
*Note: These amounts are the actual amounts used on the cake you will need more of each colour
to make it easier to roll it out and cover the cake.
180g (6.35 ounces) red fondant to cover the board (optional)
445g (15.7 ounces) yellow fondant
24g (0.85 ounces) brown fondant
810g (28.57 ounces) his skin tone fondant
149g (5.26 ounces) gum orangey brown fondant
16g (0.56 ounces) blue fondant for eyes
69g (2.43 ounces) white fondant
30g (1.06 ounces) black fondant
Cookies and cream frosting.
900millilitres (30.43 fluid ounces) cream (35% fat)
6 tsp vanilla
7 1/2 cups or 945g (33.33 ounces) icing sugar
140g (4.94 ounces) cookies of your choice, crushed
Put the cream into a bowl and whip it on high. Keep whipping the cream until it splits into the watery part and the fat. Strain off the liquid. Then return it to the mixer and mix some more to release any more liquid and strain that off too. Repeat until there is no more liquid. Add the vanilla and icing sugar and whip until you have a thick smooth creamy frosting. Place two thirds of it into a bowl and mix through crushed cookies of your choice.
White Chocolate Ganache Frosting
750g (26.46 ounces) white chocolate
250millilitres (8.45 fluid ounces) cream (35% fat)
Heat the cream then pour it over the chocolate. Stir until smooth. Allow to cool over night at room temperature. Whip with the reserved 1/3 of the vanilla buttercream from above.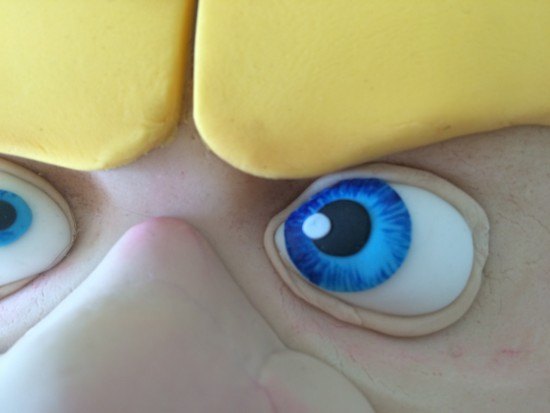 For this eyes roll a ball of white fondant and shape it to the size shown on the template so it is rounded and you can see the black line around it.
Roll out some light blue fondant and cut out two circles in the size you can see on the template. Add them to the eye. Using a little water to make them stick. Then add the black pupil again using the template to get the size right. Usually the iris and pupil would be the same size but by having them different makes him appear cartoony and putting them cross eyed make him look a bit crazy.
Next take some blue gel food colour and paint some around the edge of the iris coming in towards the middle. Then add a tiny bit of white to bring the eye to life.
For the saliva melt some isomalt in a saucepan and drizzle it onto some non-stick baking paper. Once it is dry, position in the mouth.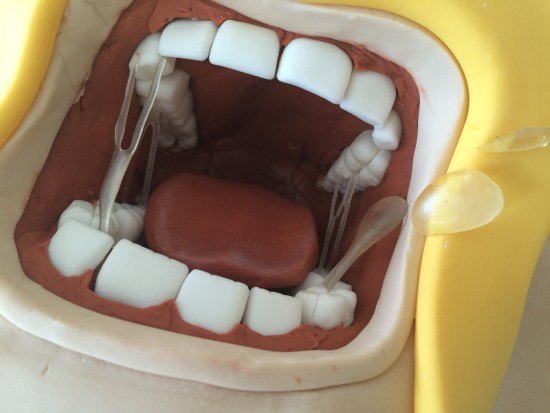 Copyright 2015 How To Cook That
My Cookbook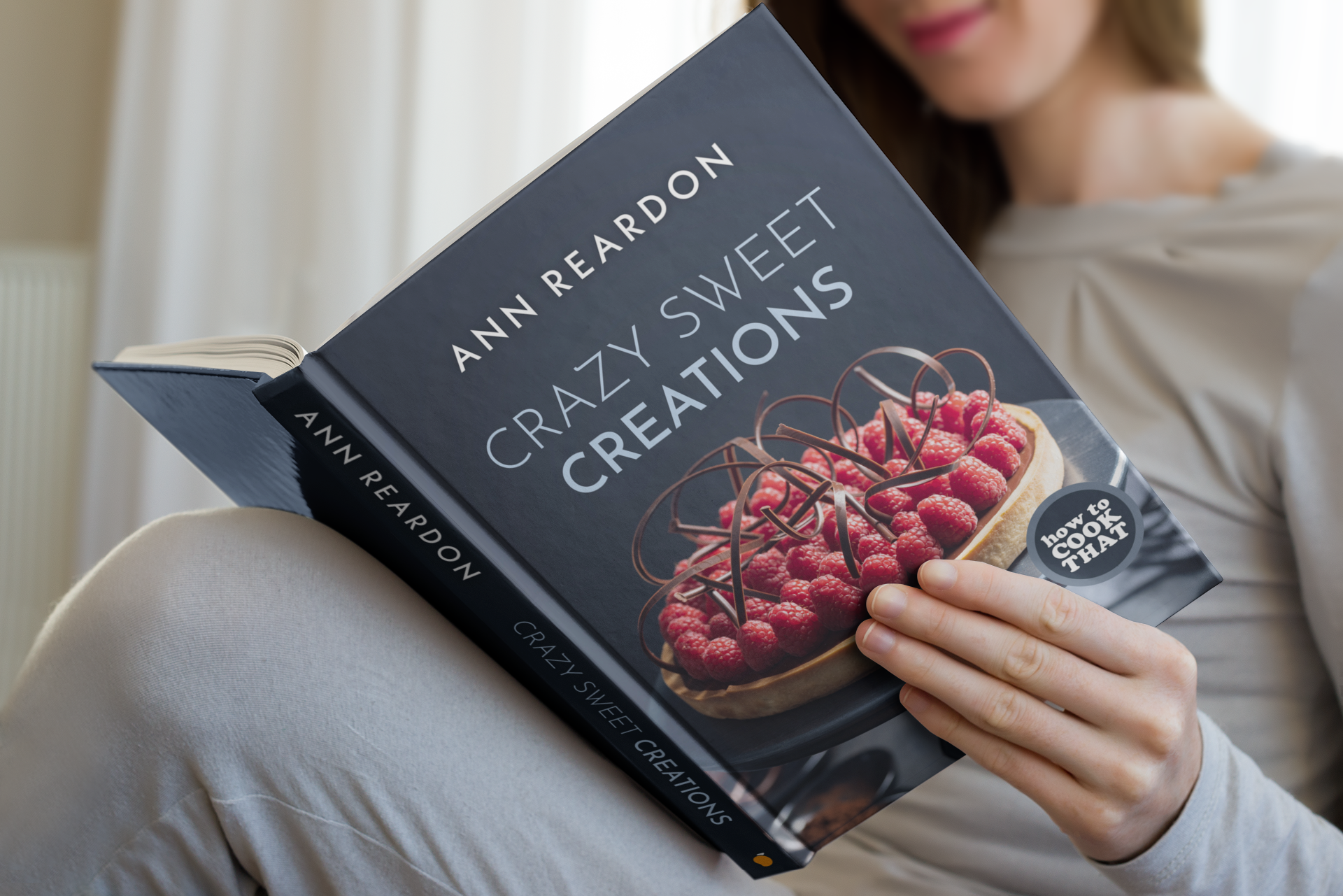 Stores that sell my book listed by country: http://bit.ly/ARcookbook All recipe quantities in the book are in grams, ounces and cups.