Entremet Recipe – creme brulee, chocolate mousse, chocolate brownie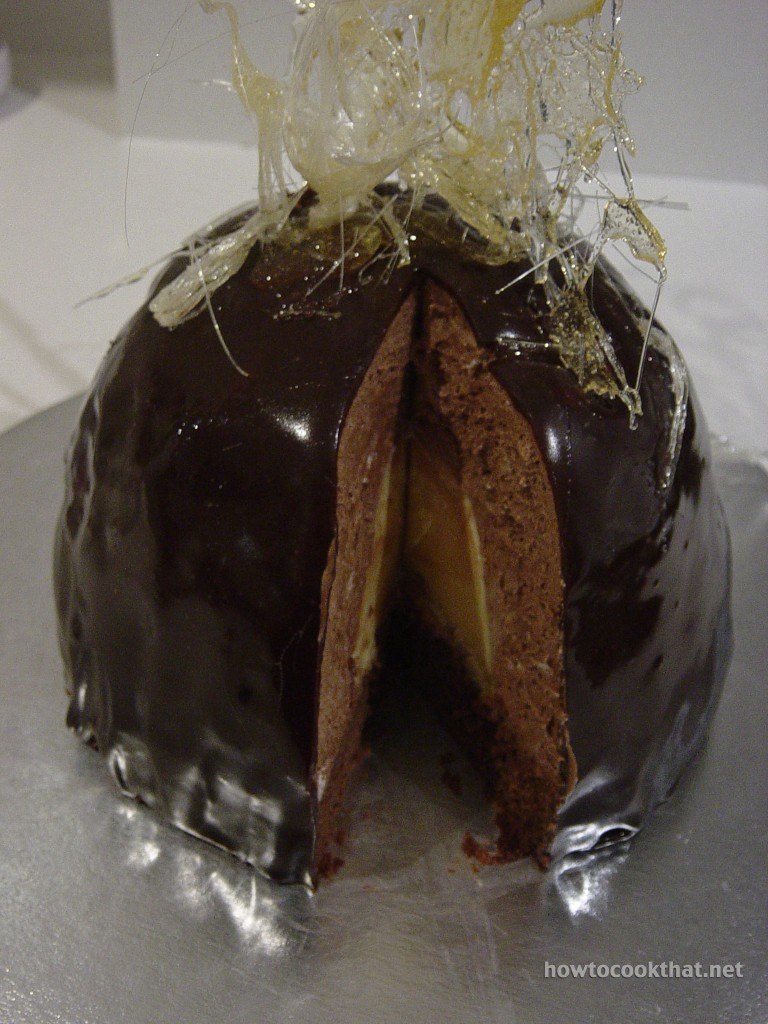 The perfect dessert for someone who likes a little bit of everything. "This is the yummiest thing I have ever tasted in my life", was a comment from one of our beautiful dinner guests. Entremets are amazing to eat but can seem complex to make because of the sheer number of elements involved.  Here is my secret…  make the individual components on seperate occassions as individual desserts for guests (chocolate mousse one night, creme brulee another…).  Double each recipe and freeze what you need for the entremet.
What is an entremet?  In pastry chef terms it is a multi layered dessert using different textures – something cakey, creamy, crunchy, jelly and moussey.  Each of these textural components should be chosen to give a perfectly balanced contrast of flavours and of course it should be beautifully presented.
In this recipe we have orange creme brulee (creamy), chocolate mousse (moussey), chocolate brownie (cakey), chocolate wafer pieces (crunch), and chocolate glacage (jelly).  Sometimes I also add a fresh raspberry jelly layer but did not on this occasion. Once you have made a few you will be confident enough to experiment with your own combination of layers, flavours and textures.
If you want to make it quickly follow this order: 1-brulee (freeze), 2-glacage (leave overnight), 3-brownie 4-chocolate crispies, mousse (freeze whole entremet).  You will still need a couple of days, unless you have a blast freezer.
Creme brulee recipe – makes enough for two large entremet centres
3 cups or 714g (25.19 ounces) cream (35% fat)
1/2 cup or 108g (3.81 ounces) sugar
rind of one orange grated
7 egg yolks or 105g (3.7 ounces)
Preheat oven to 150C (302 degrees Fahrenheit).
Bring the cream, sugar and rind to the boil.  Take off the heat and let the flavour infuse for 15 minutes.  Pour through a strainer.  Whisk egg yolks, slowly add the cream mixture, whisking continuously.
Pour into a dish that is ovenproof and the desired shape – I use a dome shaped pasta bowl but you could use a cup.  Place the bowl into a large oven dish with water – ensuring that the water comes up the outside of the bowl to at least the same level as the brulee is on the inside. If you do not do this it will overheat and split – this is where the egg coagulates into little lumps a bit like scrambled egg floating in the oil from the cream. Ensure that you do not get any water in the brulee. If find it easiest the put the whole thing in the oven and then top up the water in the baking dish from a jug.
Bake for approx 25 minutes – depending on the size of you bowl or until it is set but still jiggly in the middle. Remove from oven and allow to cool completely then cover with cling wrap and freeze.
Chocolate Crisps
Often entremet recipes call for feuilletine flakes, I have not been able to get these at a reasonable price here in Australia.  I substitute them for either crushed fortune cookies or crushed wafer sticks.  Apparently you can also use rice bubbles but I think they have quite a distinctive flavour so chose not to. Whatever you are using crush into small pieces (not crumbs) and then mix in a bowl with enough melted milk chocolate to lightly cover every bit. Then pour onto a tray covered in baking paper and allow to set.
Chocolate brownie Base recipe
100g (3.53 ounces) or 1/3 cup plus 2Tbsp butter
2 eggs
1 cup or 216g (7.62 ounces) sugar
teaspoon vanilla and dash marsala (optional)
3/4 cup or 120g (4.23 ounces) flour (for those with coeliac I have tested this recipe with gluten free flour and it works well)
1/4 cup or 30g (1.06 ounces) cocoa powder
1 teaspoon of baking powder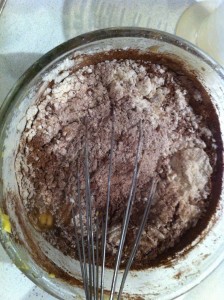 Preheat oven to 180C (356 degrees Fahrenheit).
Melt butter in the microwave, beat in eggs, sugar, vanilla essence and a dash of marsala.
Mix in flour, cocoa powder and baking powder.  Mix until just combined.
Pour into a swiss roll pan and bake in the oven for 10 minutes or until just firm to the touch.  Remove from oven and allow to cool.  Cut a circle the size of your entremet base.
Chocolate mousse recipe
This type of mousse based on italian meringue can not be frozen for a longer than a week so if you are making along way ahead use a gelatin based chocolate mousse instead. (makes enough for one entremet)
150g (5.29 ounces) dark chocolate
100g (3.53 ounces) or 1/3 cup plus 2Tbsp caster sugar
1 tsp glucose syrup
2 tablespoons or 30 millilitres (1.01 fluid ounces) water
2 egg whites or 36g (1.27 ounces) egg whites
100 millilitres (3.38 fluid ounces) or 1/3 cup plus 1Tbsp and 1tsp whipped cream
Melt the chocolate and set aside to cool, then fold in whipped cream. Separate egg whites and whip to stiff peaks. Put sugar syrup and water in a saucepan,stir until it boils, wash down sides of the pan with pastry brush and water. Boil unstirred until temp reaches 120C (248 degrees Fahrenheit). Whisk the egg whites on high speed and pour in the sugar syrup in a thin stream. Whisk until cooled.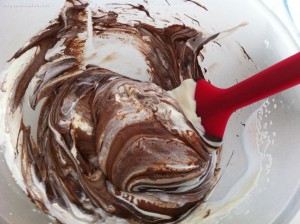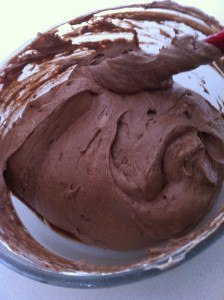 Fold the chocolate mixture into the egg white.  Place into a bowl not quite to the top. Add in the frozen creme brulee and level top with mousse.
Sprinkle the top with chocolate crisps and then place a circle of chocolate brownie on top. Double wrap in plastic and put in the freezer.
Chocolate glacage recipe
The glacage needs to be made at least the day before you need it, you can store it in the fridge for up to a couple of weeks.  The entremet should be frozen for glazing and then defrosted in the fridge. (makes enough for 4 entremets, you can make less or store excess in freezer until needed)
Ingredients:
20g (0.71 ounces) or 1Tbsp plus 1tsp powdered gelatin bloomed in 90g (3.17 ounces) or 1/3 cup cold water
200g (7.05 ounces) or 3/4 cup plus 4tsp cream (35% fat)
300g (10.58 ounces) or 1 1/3 cup plus 1Tbsp sugar
90g (3.17 ounces) or 1/3 cup additional water
100g (3.53 ounces) or 3/4 cup plus 1Tbsp cocoa powder (cocoa will effect the flavour – I like to use cadburys)
250g (8.82 ounces) or 2/3 cup plus 2tsp glucose syrup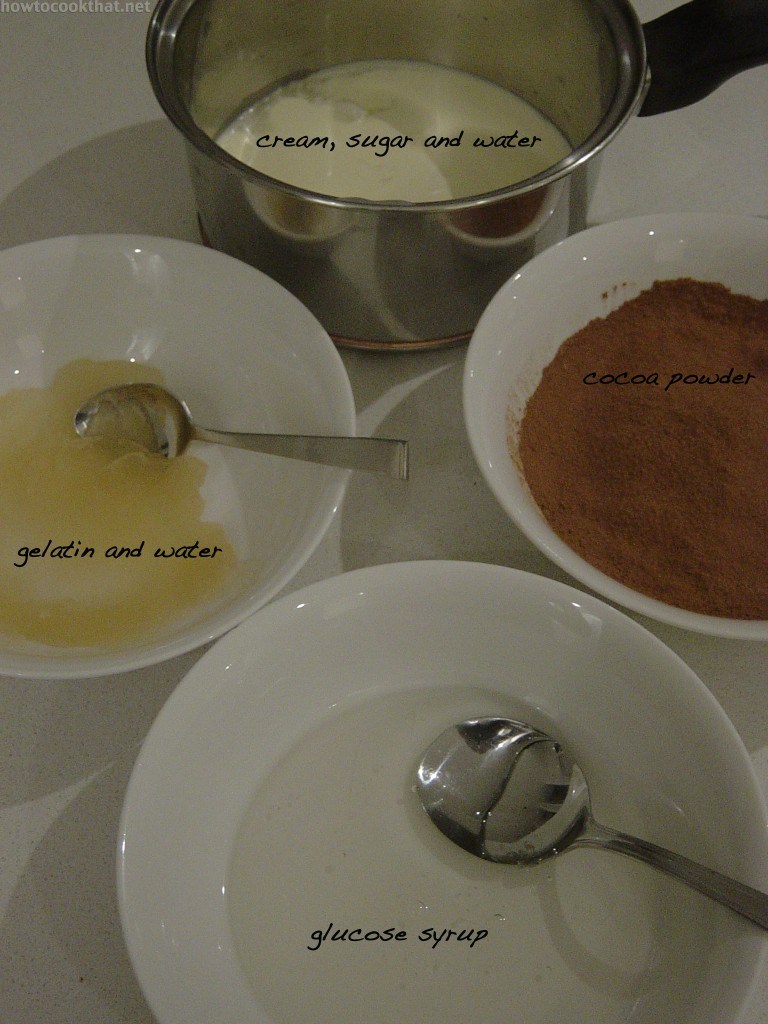 Directions:
Mix the gelatin with the cold water (90g (3.17 ounces)) and set aside.
Heat the sugar, cream and remaining 90g (3.17 ounces) of water until it boils.
Remove from heat, add glucose and sifted cocoa powder.
Stir in the gelatin and mix well.
Strain through a metal sieve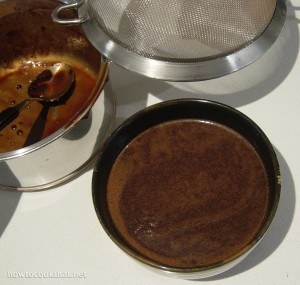 Cover with plastic wrap and chill overnight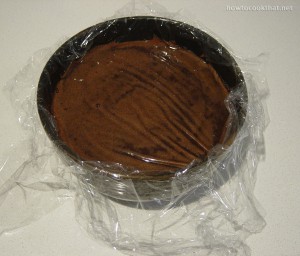 To use the glaze follow video instructions below – melt in the microwave in 10sec bursts until reaches 28-33C (91.4 degrees Fahrenheit)
Cake or entremet to be glazed should be frozen, rub off any ice crystals. Note if you can not get it out of the bowl place the bowl in a sink of hot water to slightly melt the outermost layer- do not allow the water to go into the dessert.
Scoop and pour glaze over entremet allowing excess to drip onto a tray.
Once set transfer to serving plate and decorate.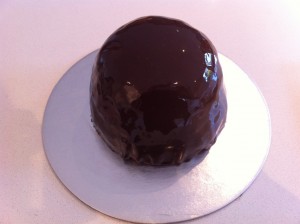 Glacage recipe credit to: patissierjourney
Sugar Decorations
For step by step instructions on making spun sugar decorations see this post spun sugar recipe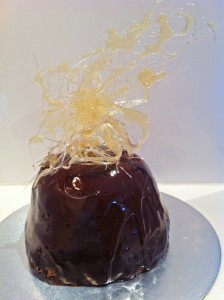 My Cookbook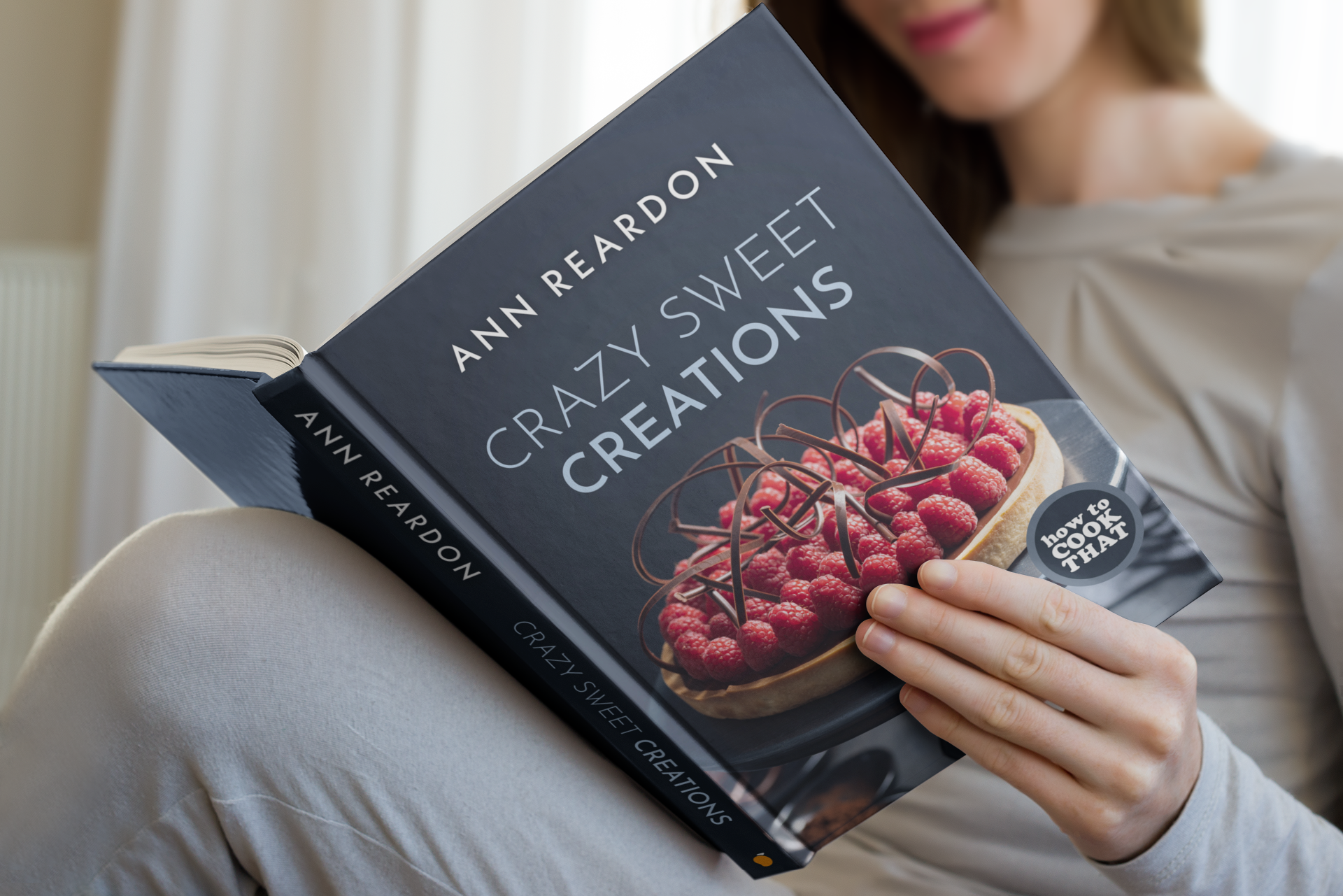 Stores that sell my book listed by country: http://bit.ly/ARcookbook All recipe quantities in the book are in grams, ounces and cups.