Giant EOS Lip Balm Cake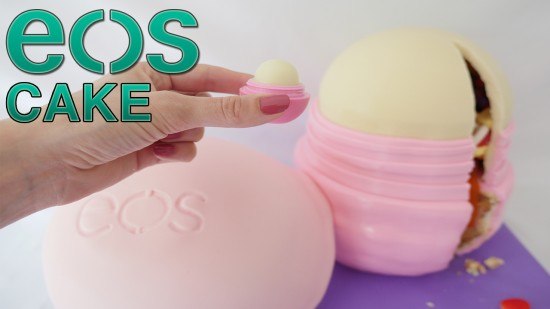 I must admit when the requests started flooding in for 'EOS' I had to google it to find out what it was. Lip Balm! That's right, EOS lip balm is cute little spheres of lip goodness that twist open and close perfectly. They are not easy to get your hands on in Australia, hence why I hadn't seen them in the shops. But I ordered a couple, and because I like all things cute and admire well packaged products, I decided to turn it into a cake – a giant EOS cake. Oh and the top is filled with candy!
For the giant EOS cake you will need:
2 quantities of my perfect sponge cake recipe baked in a pyrex bowl. The one I have is 23cm (9.06 inches) across the top and holds 3.5L (0.92 gallons), to make it correct proportionately it should have been slightly bigger, or the dome should have been smaller. I didn't want to go out and purchase a new bowl for this but if you are buying bowls just for this use my EOS cake template
For between the layers:
Strawberry filling
250g (8.82 ounces) or approx 1 2/3 cups fresh strawberries washed, hulled and quartered
200g (7.05 ounces) or 1/2 cup plus 2 Tbsp strawberry jam/conserve/jelly. Come on people, we need a universal name for this stuff you spread on toast!
Heat the jam until it bubbles then add in the strawberries. Mix for 30 seconds then remove from the heat and let it cool completely. Drain off the excess syrup – you can use this as simple syrup on the cake layers.
White Chocolate Ganache
380g (13.4 ounces) white chocolate
230millilitres (7.78 fluid ounces) cream
Break the chocolate into pieces and place into a bowl. Heat the cream until it just starts to boil and pour over the white chocolate. Leave to sit for a minute then stir until there are no lumps. Leave overnight to firm up at room temperature. Note: if you put it in the fridge it will solidify.
Buttercream
One quantity of buttercream in the flavor of your choice – buttercream recipes here
For the EOS Dome
730g (25.75 ounces) compound white chocolate
1kg (2.2 pounds) mixed lollies / candy / lots of EOS lip balms
hemisphere tin (mine is 21cm (8.27 inches) across the base) and acetate for around the edges
Fondant
2kg (4.41 pounds) pink fondant (or the colour you want your EOS to be)
Other Things
A strong cake board, I used a 50cm (19.69 inches) x 45cm (17.72 inches) piece of mdf (medium density fibreboard or timber board)
Glossy wrapping paper to cover the board.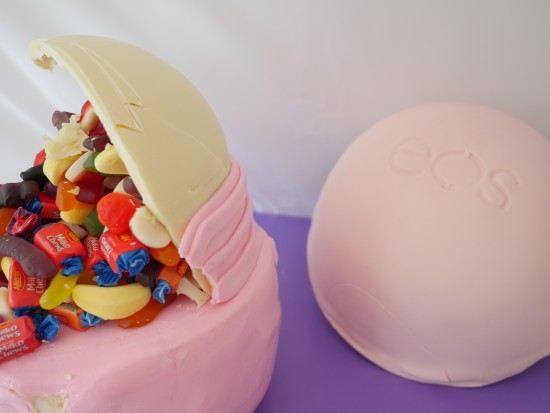 by Ann Reardon How To Cook That
My Cookbook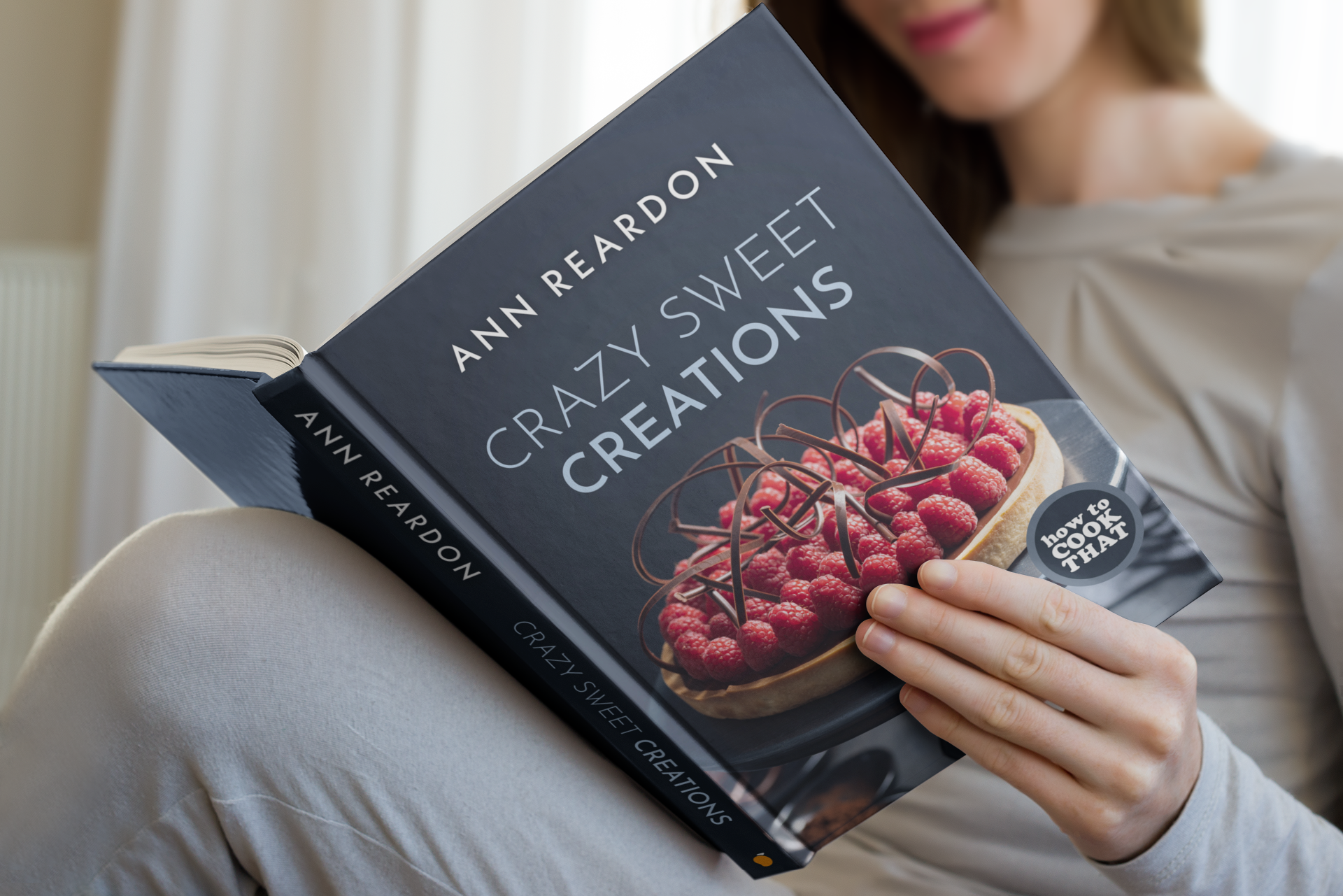 Stores that sell my book listed by country: http://bit.ly/ARcookbook All recipe quantities in the book are in grams, ounces and cups.