Giant Gummy Bear Kit Kat and m&m cake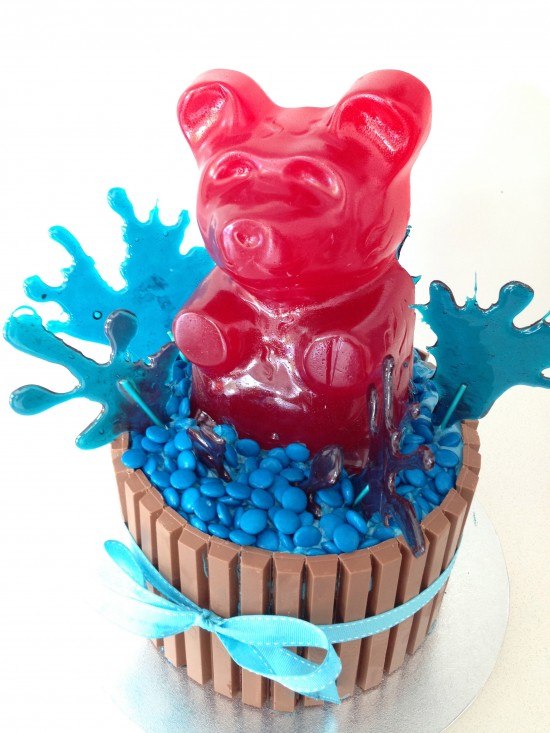 "I made a giant Gummy Bear, Kit Kat and M&M cake today while you were at school, do you want to see a photo?"
"Woooaaahhh that's awesome, can I have some when we get home?"
"I gave it away"
"What!!! Who to?"
"I gave it away on Instagram"
"Muuuum!! I would have eaten that."
"I know, that's why I gave it away"
Silence, as his 9 year old mind considers the predicament.
"So, can you make me one for my birthday?"
"Hmmm … yes of course."
Giant Gummy Bear Kit Kat and M&M cake ingredients
1 Giant gummy bear (I got mine from vat19.com for this recipe) or make your own.  Click here to find out how!
10 Giant Kit Kats
1 quantity of the rich chocolate cake baked in two round cake tins
1 quantity of chocolate butter cream
Very Cherry Frosting Recipe
5 bottles jelly belly very cherry soda (you can swap for your favourite flavour)
4 small egg whites or 100g (3.53 ounces) or 3 large egg whites or 96g (3.39 ounces)
Place the egg whites in the bowl of an electric mixer
Boil the soda until lots of the water evaporates and it reaches around 200F (93.33 degrees Celsius)
Beat the egg whites to soft peaks
Continue to heat the soda to 238F (114.44 degrees Celsius)
Remove from heat and add to egg whites with the mixers running.
Continue to whip until cooled.
Splashes
1 cup or 216g (7.62 ounces) caster (super fine) sugar (if using normal white sugar increase the water to 1/2 cup as it will take longer to dissolve)
1/4 cup or 63 millilitres (2.13 fluid ounces) water
2014
by Ann Reardon How To Cook That
BIG ANNOUNCEMENT
I have been busy over the last year planning, writing and overseeing the photography and layout for my first ever cookbook! There are heaps of my favourite dessert recipes in there with a chapter on pastries, ice-cream, yummy cakes, artistic desserts and of course chocolate desserts. Each chapter has its own intro explaining the food science that you'll need to know for success every time. Booksellers where you can purchase your very own copy: http://bit.ly/ARcookbook
All recipe quantities in the book are in grams, ounces and cups.