Gravity Falls Eyeballs and Hand in a Jar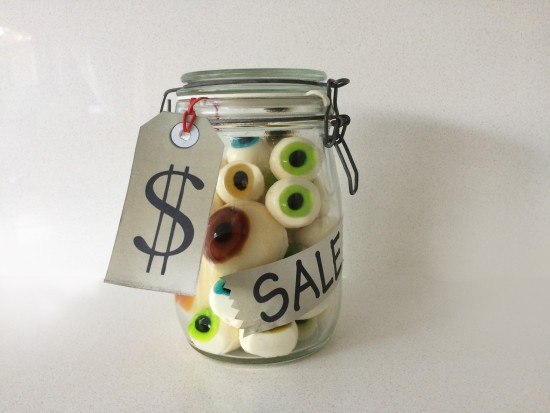 There have been so many requests for a Gravity Falls themed dessert lately. In the opening sequence of this quirky cartoon, there's a jar of eyeballs on the counter of the Mystery Shack and a hand in a jar on the shelf above. You can make these gruesome sweet treats to add to the table for your next party.
Did you see that weird looking link at the end of the video? See if you can decode it to find some hidden treasure.
For the gravity falls eyeballs you will need:
1 Jar
Sphere ice cube tray (similar to these ones I used one medium and one smaller sized)
Iris:
For each colour you will need
1 tablespoon or 20g (0.71 ounces) jelly / jello crystals
50millilitres (1.69 fluid ounces) cold water
Pupils:
30g (1.06 ounces) white chocolate
25 milliliters milk (4% fat)
1/4 tsp gelatine powder
black gel food colouring
White of the eye:
3/4 cup vanilla yogurt or white coloured vanilla pudding
1 tablespoon gelatin powder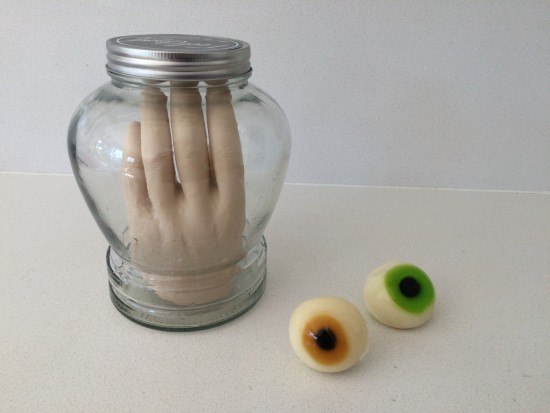 For the gravity falls hand you will need:
1 jar
yellow coloured drink
600g (21.16 ounces) white chocolate
15g (0.53 ounces) milk chocolate
a brand new food grade glove (not cotton lined)
2015
gravity-falls-printable tags
by Ann Reardon How To Cook That
BIG ANNOUNCEMENT
I have been busy over the last year planning, writing and overseeing the photography and layout for my first ever cookbook! There are heaps of my favourite dessert recipes in there with a chapter on pastries, ice-cream, yummy cakes, artistic desserts and of course chocolate desserts. Each chapter has its own intro explaining the food science that you'll need to know for success every time. Booksellers where you can purchase your very own copy: http://bit.ly/ARcookbook
All recipe quantities in the book are in grams, ounces and cups.