How to make rolled ice cream at home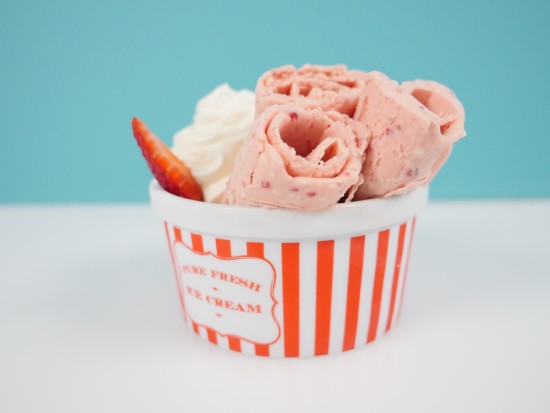 What is rolled ice cream? It is a vanilla ice cream base that is chopped with fresh ingredients to flavor it, quick frozen on a cold surface, spread out flat and then rolled up and served. The quick freeze and agitation while it chills makes for tiny ice crystals so that the rolled ice cream has a very smooth mouth feel. Mixing the ingredients in fresh means you can customize each serve to suit the taste of the lucky person who is going to be indulging. The idea appears to have started in Thialand and has quickly spread across the world. There is even a rolled ice cream place near me, but they all use big expensive compressors to instantly freeze the ice cream. After many experiments I finally discovered how you can make ice cream rolls at home.
To make rolled ice cream at home you will need:

Grab all the things listed then watch the video above to see how to make rolled ice cream at home.
1. Flavours for family or friends to choose from.
Things like fresh fruit, chocolate bars, oreos and nutella work well.
2. Vanilla Ice Cream Base
400mL (13.53 fluid ounces) or 1 1/2 cups (4%) milk
90g (3.17 ounces) or 6 egg yolks
1 vanilla bean or vanilla essence
216g (7.62 ounces) or 1 cup sugar (caster or super fine)
200mL (6.76 fluid ounces) or 3/4 cup cream
see the video below for details of how to make the vanilla ice-cream base. Chill it in the fridge until you are ready to make your rolls.

3. Equipment
2 baking trays the same size with sides
2 stainless steel scrapers
a towel
4. Dry ice pellets.
If you're in Australia look for a BOC gas near you and remember to take an esky with you to put it in.
While you've got dry ice at home you might as well have some fun experimenting…

Copyright © 2017 Reardon Media Pty Ltd. All rights reserved. How To Cook That
BIG ANNOUNCEMENT
I have been busy over the last year planning, writing and overseeing the photography and layout for my first ever cookbook! There are heaps of my favourite dessert recipes in there with a chapter on pastries, ice-cream, yummy cakes, artistic desserts and of course chocolate desserts. Each chapter has its own intro explaining the food science that you'll need to know for success every time. Booksellers where you can purchase your very own copy: http://bit.ly/ARcookbook
All recipe quantities in the book are in grams, ounces and cups.