Makeup Birthday Cake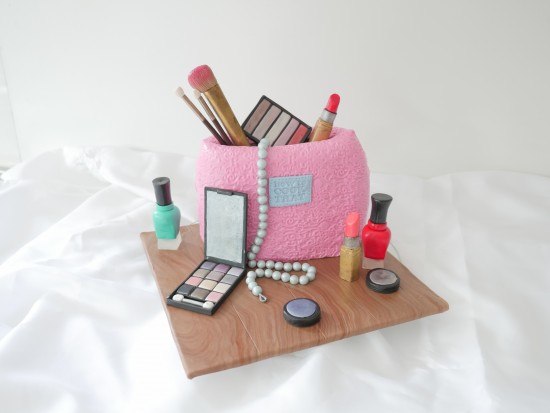 "Hey Ann, Please could you make a makeup bag with makeup items cake?" I have read that request and many like it hundreds of times. Now finally it is here, for those of you who love make up it's time to get baking.


I am over my jet lag and busy working on some exciting new projects. This weekend we are in Melbourne, both Dave and I are speaking at an event. We'll be catching up with friends and checking out our new house. That's right we've bought a house in Melbourne. We are not moving until December due to a long settlement, which gives us time to sell and pack up things in Sydney. And yes, I will still film videos for you after we move.
To make this makeup cake you will need:
One and a half times my chocolate cake recipe baked in two trays 15″ x 10″.
Simple Syrup
1/2 cup or 108g (3.81 ounces) sugar
1/2 cup or 125millilitres (4.23 fluid ounces) water
Heat until the sugar is dissolved then leave to cool. Store excess in the fridge.
Frosting
600g (21.16 ounces) chocolate
200g (7.05 ounces) or 3/4 cup plus 1 Tbsp and 1 tsp cream (35% fat)
120g (4.23 ounces) or 1/2 cup plus 1 Tbsp butter
2 1/2 cups or 315g (11.11 ounces) icing/powdered sugar
Heat the cream until it just boils, remove from the heat and add the chocolate. Leave to sit for a minute then stir until smooth. Leave to cool overnight at room temperature. Or place in the fridge for four hours.
Whip together the icing sugar and butter, leave the mixers running for a couple of minutes to make sure it is smooth. Add the ganache and whip until just combined.
Fondant
100g (3.53 ounces) cream fondant for top of brushes
400g (14.11 ounces) pink fondant to cover the bag (or colour of your choice)
100g (3.53 ounces) coloured fondant for nail polish bottles and lipstick
150g (5.29 ounces) brown and white fondant to cover the board.
150g (5.29 ounces) black fondant
Other Things
Luster dust for the eyeshadow colours
White sixlets for the pearl necklace
Gold luster dust
300g (10.58 ounces) chocolate for the brush handles and lipstick bases
reusable molding gel and lego to make the mold
Cake board
Make Up Cake Template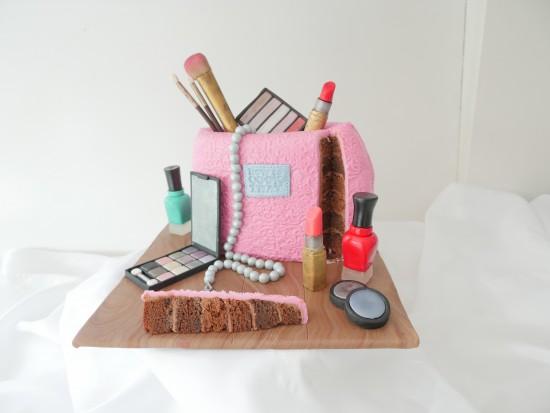 Copyright © 2016 Reardon Media Pty Ltd. All rights reserved. How To Cook That
BIG ANNOUNCEMENT
I have been busy over the last year planning, writing and overseeing the photography and layout for my first ever cookbook! There are heaps of my favourite dessert recipes in there with a chapter on pastries, ice-cream, yummy cakes, artistic desserts and of course chocolate desserts. Each chapter has its own intro explaining the food science that you'll need to know for success every time. Booksellers where you can purchase your very own copy: http://bit.ly/ARcookbook
All recipe quantities in the book are in grams, ounces and cups.