Minions & Banana Cream Pie Recipe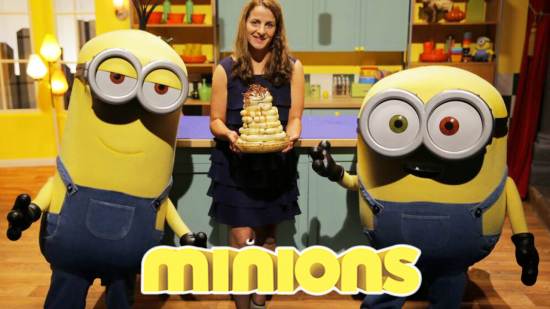 We're having so much fun travelling. This week I got to bake with minions Kevin and Bob from the new minion movie.  I decided to make my banana caramel cream pie recipe, stacked high with extra bananas of course!  I hope you enjoy this for a bit of a light-hearted video, and of course you can make the pie with a normal amount of bananas for a great dessert.
Crumb base recipe:
15 plain cookies, crushed
100g (3.53 ounces) or just less than 1/2 cup unsalted butter, melted
Caramel Filling Recipe:
2 cups or 430g (15.17 ounces) caster or superfine sugar
1 tablespoon or 21g (0.74 ounces) glucose syrup (or light corn syrup)
1/4 cup or 63millilitres (2.13 fluid ounces) water
300millilitres (10.14 fluid ounces) or 1 cup plus 3 tablespoons cream (35% fat)
Topping:
Bananas – normally I would use 4 sliced and spread evenly over the caramel
300ml or 1 cup plus 3 tablespoons cream, whipped
100g (3.53 ounces) chocolate flaked
Extra caramel for pouring over the top (optional)
Crush the biscuits and mix with the melted butter. Press into a 18cm (7.09 inches) pie dish making sure you go up the sides so the caramel doesn't stick to the dish.
To make the caramel heat the sugar, glucose syrup and water. Stir until the sugar is dissolved. Wash down the sides of the pan using a wet pastry brush. Heat unstirred until it starts to go golden, gently swirl the pan over the heat to evenly distribute the colour and continue to get a deep golden brown, but do not burn the caramel.
Carefully add the cream, standing back to avoid the steam. Stir until smooth, the sugar mixture will dissolve into the cream. If you want extra caramel to drizzle over the top take a soup ladle of caramel out now and place in a heatproof cup. Continue to heat the rest for a couple more minutes. The longer you heat it, the firmer your caramel will be in your pie. You can test it by placing a small amount in a glass of cold water to see how thick it is when it is cold.
Pour the hot caramel into the crumb base and leave to cool.
Add chopped bananas and then pipe whipped cream over the top. Sprinkle with flaked chocolate and drizzle with extra caramel.
Enjoy!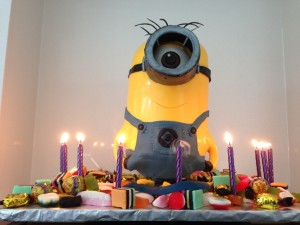 For the 3D Minion Cake tutorial click on the image above.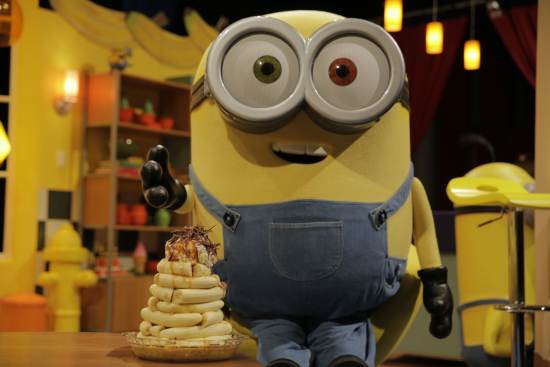 With thanks to YouTube Space LA and Universal Studios for the set and the minions!
by Ann Reardon How To Cook That
BIG ANNOUNCEMENT
I have been busy over the last year planning, writing and overseeing the photography and layout for my first ever cookbook! There are heaps of my favourite dessert recipes in there with a chapter on pastries, ice-cream, yummy cakes, artistic desserts and of course chocolate desserts. Each chapter has its own intro explaining the food science that you'll need to know for success every time. Booksellers where you can purchase your very own copy: http://bit.ly/ARcookbook
All recipe quantities in the book are in grams, ounces and cups.