Despicable Me 2 3D Minion Cake Decorating Tutorial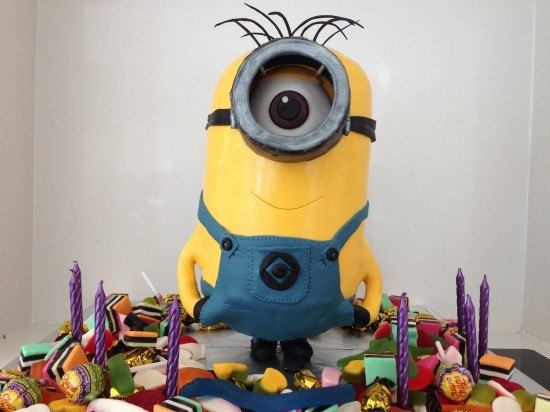 Despicable Me 2 is coming soon and my middle boy loves the cute minions, so this year he wanted a minion birthday cake. There have also been some requests from subscribers for a 3D upright cake tutorial and despicable me cake, so I filmed the making of his cake for you.
You will need:
round cake boards x 2 (one 8cm (3.15 inches) and one 15cm (5.91 inches) in diameter)
2 x 32cm (12.6 inches) cake spikes and four shorter cake spikes
base wooden or mdf cake board
Four lots of the Vanilla Cake Recipe 8 x 20cm (7.87 inches) tins, trimmed down to 16cm (6.3 inches) in diameter.
2 quantities of Buttercream Recipe in flavour of your choice
Fondant: 800g (28.22 ounces) yellow, 20g (0.71 ounces) brown, 50g (1.76 ounces) white fondant and 300g (10.58 ounces) blue (fondant recipe here, how to colour fondant here)
100g (3.53 ounces) Black fondant
Silver luster dust
Lollies and candles to go around the cake (optional)
This cake will make about 40 serves
Making a 3D Minion Cake
1. TEMPLATE: For any 3d cake that you want to make I recommend finding a picture of the character that you want to make, enlarge it to the size you want the finished cake to be and use that as your guide for sizing the cake and details. Here is the minion picture that I used, it is over two pages so you will need to cut and tape together Minion Template
2. DETAILS: Fondant details can be made up to a month in advance and left to dry out. Use the printout that you made of your character to guide you in the size. If you have never worked with fondant before watch the fondant basics video for help on colouring fondant.
To make the details for this minion cake see the video for instructions.
3. FRAME: You need a frame to support your cake.
Place your round cake boards onto the base board and drill two holes through both pieces of cardboard and through the base. Position the holes where you want the minions legs to be.
Drill two more holes one in front and the other behind the ones you've just done and add a short stick to each so that it sticks up above the board by 3cm (1.18 inches).
If your drill holes are not super tight then you can glue those in place. Put your smaller base board on top.
4. CAKES: Bake your cakes. For this cake I used 20cm (7.87 inches) round cake tins and trimmed them down to 16cm (6.3 inches). It took 8 cakes. 3D cakes take a deceptively large amount of cake.
5. FROSTING: You need frosting so the fondant has something to stick to. You can use ganache, I used buttercream.
6. ASSEMBLY: put your supports into place and your base cake board, cover it in a thin layer of buttercream and add your first layer of cake, add more buttercream and then your next layer of cake.
Insert a cake spike down to the cake board and mark off the level, cut two sticks to this same height so the cake is level. Poke them into the cake, add your next cake board and more buttercream. Add the next layer of cake, more buttercream REPEAT that until the cake is the height of your print out. (See the video for a demonstration).
7. CARVING: Use a finely serrated knife to cut away pieces of cake to make it the right shape. The top and the base of the minion is domed so it is fairly simple shape to carve.
8. CRUMB COAT: Cover the whole cake in a thin layer of buttercream, it doesn't have to look pretty this is just to catch all the crumbs. Place it in the fridge and let it firm up.
9. FROSTING: Add another layer of buttercream over the top and use your pallette knife to smooth it off as best as you can. Then leave it for about 15 minutes and use some paper towel to smooth out any imperfections. Put back in the fridge.
10. DECORATE: See the video above for detailed instructions.
by Ann Reardon How To Cook That
My Cookbook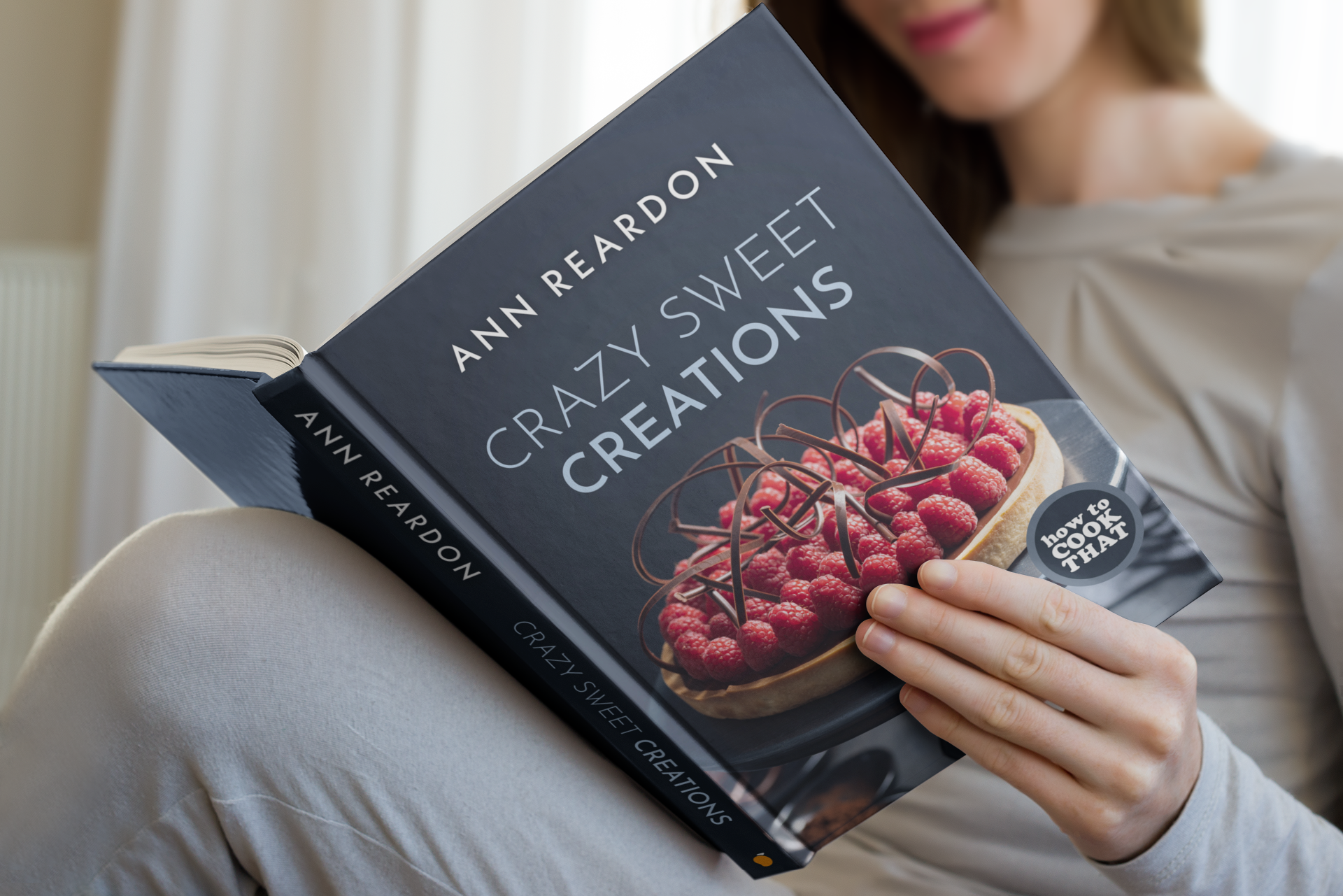 Stores that sell my book listed by country: http://bit.ly/ARcookbook All recipe quantities in the book are in grams, ounces and cups.