Cake Rescue, how to fix a cake disaster
There are so many sped up cake decorating videos circulating on social media that look easy and fast. Decorating a cake is not fast and depending on your skill level and experience may not be easy.
So don't be too harsh on yourself if it doesn't turn out right first time, just learn from the experience what didn't work.
Here are four cake rescues explaining what went wrong and how you can fix it.
1. The frog cake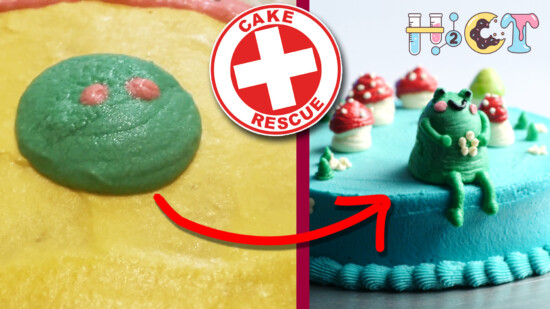 The problem: too much liquid in the buttercream
The fix: Only use margarine/butter and icing sugar, do not add any liquid at all, or add a maximum of 1/2 a tablespoon of liquid per batch.
My recipes for various flavours of buttercream here.
2.The boyfriend cake
The problem: Store bought ingredients only
The solution: If possible make your own batch of buttercream, store bought frosting is too runny for under fondant. But at a push you can make it work.
3.Chocolate Glaze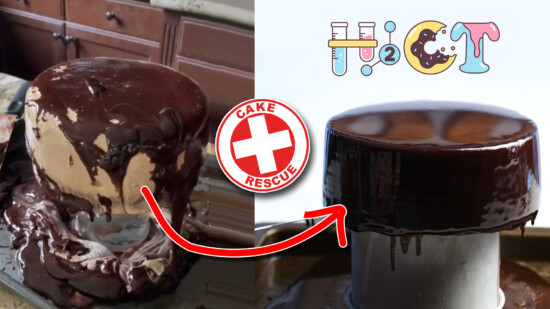 The problem: Glaze keeps falling off the dessert
The solution: This can happen if the glaze is too hot and it melts a layer of the dessert allowing the glaze to slide off. Or, as happened here, if you are trying to cover ice-cream it will melts too quickly to allow you to apply a glaze. To solve this problem use a silicone mold and line it with ganache (mine was made from 200g (7.05 ounces) chocolate and 80mL (2.71 fluid ounces) cream) then fill with ice cream and freeze over night. They layer of ganache doesn't melt as quickly as the ice-cream so doing this gives you time to glaze.
4. The sweet shop cake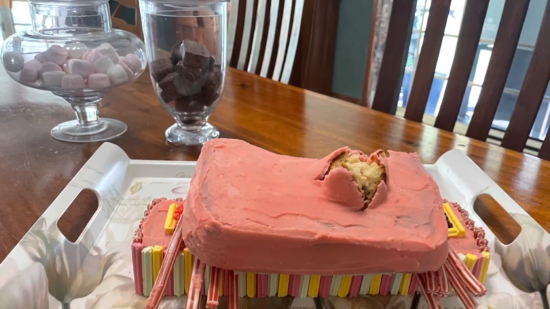 The problem: no support
The solution: When making cakes that are more than two cake layers high add support. See the sponge bob cake tutorial for a demonstration of a tall skinny cake support. Last minute cake fails are hard to fix due to a lack of time watch the video to see what I did with this one. The blueberry and almond cake recipe is here.
BIG ANNOUNCEMENT
I have been busy over the last year planning, writing and overseeing the photography and layout for my first ever cookbook! There are heaps of my favourite dessert recipes in there with a chapter on pastries, ice-cream, yummy cakes, artistic desserts and of course chocolate desserts. Each chapter has its own intro explaining the food science that you'll need to know for success every time. Booksellers where you can purchase your very own copy: http://bit.ly/ARcookbook
All recipe quantities in the book are in grams, ounces and cups.