Decadent Tall Chocolate Mousse Cake with salted Caramel Drip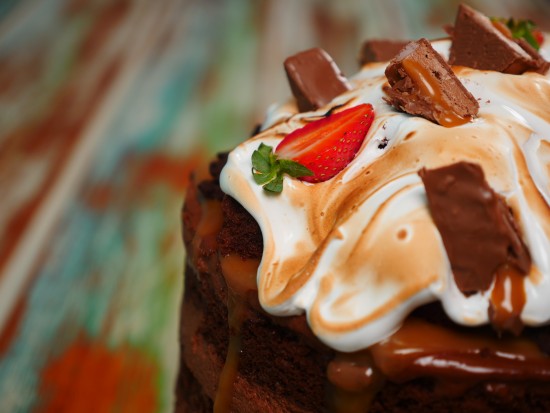 A decadent chocolate cake recipe with crunchy choc crumb and velvety smooth chocolate mousse between the layers. Topped with salted caramel drip and toasted Italian meringue.
I had lots of fun filming this vr video, but I know many of you don't like virtual reality so I also filmed the whole thing again as a normal video to keep everyone happy. It is quite tricky to frame it right because in vr everything is up close to your face – but in the youtube apps 'magic window' it is quite zoomed out, so it is actually impossible to frame it correctly for both viewers. I've given that feedback to youtube so hopefully they can change that in the future. Definitely best enjoyed in a vr headset or google cardboard if you can get your hands on one.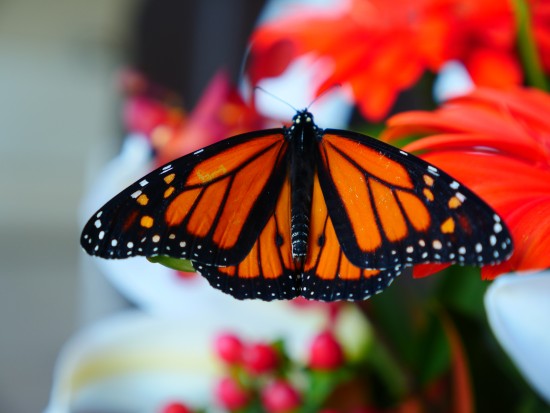 As well as making the cake myself I decided to add a couple of extra special treats on either side so that there was something to look at everywhere. As always there is no-one behind the cameras so 5 cameras had to be set up, white balanced, focused and sound checked by me before we began. I made sure all the cake stuff was laid out ready, explained to Matt and Hazel what I needed them to do when, ran them through a quick practice for their appearance and then went for it – one straight shoot!
Choose the version you'd like to watch:
Virtual Reality Video
Normal Video Version
To make this amazing chocolate mousse cake you will need:
Crunchy Chocolate Cookie Chunks
crumb recipe credit – Christina Tossi a pastry chef from NY
1 tsp Cornstarch or cornflour
1 tsp salt
2/3 cup or 105g (3.7 ounces) plain or all-purpose flour
1/2 cup 105g (3.7 ounces) sugar
2/3 cup 80g (2.82 ounces) cocoa powder
6 tablespoons or 80g (2.82 ounces) melted butter
350g (12.35 ounces) milk chocolate to coat
Put the cornstarch, salt, flour, sugar and cocoa powder into a bowl and stir.
Add in the melted butter and continue to mix it until you get a crumbly dough.
Sprinkle them onto a baking tray in chunks and bake them for 20 minutes.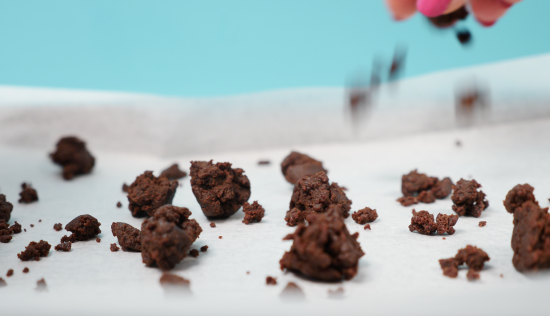 When you first get them out of the oven they will be quite soft, but they will crisp up as they cool.
Once they are firm tip half of them into an airtight container for later, and pour the other half into a bowl of melted chocolate. The chocolate doesn't need to be tempered. Stir around until they are well coated. Spread them out on some baking paper and refrigerate until set.
Rich Chocolate Cake
Next you're going to need make 1 1/2 times my rich chocolate cake and bake it in two trays for 15-20 minutes at 180C (356 degrees Fahrenheit). My trays are 10″ x 15″.
My yummy Salted Caramel recipe
1 1/2 cups or 325g (11.46 ounces) sugar
1/4 cup water
1 cup or 350g (12.35 ounces) glucose or corn syrup
1 cup or 250mL (8.45 fluid ounces) cream
1/2 cup or 125mL (4.23 fluid ounces) milk
salt to taste.
Combine the water, sugar and glucose syrup in a pan and give it a good stir. Heat over high heat and wash down the sides of the pan with a wet pastry brush. Then leave it to boil unstirred until it is a nice caramel colour. Add in the milk and the cream. At first the caramel will set because the liquid is cold but just keep stirring and as the milk and cream heat up it will melt the caramel back into the liquid.
Add a candy thermometer and let it boil unstirred until it comes to 107C (224.6 degrees Fahrenheit), this take quite a while.
Once it at the right temperature strain it through a sieve into a bowl. This just gets rid of any little bits that may have caught on the bottom of the pan.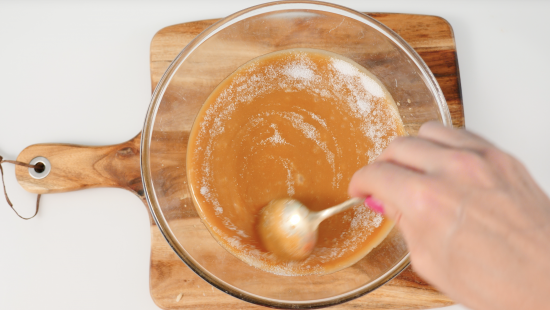 Add in your salt and stir it through.
My Chocolate Mousse for between the cake layers
(makes 12 cups)
6 sheets gelatine
water to soak the gelatine
375mL (12.68 fluid ounces) or 1 1/2cups milk
60g (2.12 ounces) or 3 Tablespoons glucose syrup
94g (3.32 ounces) or 6 large egg yolks
625g (22.05 ounces) chocolate (I used half milk and half dark chocolate), broken into pieces
845g (29.81 ounces) or 3 1/2 cups cream, whipped
Put the sheets of gelatine in a bowl of water to soak and set aside.
Place the milk and glucose syrup into a large bowl and microwave until it is bubbling.
Whisk the egg yolks and add in a little of the hot milk mixture, whisk it through then add that back in with the rest of the hot milk. Whisk it around then we are going to put that in the microwave for about 5 more seconds more.
Squeeze the gelatine sheets gelatine sheets to get rid of as much water as you can, then dump them into the hot mixture and stir it around until the gelatine is melted.
Pour the hot mixture over the chocolate and leave it for a couple of minutes so the chocolate can melt, then stir it around until you have a nice homogenous mixture. Leave to cool to room temperature.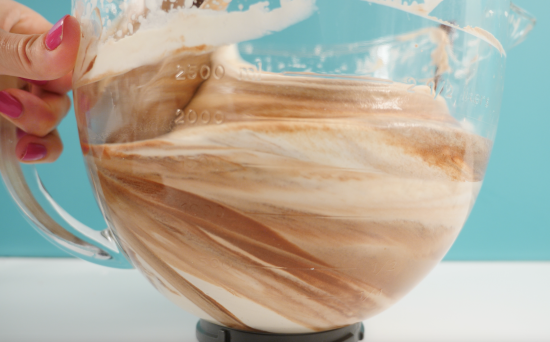 Once you are ready to assemble the cake fold the whipped cream through the room temperature chocolate mixture.
Assembly
Level the cakes and use an 8″ cake ring to cut two circles from each tray.
Place the cake ring onto a cake board and line with acetate. (tip if your cake ring is not 100% flat not he board it will allow mousse to seep out the bottom. To prevent that put about 1/4 cup of mousse in the bottom, making sure it is around all the edges. Place in the freezer for a few minutes so that it firms up quickly and seals any little gaps).
Place a layer of cake into the cake ring, sprinkle on 3 spoons of milk.
Add some chocolate coated cookie chunks over the top.
Drizzle on some beautiful salted caramel.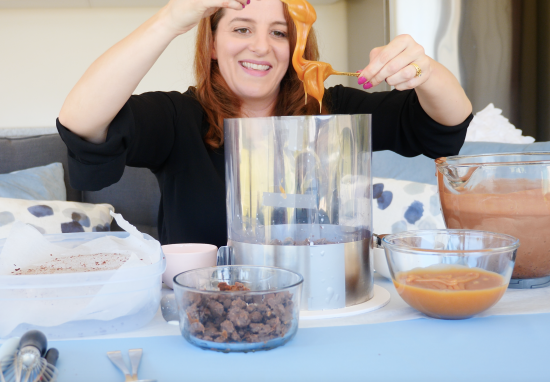 Add 2 1/2 cups of chocolate mousse mixture.
Continue to layer it up in this manner all the way to the top. Then refrigerate for at least 3 hours, preferably overnight.
Decoration
Chop a chocolate bar into triangular chunks and place int he freezer to make it easier to handle
1/2 batch of Italian meringue
Remove the cake ring and take the acetate off the outside of the cake.
Add some caramel around the top edge and it drip down on the sides.
Then pile up some of the cake offcuts into the centre, this decorating style is inspired by Andy Body a pastry chef in Sydney. I like the over indulgent look of his cakes.
Add some crunchy cookie crumb to each side.
Then spoon on some Italian meringue across the centre.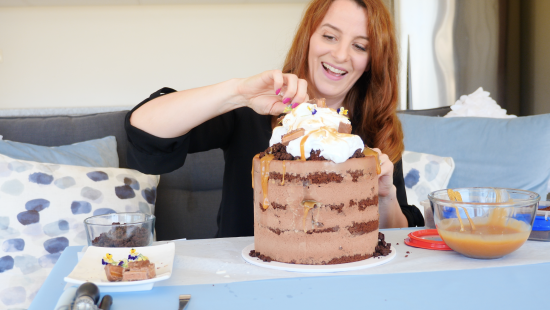 Using a blow torch gently toast the meringue. Add some chunks of chocolate bar and some edible flowers or fresh cut strawberries for that pop of colour.
Support on Patreon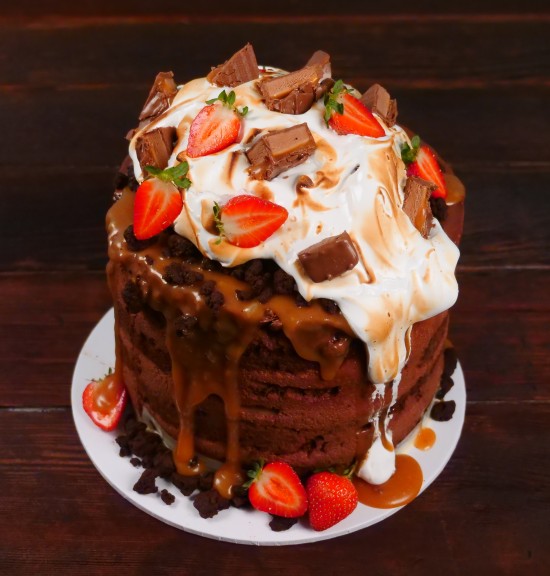 My Cookbook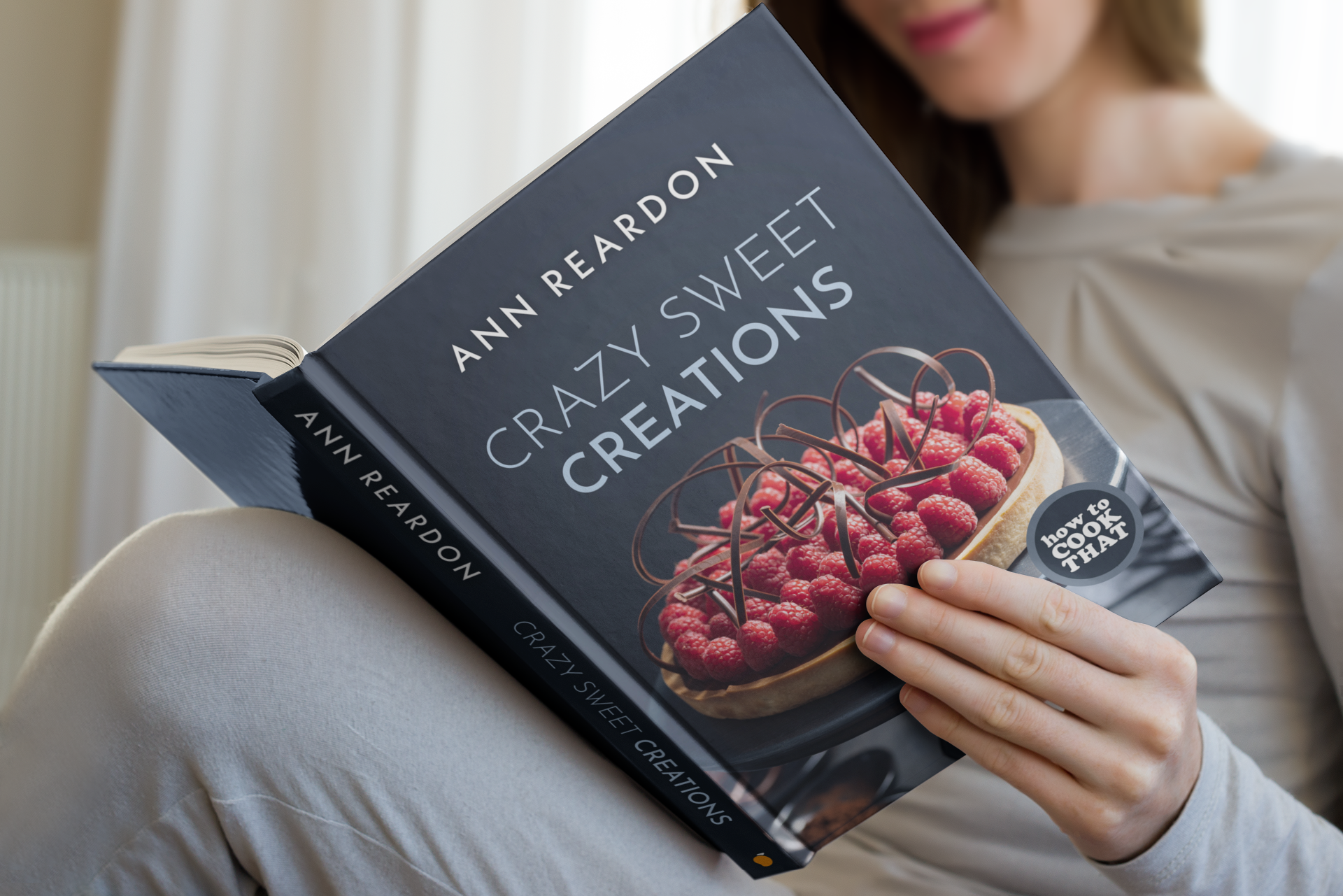 Stores that sell my book listed by country: http://bit.ly/ARcookbook All recipe quantities in the book are in grams, ounces and cups.