Chocolate Pistachio Dome Dessert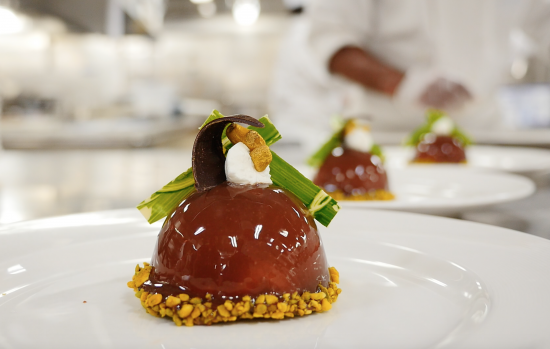 For most of us catering for a dinner party of twenty guests is quite enough stress. But the chefs on a cruise ship makeing thousands of every menu item in just a normal day. I'm going inside the ships galley on the Crown Princess cruise ship to take a sneak peek at how they make their chocolate pistachio domes.
With thanks to chefs Eduardo Mago, Pradeep Kuruvilla, Rico Canciller and Princess cruises.
To make your own chocolate pistachio domes you will need:
(original recipe credit: Chocolatier Norman Love for Princess Cruises, tested and adapted below for the home cook by Ann Reardon)
Chocolate decorations
For the triangle swirl you need acetate and tempered dark chocolate. If you are not sure how to temper chocolate see this post.
For the green rectangles you will need:
Acetate
cocoa butter coloured with green oil based food colouring
a fork with the two centre prongs bent upwards out of the way
Tempered white chocolate
Almond and pistachio nougatine
makes 9
2.5 oz (70.87 grams) butter
2 tablespoons glucose syrup or light corn syrup
3.25oz (92.14 grams) powdered sugar or icing sugar
1/2 tsp cinnamon
1/4 tsp pectin (if you can't get this you can make it without the pectin but it's not quite the same texture and is a bit buttery)
1.75oz (49.61 grams) flaked almonds
1.75oz (49.61 grams) chopped pistachios
Heat the butter and glucose syrup until the butter is melted then stir in the icing sugar, cinnamon and pectin. Once well combined add the almonds and pistachios. Place small scoopfuls into a silicone muffin tin and bake at 180C (356 degrees Fahrenheit) for 10-15 minutes or until spread out and golden brown. Allow to cool then pop out of the muffin tray and store in an airtight container until needed.
Pistachio Paste (for the pistachio ganache)
70g (2.47 ounces) sugar
60g (2.12 ounces) blanched almonds
20g (0.71 ounces) pistachio
45g (1.59 ounces) sunflower seed oil
tiny pinch of salt
green colouring (it may be easier to add this to the ganache so you can correctly judge how much colour you want).
Place all ingredients in a blender and blend until really smooth. Makes 5 tablespoons which is more than you need but you'll struggle to get smaller quantities to blend into a smooth paste.
Pistachio Cream
Makes 200mL (6.76 fluid ounces) or enough for 18 centres
1 tsp powdered gelatine mixed with 3 teaspoons of cold cream
1 Tablespoon milk
1 tablespoon cream
2 tsp sugar
1 egg yolk
1.5 tablespoon of pistachio paste (see above)
50g (1.76 ounces) white chocolate
2 tsp butter
Mix the powdered gelatine with the 3 tsp of cold cream and set aside.
Put the milk, cream and sugar into pan and heat over the heat until it gets hot. Tip a small amount into the egg yolks and whisk it through. Then pour that mixture into he pan with the rest of the cream and heat until it reaches 84C (183.2 degrees Fahrenheit) or 184F (84.44 degrees Celsius). Add the pistachio paste and stir until smooth. Remove from the heat, stir in the gelatine and mix until dissolved. Add the white chocolate and butter and continue to stir until smooth.
Pour into mini hemisphere molds and place in the freezer overnight.
Almond Cake for the bases
makes enough for six circles
2 tablespoons icing sugar
2 tablespoons butter
2 egg
2 tablespoon ground almonds
4 tablespoons flour
1/2 tsp baking powder
Preheat the oven to 180C (356 degrees Fahrenheit).
Mix together the icing sugar and butter until smooth, add in the egg and almonds and mix again. Finally add the flour and baking powder and stir until just combined. Pour into a lined 7″ x 10″ tray, spread out and bake for approx 10 minutes or until golden brown.
Invert syrup for the chocolate mousse
225g (7.94 ounces) sugar
1/8 tsp cream of tartar or tartaric acid
175mL (5.92 fluid ounces) water
heat all the ingredients until the sugar is dissolved. Wash down the sides of the pan with a wet pastry brush and boil unstirred until it reaches 114C (237.2 degrees Fahrenheit). Allow to cool. Store excess in a jar.
Chocolate Mousse
makes enough for 6-7 hemispheres depending on the size of your old.
2 Tablespoons milk
2 tablespoons cream
2 egg yolks
1 tablespoon sugar
1 Tablespoon invert syrup – see above
65g (2.29 ounces) of 70% Dark Chocolate
Additional 6oz (170.1 grams) cream, whipped
Place the milk and cream into the saucepan over high heat until it comes to the boil.
In a seperate bowl whisk them together the sugar and the egg yolks.
Add the invert syrup to the hot cream mixture. Take some of this mixture and whisk it into the egg yolks. Then tip in the rest and whisk, tip it all back into a pan and heat to 84C (183.2 degrees Fahrenheit) or 184F (84.44 degrees Celsius). Remove from the heat and tip in the chocolate. Leave for a moment for the chocolate to melt then whisk until combined. Add some of the whipped cream and mix it through. Allow mixture to cool to 44C (111.2 degrees Fahrenheit) then fold in the rest of the cream.
Pour this mousse mixture into hemisphere molds not quite to the top. Allow it to start to set then add the frozen pistachio ganache to the centre of each one, followed by an almond nougatine biscuit and a circle of sponge cake. Place in the freezer overnight.
Chocolate glaze
You can purchase chocolate glaze or make your own using this recipe.
Unmold the desserts and glaze using a chocolate glaze. Add a quenelle of whipped cream, your chocolate decorations and a couple of pistachios dusted with gold muster dust. Pipe chocolate decorations onto each plate and allow to defrost in the fridge before serving.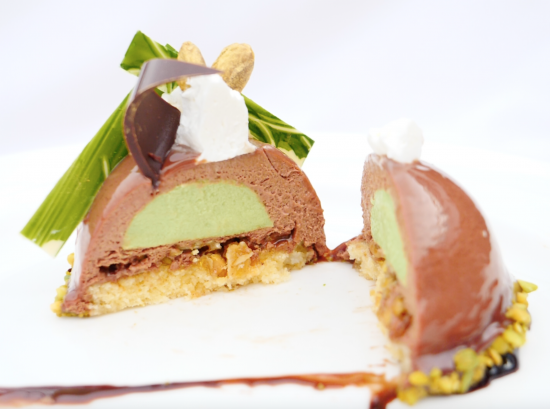 My Cookbook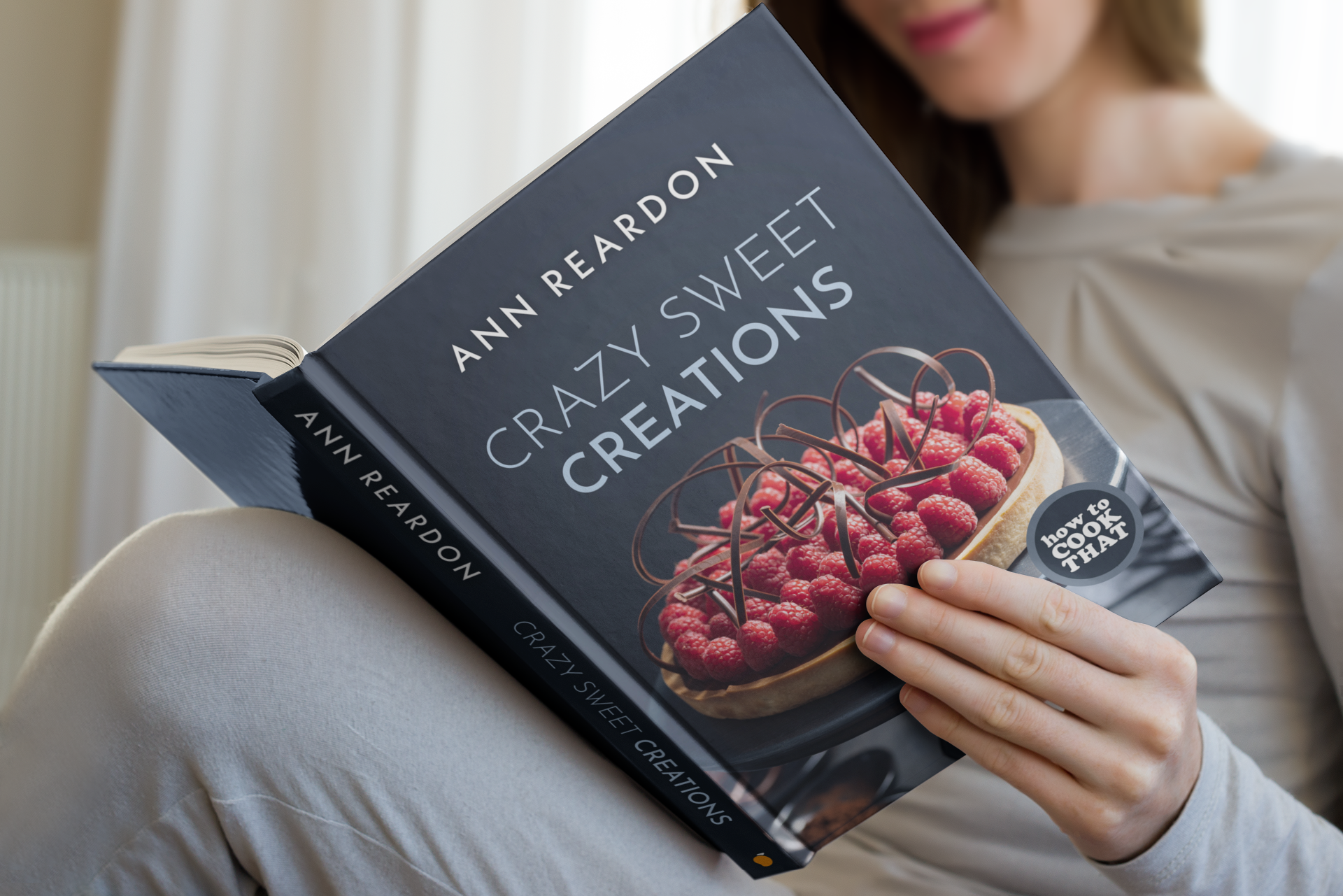 Stores that sell my book listed by country: http://bit.ly/ARcookbook All recipe quantities in the book are in grams, ounces and cups.