Facebook Cake with logo on the inside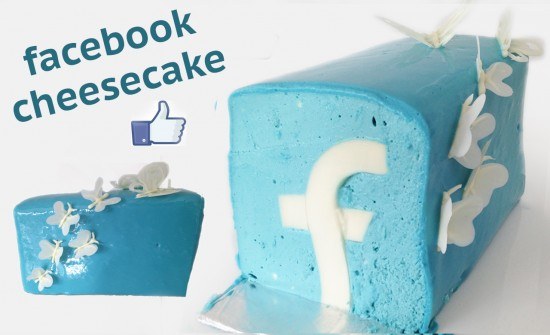 People love social media.  After my instagram cake hit youtube I was inundated with requests for a Facebook cake version.  Not everyone loves Facebook of course but I was a bit surprised when someone asked 'who uses fb anymore?'  According to the stats for March this year fb has 1.11 billion monthly active users (Instagram has 100 million).   With those users generating 4.5 billion likes and 4.75 billion shares every 24 hours.   According to Alexa traffic rank facebook is now ranked number 1, with google.com second and youtube.com ranking third.   So here it is a Facebook cheesecake, tropical flavoured with a creamy coconut 'f' logo through the middle.
Facebook Blue Cheesecake Mixture
2 3/4 tsp gelatine powder – allow to bloom then split into two bowls
1 kg (2.2 pounds) or 3 3/4 cups plus 2 Tbsp and 2 tsp cream cheese
1  1/3 cups or 291g (10.26 ounces) sugar
250millilitres (8.45 fluid ounces) juice from tinned fruit (I used a mixture of pineapple/mango/passionfruit) if you prefer you can use milk instead
200g (7.05 ounces) white chocolate
1/4 teaspoon blue gel colouring
For first half of the mixture
150millilitres (5.07 fluid ounces) or 1/2 cup plus 1 Tbsp and 2 tsp cream
half of the bloomed gelatine
For second, other half of the mixture
150millilitres (5.07 fluid ounces) or 1/2 cup plus 1 Tbsp and 2 tsp cream
other half of the bloomed gelatine
Line a tissue box or container 11cm (4.33 inches) square at the end and 21cm (8.27 inches) long.  If using a tissue box add support to it using extra boxes.
Print the FaceBook logo 11cm (4.33 inches) (click on it to go to full size version).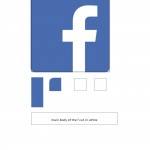 Sprinkle the gelatine over cold water, stir it in and then set it aside.
Place your cream cheese into the bowl of a mixer and then mix it on high speed for a few minutes until it is soft and smooth.
Beat in the sugar, scraping down the sides of the bowl a few times as you go.  Add the colouring of your choice
Melt the white chocolate in the microwave or over a double boiler.   Allow it to cool slightly if using the double boiler and then pour it into your cream cheese mixture and whip thoroughly.
Add the juice and mix that in until it looks glossy and smooth.
Split the mixture in half by measuring out 750ml or 3 cups of mixture into a separate bowl.  Cover one half with plastic wrap and leave it at room temperature.
Take your first 150ml or 1/2 cup plus 1 Tbsp and 2 tsp of cream, (I am using cream that is 35% fat) and whip it until you get nice soft peaks.
Split your gelatine in two halves and heat the one half in the microwave until it is liquid, keep an eye on it so it doesn't bubble over.
Pour this gelatine over the cream cheese mixture and quickly mix it through.  Then fold in your whipped cream.
Pour some of this into the tissue box up to the correct level, see the video for a demonstration
Line a second container the same length as the tissue box and at least 7cm (2.76 inches) wide with foil.   Pour some cheesecake mixture in to the required height.  Place both of those in the fridge for at least 3 hours.
You will have a small amount of cheesecake mixture left, cover the bowl with plastic wrap and leave at room temperature.
Facebook 'f' coconut gel recipe
400millilitres (13.53 fluid ounces) or 1 1/2 cups plus 1Tbsp and 2 tsp coconut cream
225millilitres (7.61 fluid ounces) or 3/4 cup plus 2 Tbsp and 1 tsp cream
2 1/2 Tablespoons gelatine
1/2 cup or 125millilitres (4.23 fluid ounces) water
4 Tablespoons or 52g (1.83 ounces) sugar
Sprinkle gelatine over cold water and set it aside.
In a saucepan heat your cream, coconut milk and sugar.  Continue to stir until it is hot and then remove from the heat and add in the gelatine, this will melt into the mixture as you stir it.
Take a brownie tin 17.5cm (6.89 inches) x 27cm (10.63 inches), line it with foil and pour in the coconut gel mixture.  If you allow the foil to overlap the edges it will make it easier when it comes to getting it out.  Place in the fridge until set.
Glaze for Facebook Cake
150millilitres (5.07 fluid ounces) or 1/2 cup plus 1 Tbsp and 2 tsp tinned juices
300g (10.58 ounces) or 1 1/3 cup plus 2 tsp sugar
150g (5.29 ounces) or 1/3 cup plus 1 Tbsp and 2 tsp glucose syrup or light corn syrup
350g (12.35 ounces) or 1 cup plus 1 Tbsp sweetened condensed milk
20g (0.71 ounces) or 1 1/2 Tbsp gelatine
120g (4.23 ounces) or 1/2 cup minus 1 tsp water
300g (10.58 ounces) white chocolate
1/4 tsp white food colouring
1/4 tsp blue gel colour (optional)
Sprinkle the gelatine over the water and set aside
Put your sugar, sweetened condensed milk, juices and glucose syrup into a pan and heat until just before boiling.
Break your chocolate into pieces and add in your gelatine and chocolate and stir until they are melted, add colouring of choice, I used 1/4 teaspoon of white and 1/4 teaspoon of blue colour.
Allow glaze to cool to 89ºF (32ºC) or until it no longer feels warm.
Using a soup ladle spoon mixture over the cheesecake allowing the excess to drip off.  For a smoother coat place it in the fridge and repeat the glazing a second time.   Refrigerate until the glaze stops dripping then use a hot knife to trim around the base.
Carefully transfer it to your serving platter.
To Decorate the facebook cake
Add some white chocolate butterflies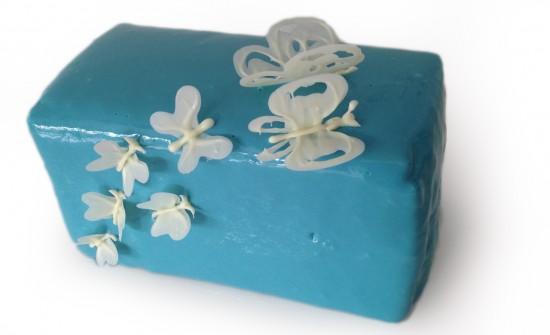 Copyright © 2013 Reardon Media Pty Ltd. All rights reserved. How To Cook That
My Cookbook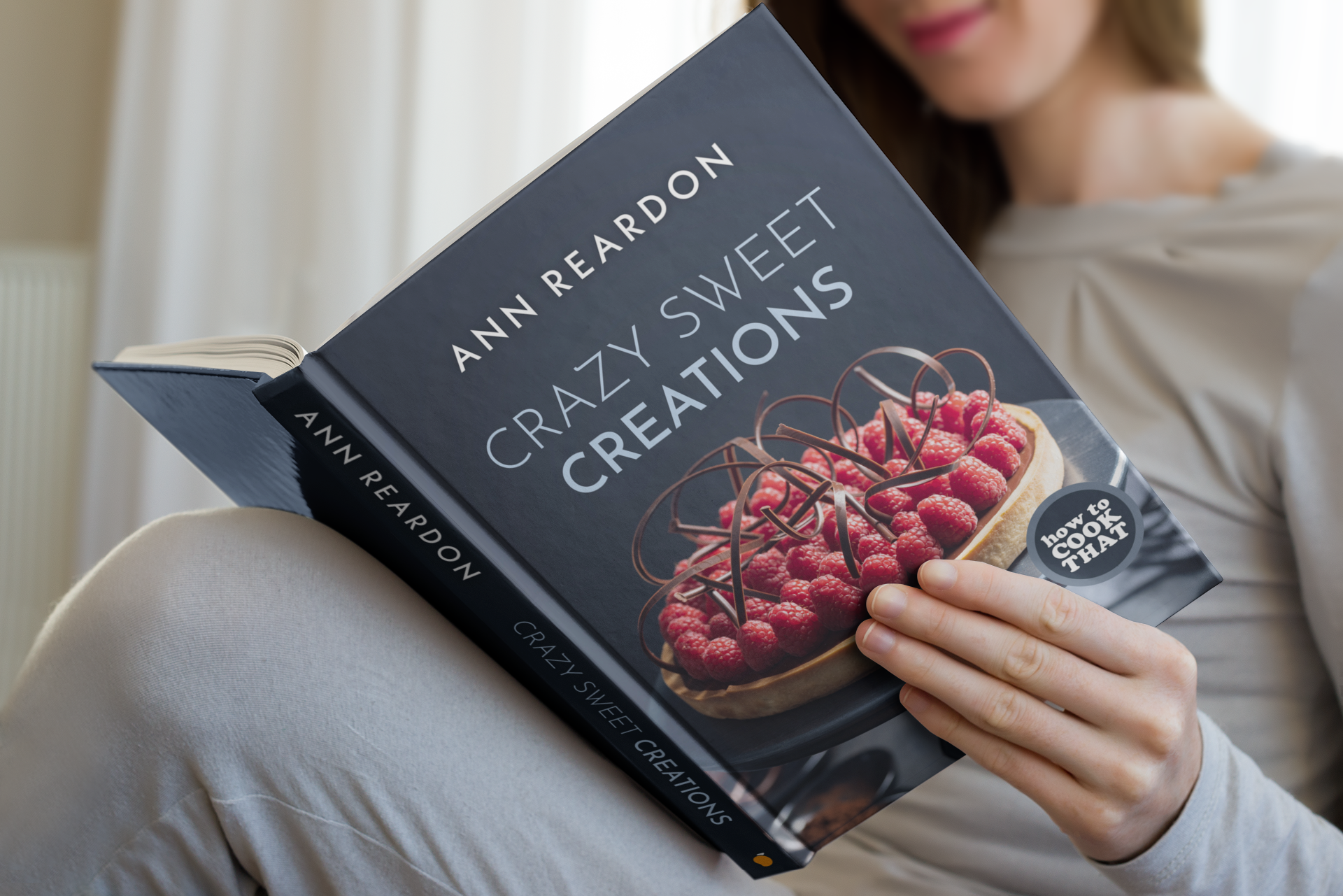 Stores that sell my book listed by country: http://bit.ly/ARcookbook All recipe quantities in the book are in grams, ounces and cups.