Gingerbread House Wedding Cake Recipe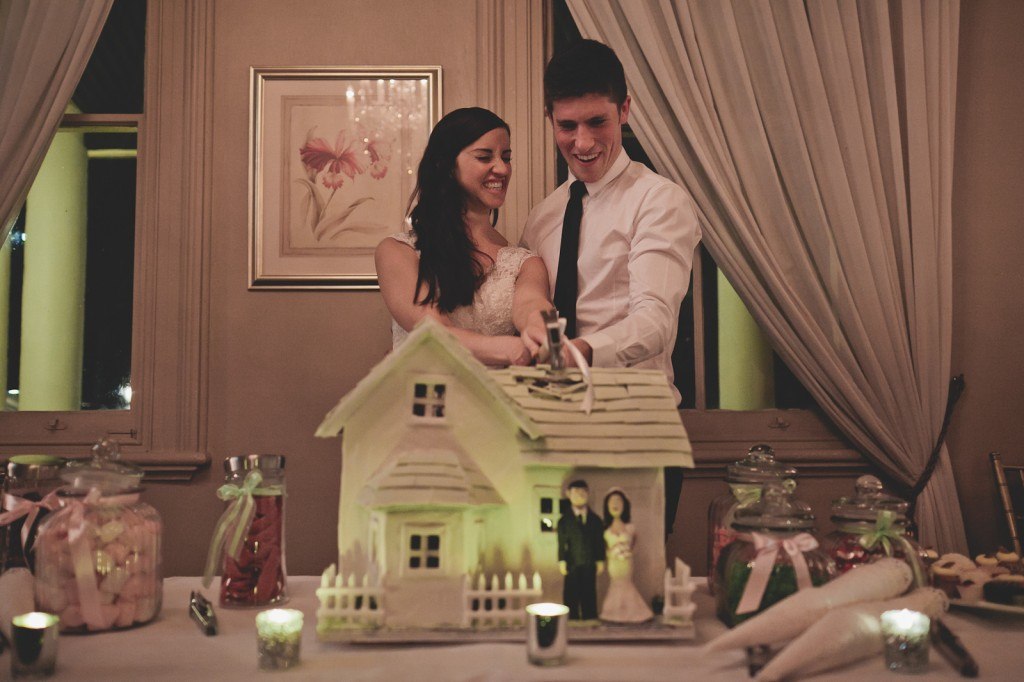 To make the house you will need the gingerbread house template:
To make the size house shown print on A3 paper.
Gingerbread Recipe
To make this house required three batches of dough. This is a beautiful recipe that tastes delicious and is easier to make in large quantities than other recipes I have used in the past.
430g (15.17 ounces) or 2 cups butter, roughly chopped
430g (15.17 ounces) or 2 cups caster (super fine) sugar
250g (8.82 ounces) or 2/3 cup glucose syrup
260g (9.17 ounces) or 3/4 cup molasses
180 mL (6.09 fluid ounces) or 2/3 cup milk (4%)
1195g (42.15 ounces) or 7 1/2 cups plain flour
12g (0.42 ounces) or 2 tsp bicarb soda
20g (0.71 ounces) or 3 Tbsp cinnamon
12g (0.42 ounces) or 2 Tbsp ground cloves
12g (0.42 ounces) or 2 Tbsp ground ginger
Preheat oven to 180ºC (356ºF)
Melt butter in a large saucepan add the glucose syrup, molasses and sugar and heat to 43 degrees to dissolve sugar.
Add the milk, stir then add flour bicarb and spices and stir well. Cook over low heat, stirring continuosly until mixture becomes a very thick paste.
Wrap in plastic wrap and place in the fridge to cool.
Divide dough into the number of baking trays required to make the house. Roll out and cut pieces leaving a border on as explained in video. Cut windows and doors but leave in place. Remove the paper template.
Bake for 10 minutes then remove windows and doors and bake for further 5-10 minutes depending on size of piece. Remove form oven and leave to cool, then turn over and check pieces are completely dry, if not place back in the oven for 5 more minutes.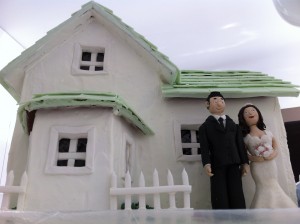 Royal Icing Recipe
3 egg whites or 110g (3.88 ounces) (you can use pasturized egg whites or buy powdered egg whites and add water as per direction on packet)
450g (15.87 ounces) or 3 1/2 cups icing (powdered) sugar
1/2 tsp cream of tartar
1 tsp vanilla essence (or mint flavouring if you prefer)
Using electric beaters combine all ingredients and beat on high speed for about 7 minutes or until stiff.
Place in piping bag (or ziplock bag with a hole in one corner).
Fondant Decorations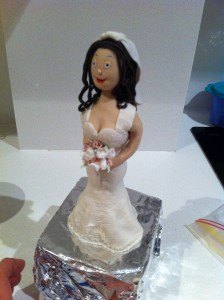 Fondant decorations like the bride and groom, white picket fence and football can be made ahead. The window frames and flowers in the garden beds are also made using white fondant. Watch the video for a tutorial on how to make the windows using fondant and gelatin sheets.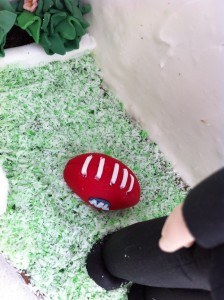 You can purchase fondant to make decorations of buy it ready made. You can find the recipe here: rolled fondant recipe
Roof Tiles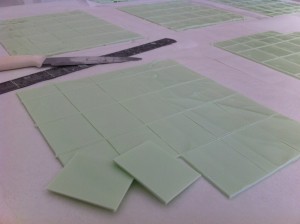 Make sure you watch the videos 'How to temper chocolate' and 'what chocolate to use' before using chocolate to decorate your house.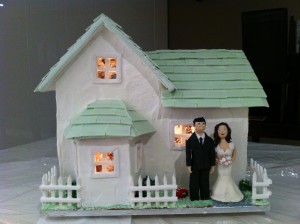 Tempered white chocolate was also used for the piped decorations on the inside of the house.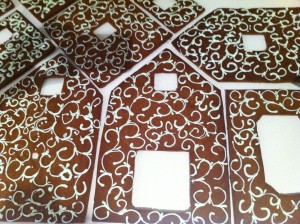 The video above will give you a guide to making this gingerbread house wedding cake and there is a summary of the steps below.
1. Design your template
2. Pre-make fondant decorations
3. Bake house pieces
4. Pipe design on inside of house in chocolate
5. Make chocolate roof tiles
6. Cover cake board, add lights, assemble walls using royal icing to glue together and allow to set
7. Cover walls completely in royal icing
8. Make fondant window frames using gelatin sheets as the glass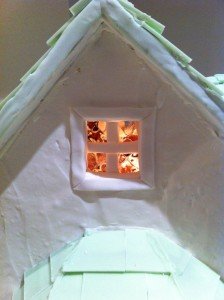 9. Semi fill house with chocolates to suit number of guests
10. Add the roof and allow to set, use cans to support while setting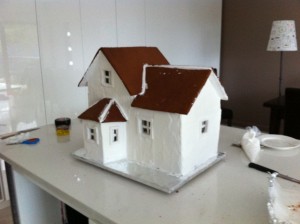 11. Add roof tiles
12. Spread dark chocolate on cake board and cover with coconut coloured green with food colour.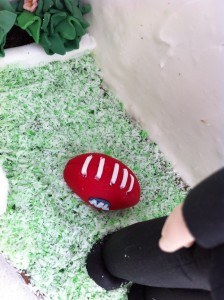 13. Add fondant decorations
14. Carefully transport to wedding
15. Smash, eat, enjoy!
Wedding photography by Andrew James an award winning Sydney Photographer used with permission.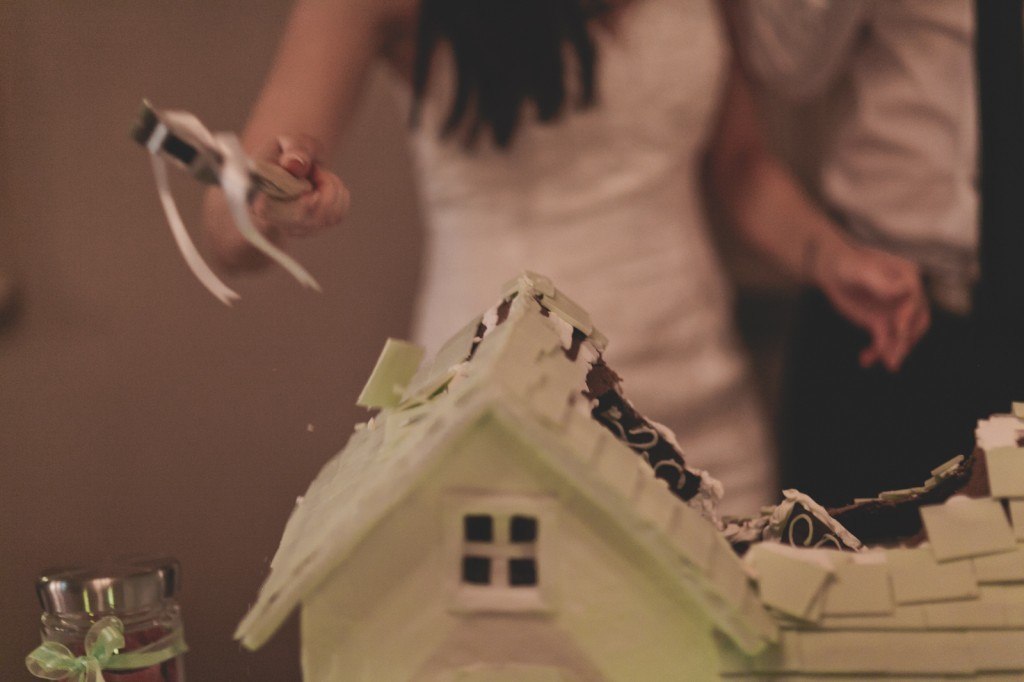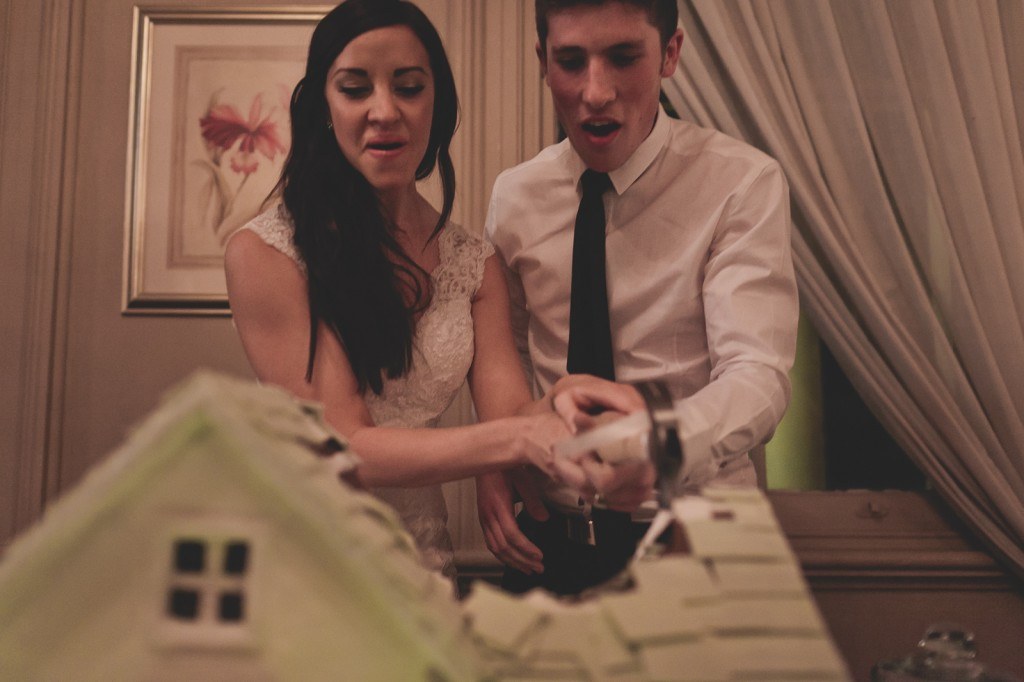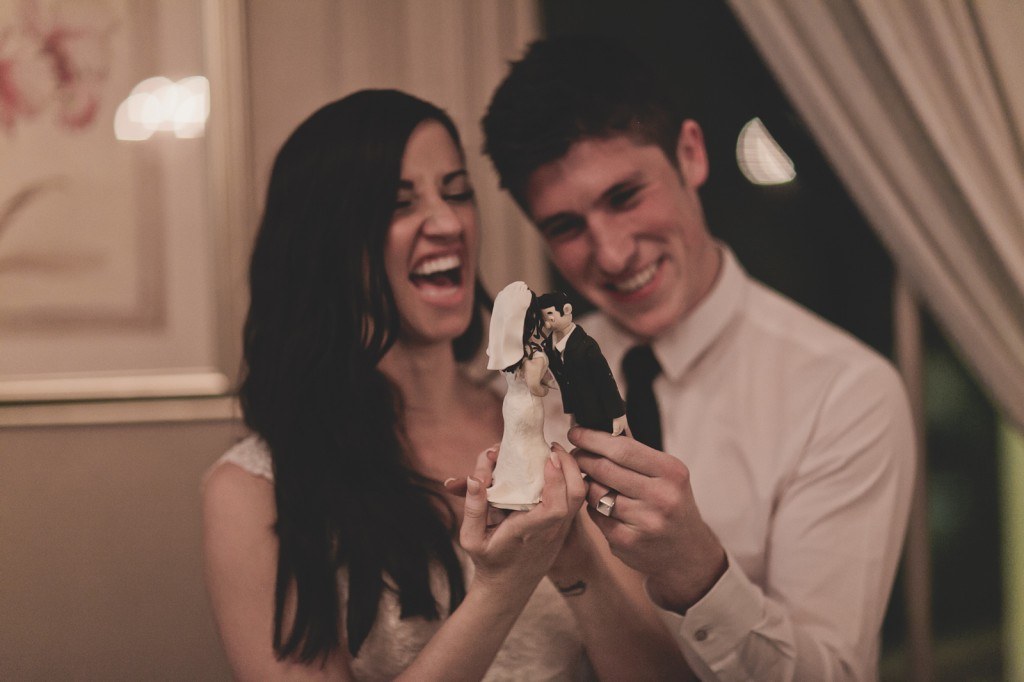 You might also enjoy best of the web gingerbread house ideas or the gingerbread house from the UP movie
My Cookbook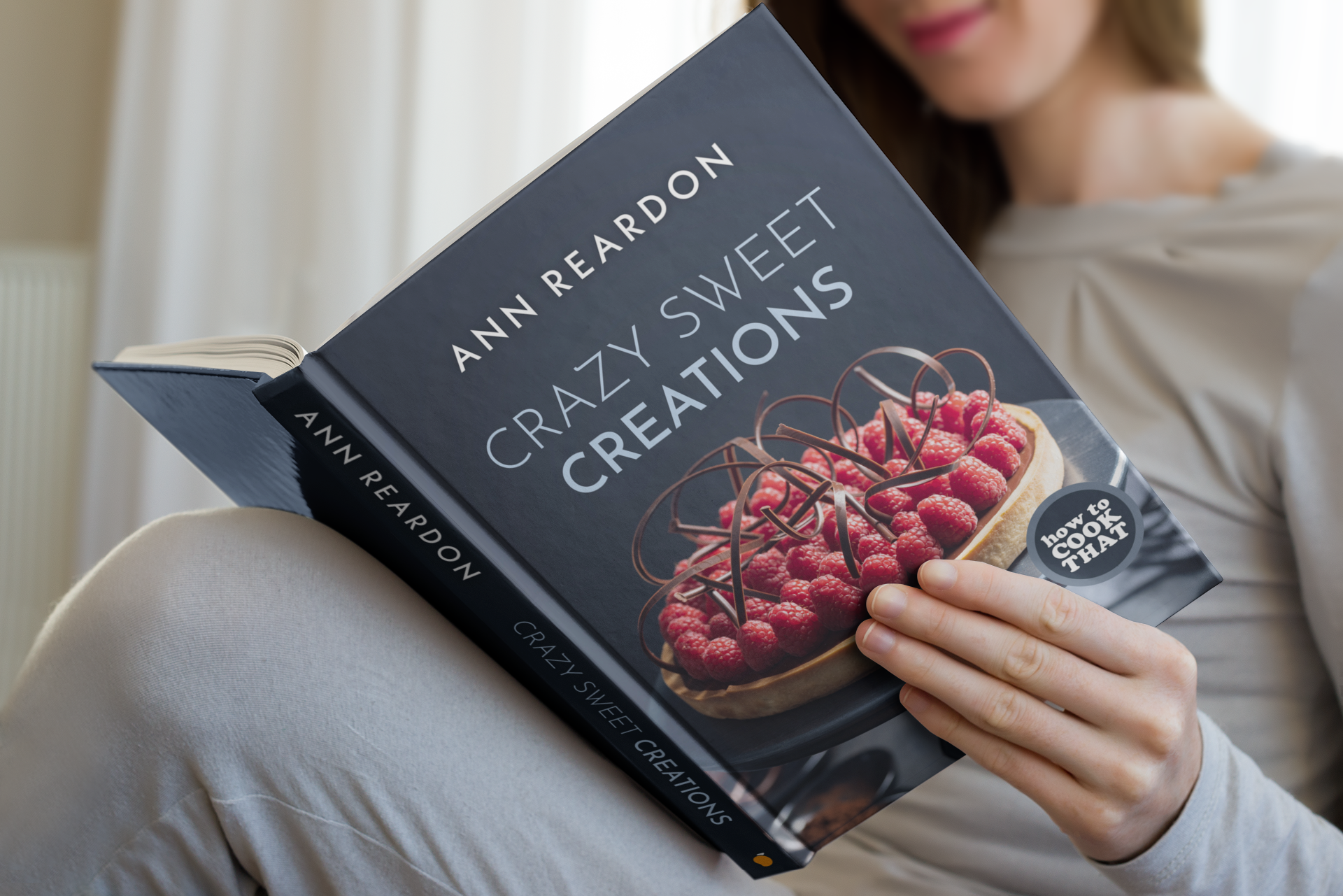 Stores that sell my book listed by country: http://bit.ly/ARcookbook All recipe quantities in the book are in grams, ounces and cups.