Master Chef Gold Bar Recipe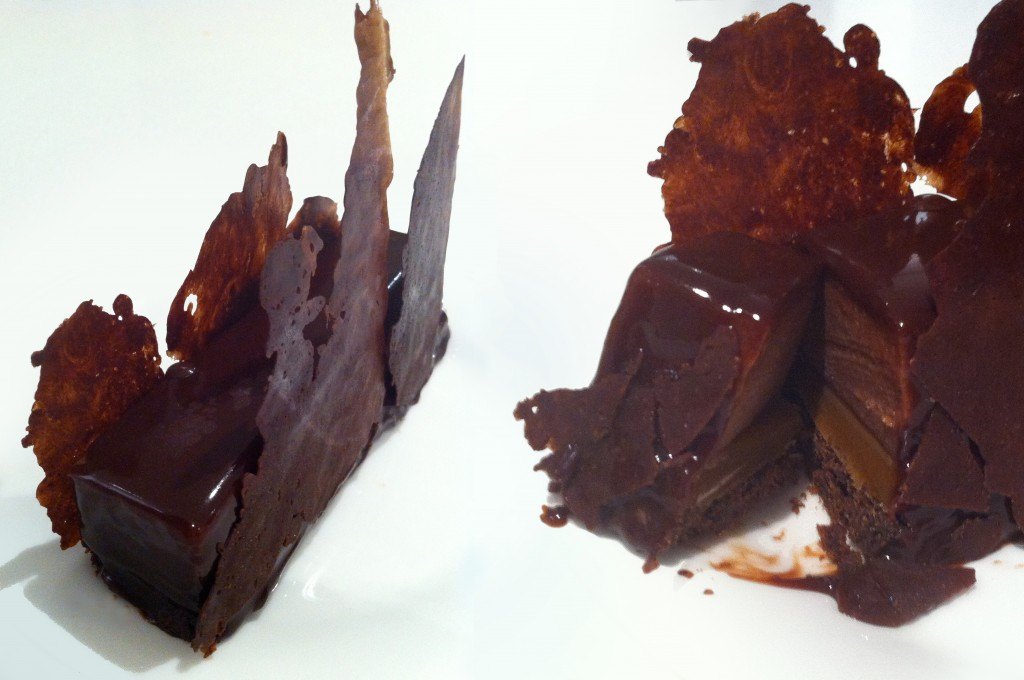 After watching the Master Chef New York episode I really wanted to taste the 'gold bar' dessert. Unfortunately the chef did not share his recipe with the world. Based on the layers that the contestants described here is my version- minus the gold leaf that adorned it.
I did find several sources of gold leaf online but as it is tasteless I did not think it warranted the expense or the risk. Pure gold or silver posses no health issues to most people as it passes through the digestive system unchanged. But how do you know what you are getting is pure? One study of 'pure edible' silver from India found that over half of them were not as advertised. In fact 10% of the samples were aluminium and contained no silver at all. Over half of the others were mainly silver but also contained some toxic metals including nickel, cadmium and lead.* So I would advise caution when buying gold leaf for consumption purposes.
You will need a candy thermometer for this recipe.
Chocolate Pastry Base Recipe
This is what I used for the base, but if I was to make it again I'd try something different, add more sugar or perhaps some coconut – it was a bit bland.
200g (7.05 ounces) or 1 1/4 cups plain flour
100g (3.53 ounces) or 1/2 cup sugar
50g (1.76 ounces) or 1/3 cup plus one tablespoon unsweetened cocoa powder
75g (2.65 ounces) or 1/3 cup margarine, melted
1 egg
Combine the flour, sugar and cocoa with the melted margarine.  Stir in the egg.
Roll out between two sheets of baking paper and bake at 200C (392 degrees Fahrenheit) for about 10 minutes.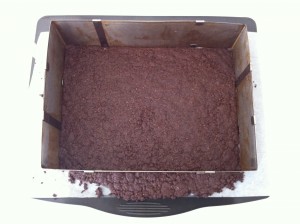 Caramel / Dulce de leche Recipe

Follow  this  dulce de leche caramel recipe. Pour the hot caramel over the base and spread right to the edges. This is especially important if you are using a bottomless pan as it creates a seal to stop the cremeux from leaking.
Chocolate Cremeux Recipe
Chocolate cremeux is a delicious dessert that tastes a bit like chocolate mousse but less airy and with a smoother mouth feel. You can find the recipe for the chocolate cremeux here. Double the recipe shown.
Pour the cremeux over the base and place in the freezer until very firm.
Chocolate Glacage Recipe (mirror glaze)
This is the shiny chocolate glaze that coats the bars. The glacage recipe can be found here. Using a hot knife cut the dessert into equal sized bars and place on a baking rack over a tray. Generously spoon over the glacage to cover each bar. Once it has finished dripping transfer onto individual plates.
Chocolate Tuile Recipe
These paper thin tuiles provide the crispy element to the dessert and give it a classy finish.  Tuile recipe can be found here. Place tuiles along the edge of the dessert just before serving.
If you make it and come up with a better base recipe please post it in the comments section.
My Cookbook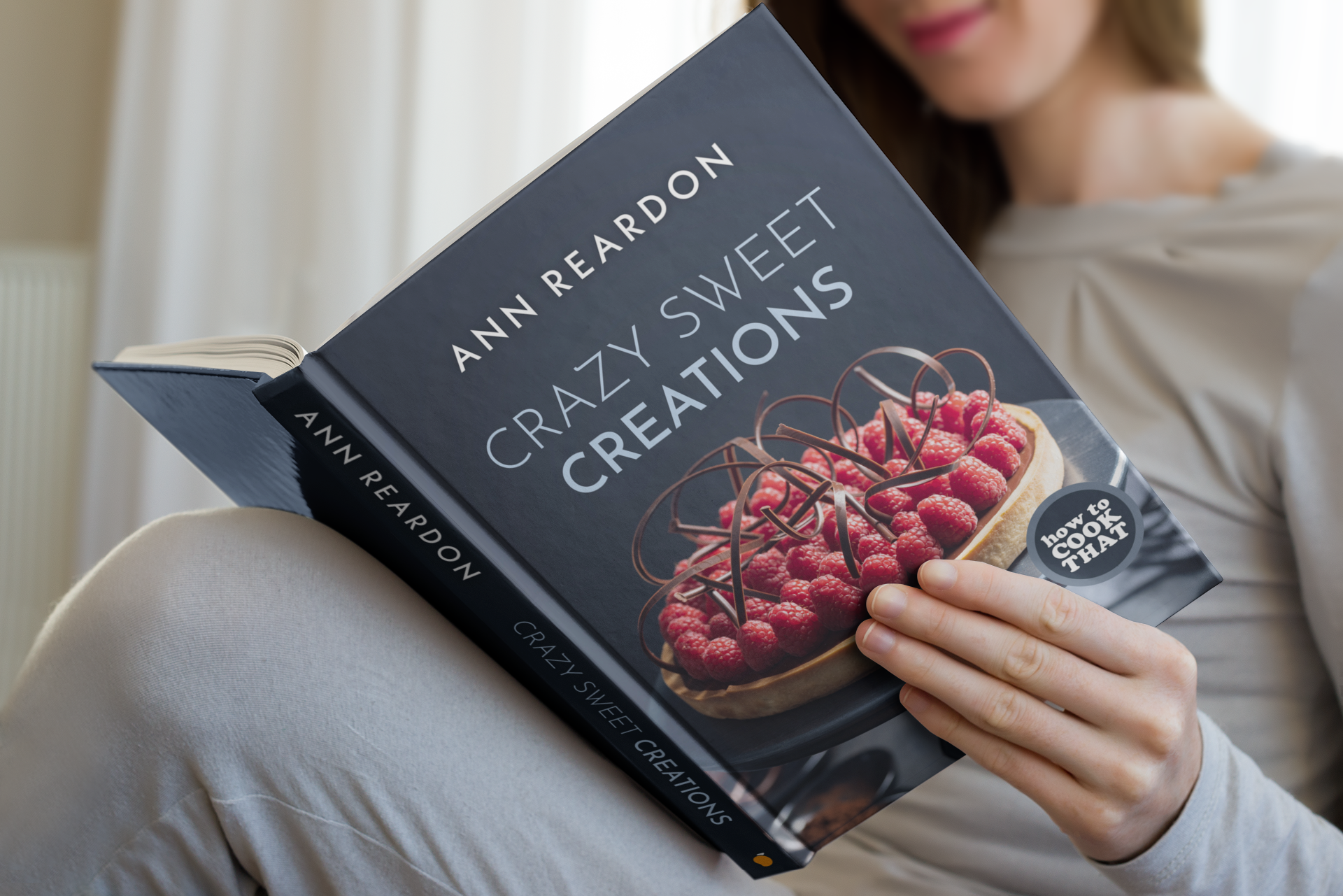 Stores that sell my book listed by country: http://bit.ly/ARcookbook All recipe quantities in the book are in grams, ounces and cups.