Moana Cake
The Moana movie came out a while ago now but there have been lots of requests for a cake. So to help out the mums who have to make a Mona birthday cake I thought I'd make a fondant free version with chocolate flowers.
To make this Moana cake you will need:
Double quantity of the rich chocolate cake recipe
Double quantity of buttercream in flavor of your choice
Sugar syrup made using 1/4 cup sugar and 1/4 cup water heated in the microwave until the sugar dissolves
150g (5.29 ounces) real white chocolate (containing cocoa butter) tempered, or compound chocolate (contains vegetable fat and does not need tempering)
green gel food coloring
green and red powdered or oil based for coloring
Other Supplies:
non-stick baking paper
piping bag with flat tip (if you don't have one see the piping bag hacks video for an alternative)
9″ cake board
leaves washed and thoroughly dried
8″ loose based cake tin
A smaller cake tin or heat proof mug without a handle of the centre
Bake the chocolate cake in a ring shape (see video) and allow to cool.
Transfer the cake onto a cake board and level the top using a knife. Carve the edges to round out the wreath shape at the top, bottom and inside. Drizzle the top of the cake with simple syrup to keep it moist.
Split the buttercream into 3 bowls and colour it 3 different shade of green. Cover the whole cake in a thin layer of the deepest green buttercream.. Wrap each shade of the remaining buttercream into a tube of plastic wrap and place into a piping bag fitted with a flat tip.
Pipe leaves all over the wreath including the inside so that it is covered.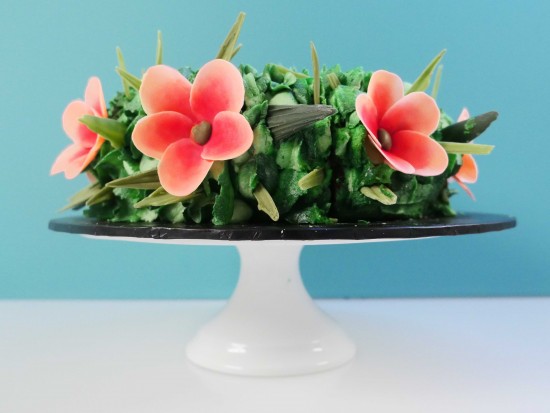 Melt your compound white chocolate or temper real chocolate and mix in some powdered food colouring. Using a leaf that has been washed and dried paint chocolate onto the back of the leaf. Run your finger along the underneath to make sure there is no chocolate on the back. Place on some baking paper to set then peel off the leaf.
To make the flowers pipe little drops of chocolate that has been coloured using some red oil based food colouring. Lift up the baking paper and let it run down slightly. Place another sheet of baking paper over the top and using the side of your thumb flatten out each of the petals by gently rubbing on it. Then roll up the baking paper in a loose roll and leave them to set.
Unroll slightly and remove the top layer of baking paper. Gently roll back the underneath layer to release the petals off the paper.
Make a ring using foil and place a dollop of green chocolate in the centre. Take five petals and place them around in a circle overlapping each other around the centre.
Continue making more chocolate flowers until you have enough to go around the wreath.
Once they are dry dust some powdered food colouring around the centre to make them a deeper colour. Add them into place gently pressing them into the buttercream.
Finally add the chocolate leaves around each of the flowers.
Remember to take a photo of your cake with the birthday girl with a nice background before guests arrive. Most mums are typically so busy lighting candles and organizing kids that they don't get a chance to snap a good shot in the moment.
Copyright © 2017 Reardon Media Pty Ltd. All rights reserved. How To Cook That
My Cookbook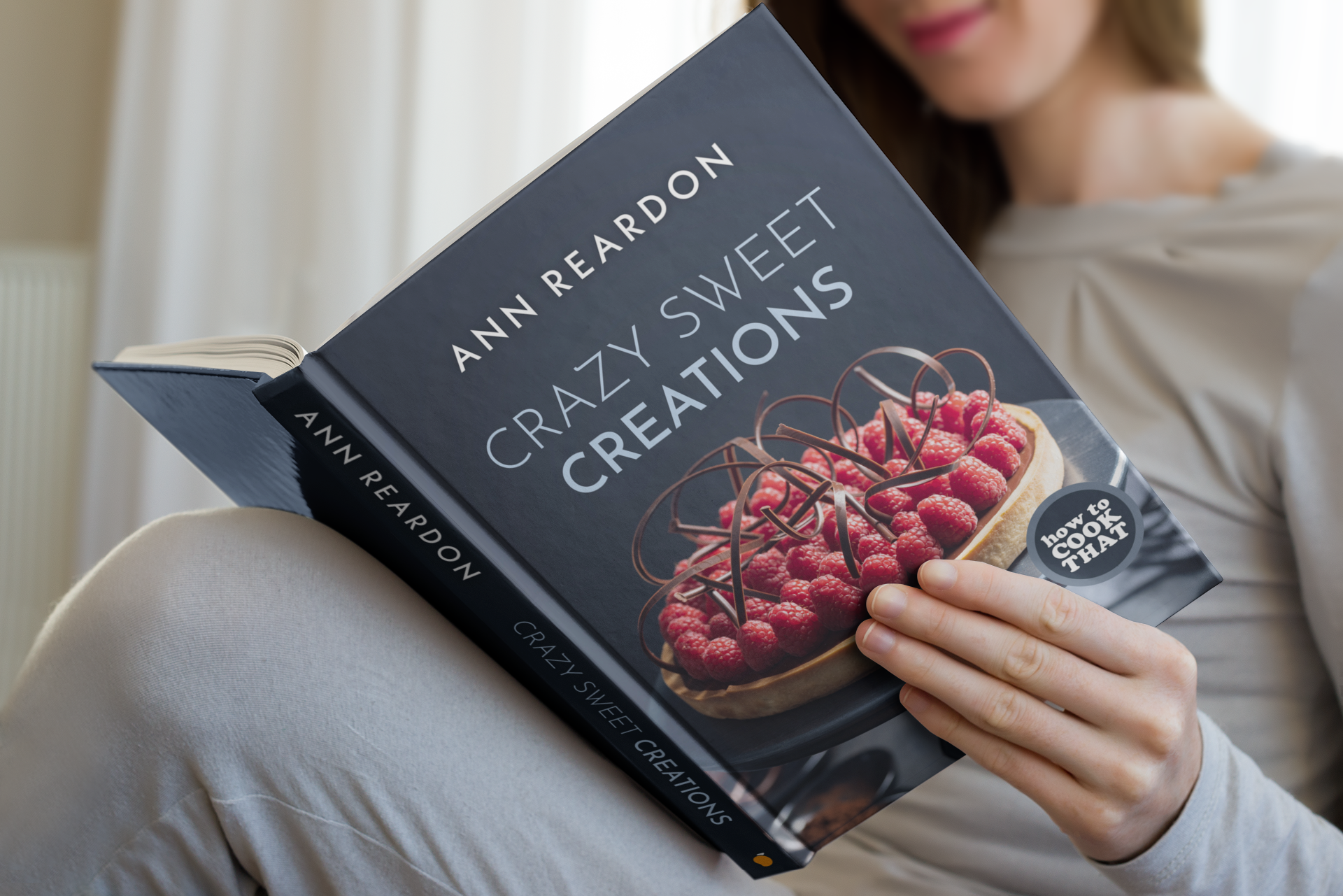 Stores that sell my book listed by country: http://bit.ly/ARcookbook All recipe quantities in the book are in grams, ounces and cups.