Patterned Roll Cake Recipe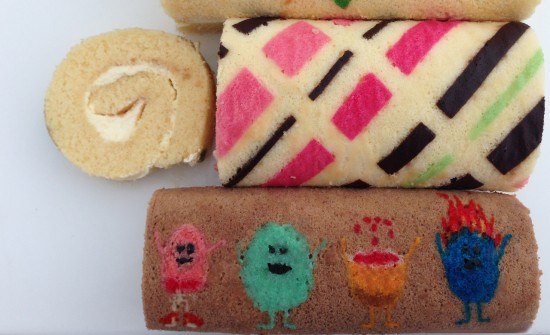 A patterned roll cake is a fun way to make a colourful cake without using fondant.
My boys requested one with the 'dumb ways to die' characters on but my favourite is the striped roll cake.
Recipe for pattern on roll cake
50g (1.76 ounces) or 1/4 cup margarine or butter
50g (1.76 ounces) or 1/3 cup plus 1 Tbsp icing sugar
50g (1.76 ounces) egg whites (approx 1 1/2 egg whites)
50g (1.76 ounces) or 1/4 cup plus 1 Tbsp plain flour
food coloring
Chocolate Pattern Recipe
50g (1.76 ounces) or 1/4 cup margarine or butter
50g (1.76 ounces) or 1/3 cup plus 1 Tbsp icing sugar
50g (1.76 ounces) egg whites (approx 1 1/2 egg whites)
30g (1.06 ounces) or 3 Tbsp plain flour
20g (0.71 ounces) or 3 Tbsp cocoa powder
Cream together your margarine and icing sugar using electric mixers until they are well combined. Add your egg whites and beat well then stir in the flour (or flour and cocoa powder if you are making chocolate).
Colour your mixture according to the pattern or picture you are making.
Cut a piece of baking paper to fit your baking tray.
Make your desired pattern by piping it, spreading it or stenciling it onto the baking paper. See the video for more detailed instructions and tips. Then you want to place that on a tray in the freezer for about an hour to go firm.
Roll Cake Recipe
4 eggs, separated
1 tsp cream of tartar
1/2 cup or 110g (3.88 ounces) sugar
60g (2.12 ounces) or 1/4 cup plus 1/2 Tblsp margarine or butter
2/3 cup or 100g (3.53 ounces) plain flour
Preheat the oven to 392F (200 degrees Celsius).
Seperate the eggs and put half the sugar in with the yolks and the other half of the sugar and the cream of tartar in with the whites.
Melt the butter either in the microwave or on the stove top.
Whip your egg whites until you get firm peaks and then use the same beaters to whisk up the yolks and sugar until they look pale.
Fold the whites into the yolks in three batches.
Add in half the butter and flour and fold through. Then the remaining butter and flour. Keep folding until there are no more streaks of butter or flour.
Pour the mixture over your frozen pattern and spread it right to the edges.
Bang the tray on the bench a few times to make sure the mixture gets all around the pattern and then bake in the oven for 7 minutes in the centre of the oven.
You do not want to overcook it or it will be too dry and it will crack when you try and roll it.
Simple Syrup Recipe
1/4 cup or 63millilitres (2.13 fluid ounces) water
1/4 cup or 4 Tbsp or 55g (1.94 ounces) sugar
optional – you can add flavour such as vanilla
Heat until the sugar is dissolved, leave to cool.
Once your cake is ready take it out of the oven and immediately trim off the edges using a serrated knife. Cover in baking paper, add another flat baking tray or chopping board on top and flip it over. And then you will be able to just lift off your tray, the edges will stay in the pan and you're left with a neat cake. Peel off the paper straight away while it is still hot. Then leave it to cool.
Place a clean sheet of baking paper over your cooled cake and flip it over again.
Brush the cooled roll cake with simple syrup, you will not need all of it, you can save the rest for another cake.
Spread your chosen filling over the cake, you can use buttercream, cream cheese frosting, cream with strawberries, ganache.
Then starting at one end using the paper to help you roll up the cake up and transfer it to your serving platter.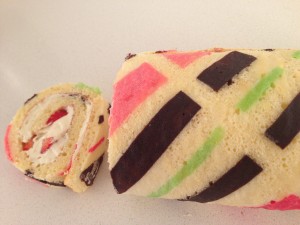 recipe sources: *pattern recipe is a standard decor paste recipe *cake recipe
2013
It's nearly Christmas, grab a cookbook and cross someone off your present shopping list. Stores that sell listed by country: http://bit.ly/ARcookbook
All recipe quantities in the book are in grams, ounces and cups.