Rainbow Steam Cake Recipe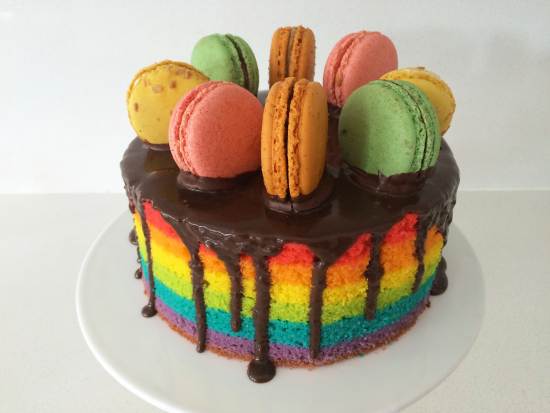 A super-easy Rainbow Steam Cake that comes out of the oven looking like this! That's right, there's no need to bake all those different coloured cakes separately & level layers! With this recipe, all you do is trim the edge and pour on the ganache. Really it is that simple!
It's school holidays in Australia so we've had grandparents visiting from out of State. Seeing them in person is much better than phone calls, especially for our littlest one. You can't have cuddles down the phone, nor can you go to the shops together and come home with an awesome Lego set! (Thanks Nanny and Granddad)
Rainbow Steam Cake Recipe
Deep loose based round cake tin 20.5cm (8.07 inches) x 9.5cm (3.74 inches)
(if you are in AU or NZ you can get one here)
2 cups or 320g (11.29 ounces) plain all-purpose flour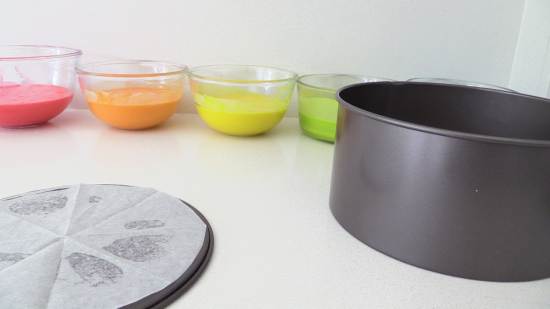 1 ½ cups or 327g (11.53 ounces) sugar
1 Tbsp baking powder
1 tsp salt
1 ½ tsp or 7.5g (0.26 ounces) gelatine (powdered – we are using the gelatine as an emulsifier in this recipe)
1/2 cup or 125millilitres (4.23 fluid ounces) vegetable oil such as canola oil
1 cup or 250millilitres (8.45 fluid ounces) cold water
7 egg yolks
7 egg whites
1/2 tsp cream of tartar
Gel colouring I used purple, blue, yellow and red to make the colours you can see.
Ganache to decorate
50g (1.76 ounces) milk chocolate
50g (1.76 ounces) dark chocolate
30millilitres (1.01 fluid ounces) cream (what cream to use?)
To decorate (optional)
macarons
additional 50g (1.76 ounces) melted chocolate
Preheat the oven to 160C (320 degrees Fahrenheit).
Add the sugar, baking powder, salt and gelatin into the flour and stir it with a whisk.
Make a well in the centre and pour in the oil, egg yolks and water but don't mix it.
Add the cream of tartar to the egg whites and whisk to soft peaks.
Mix the flour mixture on low until it is just combined.
Mix in a third of the egg whites. Then fold in the rest in two batches until just combined.
Split the mixture evenly between 6 bowls. Add a little colour to each bowl and gently fold through.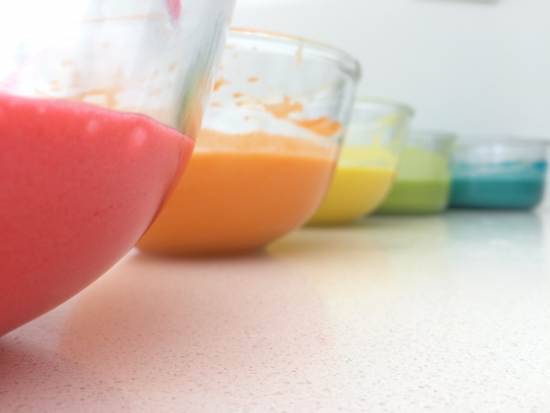 Pour the purple mixture into the lined tin and place in the oven on the middle shelf. Put an empty tray on the top shelf to stop it browning and a tin of boiling water on the bottom of the oven. This makes the oven steamy and keeps the cake moist.
After 9 minutes add the next layer and return to the oven for another 9 minutes. Repeat with the remaining layers baking the top one for 11 minutes. Allow to cool in the tin and then tip out.
To make the ganache pouring hot cream over the chocolate and leave for 1 minute, then stir together until smooth.
Place a bowl or something slightly smaller than the cake on top and use it as a guide to cut off a thin layer all the way around.
To make some simple syrup put equal parts of sugar and water into a cup and microwave until the sugar has dissolved.
Using a pastry brush add generous amounts to the cake.
Pour your ganache on top right in the center then let it drip down over the edge.
To decorate the top of the cake dip the base of some macarons in melted chocolate and add them in a circle going around the top of the cake.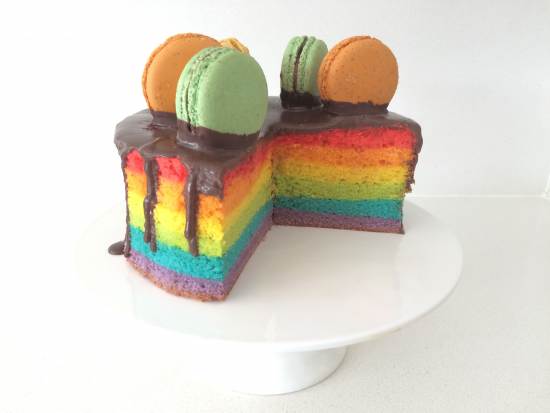 Recipe by Ann Reardon
2015
BIG ANNOUNCEMENT
I have been busy over the last year planning, writing and overseeing the photography and layout for my first ever cookbook! There are heaps of my favourite dessert recipes in there with a chapter on pastries, ice-cream, yummy cakes, artistic desserts and of course chocolate desserts. Each chapter has its own intro explaining the food science that you'll need to know for success every time. Booksellers where you can purchase your very own copy: http://bit.ly/ARcookbook
All recipe quantities in the book are in grams, ounces and cups.