Awesome spinning BB-8 Cake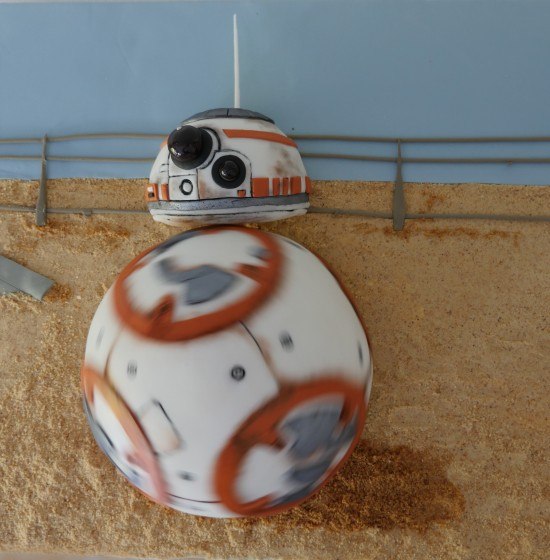 There has been an awakening … a spinning BB-8 cake!! Yes this cute rolling droid almost stole the show in the new Star Wars movie and I just knew I had to come up with something special to represent his clever mode of transport. Star Wars is a big thing in my house full of boys. Have I ever told you about the time when I was 9 months pregnant (10 days overdue in fact) with our first child. Well finally, in the middle of the night my waters broke and guess what, my husband wasn't home! Where was he? Dave was at the midnight screening of Star Wars Episode 2 of course. So I guess it's no surprise that 13 years later he took our two eldest boys went to the very first midnight screening of Star Wars 7 the Force Awakens. As for me, I saw it a week later at a much more civilised hour. Oh and don't worry, Dave did make it home in plenty of time to get me to the hospital.
To make this Star Wars BB8 cake you will need:
Fondant cutting template
20cm (7.87 inches) Hemisphere tin
11cm (4.33 inches) round bowl for the head
round cutters and round piping tips for cutting and indenting any of these sets will do
20cm (7.87 inches) round cake board (you can cut your own from board and cover in foil)
Lazy Susan I have this one
Non-stick baking paper (the best thing to roll your fondant when cutting out details)
MDF wooden board, mine is 50cm (19.69 inches) x 45cm (17.72 inches)
cake shine
1.5 x my chocolate cake recipe baked at 170C (338 degrees Fahrenheit)
2 x my basic buttercream recipe (or you can choose a flavour)
600g (21.16 ounces) white fondant
100g (3.53 ounces) orange fondant (I used yellow and copper food colouring to get BB-8 orange)
60g (2.12 ounces) black fondant
200g (7.05 ounces) grey blue fondant for the sky (or you could colour buttercream)
Black gel food colour
Silver luster dust
Brown luster dust
Plain biscuits for the sand (I used different biscuits/cookies to give the two shades of sand).
Wrap a sheet of baking paper around the edge of the hemisphere tin and secure into place at with a staple. Do the same on the little bowl. Spray or wipe each one with vegetable oil so the cake does not stick.
Preheat the oven to 170C (338 degrees Fahrenheit). Make a batch of 1 and a half times my rich chocolate cake recipe and pour it nearly to the top of each tin. Bake them in the oven, place an empty tray on the top shelf to stop the bigger one from burning on top before it's cooked through.
Once they are baked and cooled level off the top while they are still in the bowl. Tip them out of the tin.
Place the bigger one on the cake board. Cover the whole thing in a layer of buttercream. Then use a sheet of thin plastic or acetate to smooth off the frosting. Place that in the fridge for the buttercream to firm up.
For the head, cut about 1/3 off so that it will sit upright. Then place it next to the tin to see where to cut (see video). Cover in buttercream frosting.
Now roll a thin cylinder of white fondant for his aerial and leave it to one side to dry out.
Cover the body and the head in white fondant. Then add a circle of black and then white to the base of the head.
Using the template cut the details of the head and put into place. Draw the indents on the head. For the silver parts cut them out of black fondant and then dust them with silver luster dust.
Cut the orange 'circles' out of fondant and add into place. Then cut the silver parts from black fondant and dust with silver luster dust. Add into place on his body.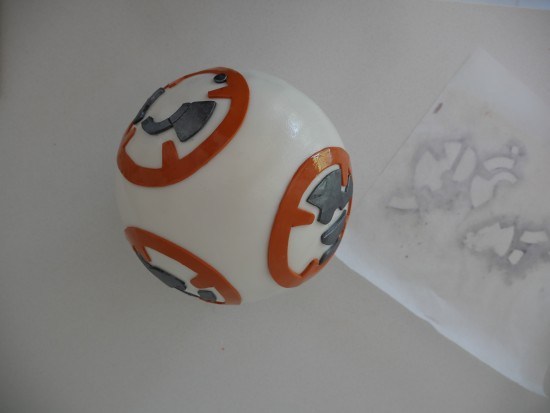 Draw lines between the circles and then add indents for the joiners.
Cover the MDF board in plastic wrap and add a Lazy Susan upside down. Spread buttercream across the bottom half of the board, smoothing over the Lazy Susan so you can't see a lump.
Process the biscuits until they are fine. And sprinkle that over the buttercream. Then add a strip of grey blue fondant to the top of the board.
Use some brown powdered food colouring and using a dry brush dust it around the joins and the orange.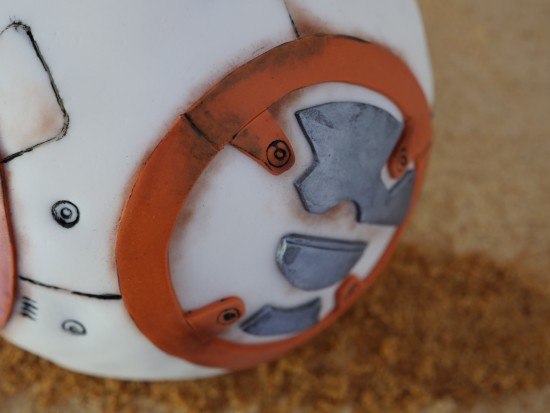 Add the body into place. Making sure it is exactly central. Position BB8's head into place just above the body and check it can spin past. Crush up some different coloured biscuits and add them for BB8's shadow.
Roll a ball of black for his eye, cut it in two, then take it outside and spray it with cake shine.
Bring them back inside and add them into place on the head.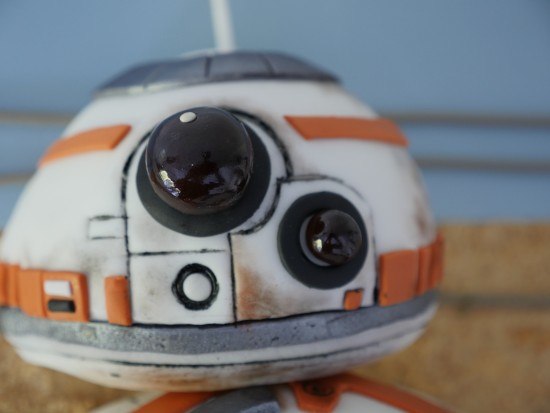 by Ann Reardon.
Copyright © 2016 Reardon Media Pty Ltd. All rights reserved. How To Cook That
My Cookbook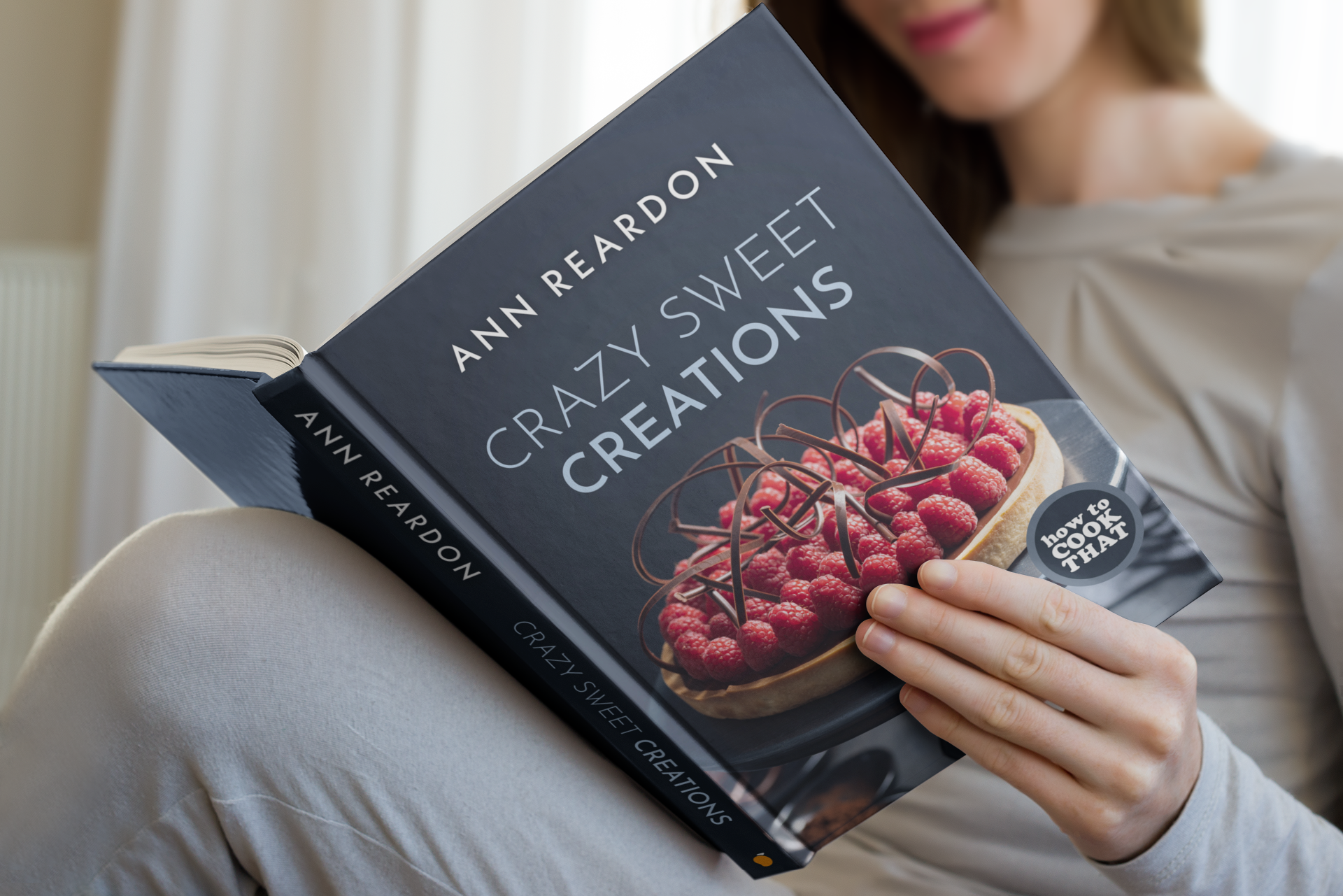 Stores that sell my book listed by country: http://bit.ly/ARcookbook All recipe quantities in the book are in grams, ounces and cups.