Easy French Macaron Recipe (Macaroons)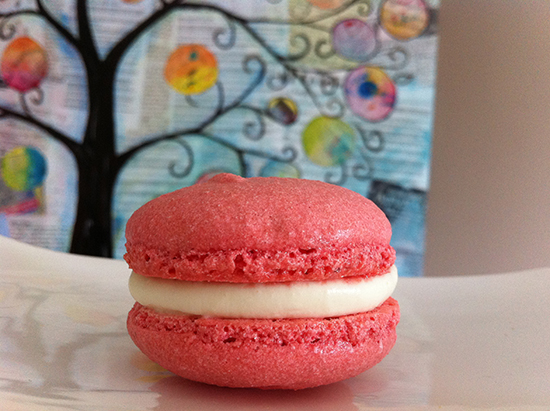 I am often asked why have my macarons failed?! Why are there no feet?! Why have the macaron shells cracked? And which recipe do you use for your macarons? So here it is… french macaron recipe and troubleshooting.
On a recent holiday I found a 200 year old cookbook on my mums bookshelf.  It tells that King Henry VIII granted an estate in Leadenhall Street to a Mistress Cornewallies in reward for the fine puddings that she presented to him. Follow these easy steps to make macarons fit for a king. You will aquire such indulgence that is pleasing to the palate and if you're lucky enough perhaps you too will be granted an estate!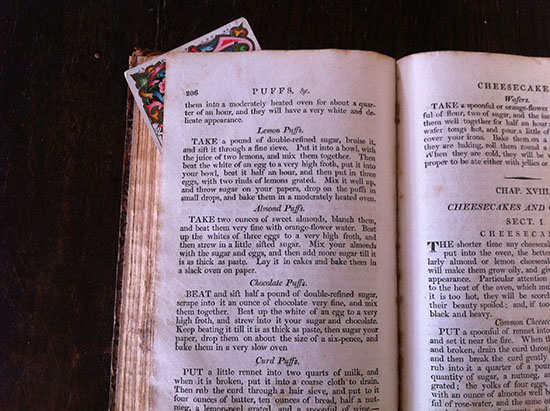 The picture above shows the 200 year old macaron recipe. They called them almond puffs. Personally I prefer to make them using my electric mixer using the recipe below.
French Macaron Recipe Ingredients
This recipe uses metric cups where 1 cup=250mL (8.45 fluid ounces). The US cup measurements are also provided To help those using US cups where 1 cup=236mL (7.98 fluid ounces). As Macarons require a great balance in ingredients it is important to stick to the cup measurements used in your area.
4 large egg whites (or 5 small) approx 140g (4.94 ounces)
1/3 cup or  70g (2.47 ounces) caster sugar [*US cups: 1/3 cup plus 1 tsp]
1 1/2 cups or 230g (8.11 ounces) pure icing sugar [US cups: 1 1/2 cups plus 4 tsp] .  IF you wish to use icing mixture INSTEAD of icing sugar you will need 1 3/4 cups or 275g (9.7 ounces) icing mixture [US cups: 1 3/4 cups plus 4 tsp]
1 cup or 120g (4.23 ounces) almond meal [US cups: 1 cup plus 3 teaspoons]
2g (0.07 ounces) salt (tiny pinch)
gel food colouring (optional)
Macaron Recipe Directions
This recipe makes approximately 40 shells or 20 filled macarons
Preheat the oven to 150C (302 degrees Fahrenheit)
Place egg whites and caster sugar in a bowl and mix with electric mixer until stiff enough to turn the bowl upside down without it falling out. Continue to whip for 1-2 more minutes.  How long this takes will depend on you mixer.  Add gel or powdered food colouring and continue to mix for a further 20 seconds.
51423
Sift the almond meal and icing sugar and salt twice, discarding any almond lumps that are too big to pass through the sieve. Fold into the egg white mixture. It should take roughly 30-50 folds using a rubber spatula.  The mixture should be smooth and a very viscous, not runny. Over-mix and your macarons will be flat and have no foot, under mix and they will not be smooth on top.  See the macaron troubleshooting post for examples.
Pipe onto trays lined with baking paper, rap trays on the bench firmly (this prevents cracking) and then bake in the oven for 20 minutes. Check if one comes off the tray fairly cleanly, if not bake for a little longer (make sure you are using NON-stick baking paper or they will stick).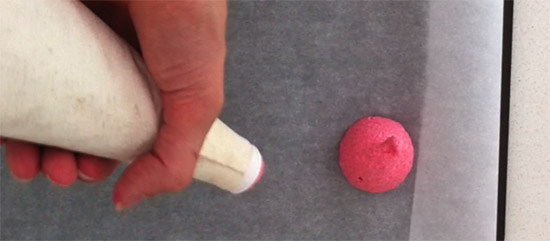 PLEASE make sure you watch the macarons FAQ and troubleshooting video. This way you can learn from the mistakes and questions of those who have made them before you.
Filling your macaroons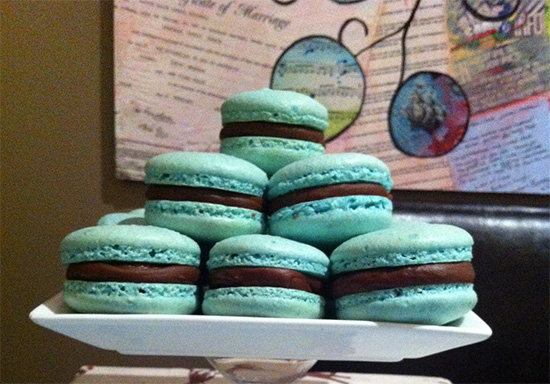 My favorite is flavoured ganache, but you can use jam and cream, butter cream or just eat them plain.
Ganache Recipe
100g (3.53 ounces) chocolate
30ml cream
Bring the cream to the boil and pour over the chocolate. Let stand for a minute and then stir. If it is not adequately melted then microwave for 20 seconds and stir – repeat until smooth. Allow to cool and thicken before piping onto macarons.
More macaron recipes for you:
howtocookthat.net
2012