Monkey Brain Cakes for an Indiana Jones Event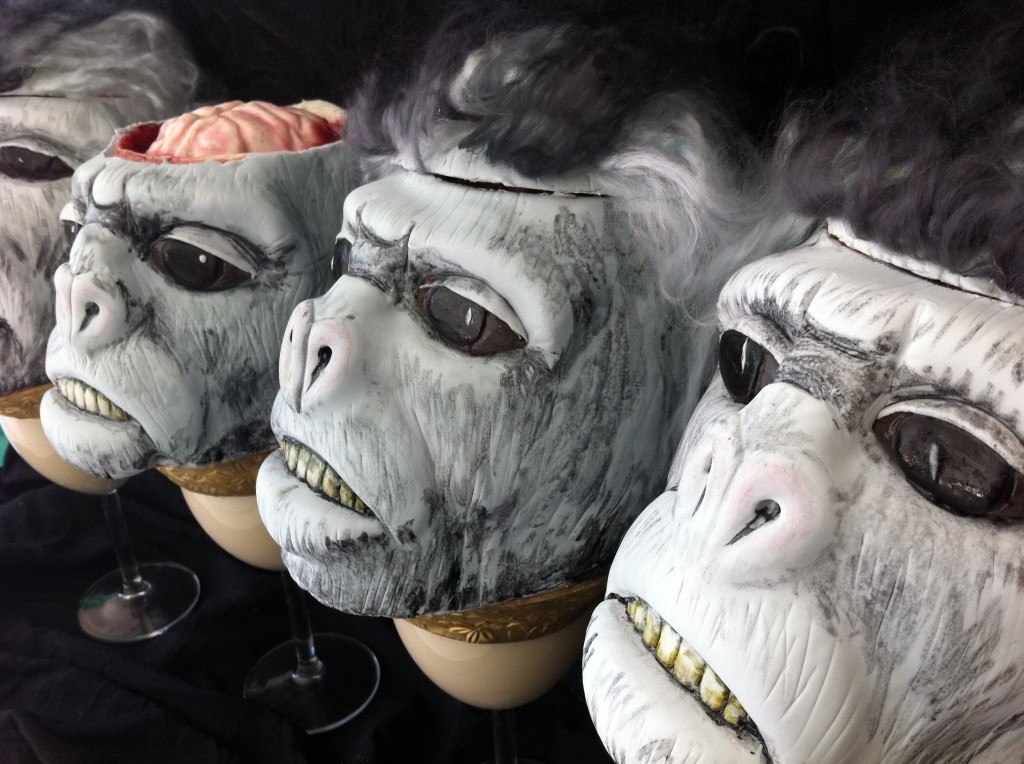 They look disgusting, but they taste amazing.
 In Indiana Jones and the Temple of Doom chilled monkey brains are served as a dessert.
These ones are made of chocolate cake with chocolate ganache, cheesecake brains, white chocolate skull and fresh raspberry jelly for blood.
Paramount pictures held a public event to launch the release of the blu ray DVD set of Indiana Jones.  Copies were signed by John Rhys-Davies who acted as Sellah, a friend of Indiana Jones in Raiders of the Lost Ark and Indiana Jones and the Last Crusade.
Hover over the pictures below or watch the video for instructions on how to make these horrible looking monkey brain cakes.  Scroll down for recipes
Indiana Jones Event Photography By Andrew James Photography (photos used with permission)
Brain Cheesecakes Recipe: The Brains themselves are cheesecake tinted pinkish so they look flesh toned.  Reusable food grade casting gel can be purchased worldwide here.
Raspberry Blood Recipe: for the raspberry blood I used my raspberry sauce recipe that I make with frozen raspberries, I thickened it up using a little gelatin so that they would not spill during transit and would hold the brains in position.  Follow the directions of the packet of gelatin as to the amount to use per volume of 'blood'.
Chocolate Cake Recipe I used my favourite chocolate cake recipe of course.
Chocolate Ganache Recipe Chocolate ganache was used between the layers of cake and to cover the whole head before applying the fondant
Fondant Recipe and Tips This post tells you everything you need to know about using fondant.
530
BIG ANNOUNCEMENT
I have been busy over the last year planning, writing and overseeing the photography and layout for my first ever cookbook! There are heaps of my favourite dessert recipes in there with a chapter on pastries, ice-cream, yummy cakes, artistic desserts and of course chocolate desserts. Each chapter has its own intro explaining the food science that you'll need to know for success every time. Booksellers where you can purchase your very own copy: http://bit.ly/ARcookbook
All recipe quantities in the book are in grams, ounces and cups.