Candy Crush Jelly Saga Cake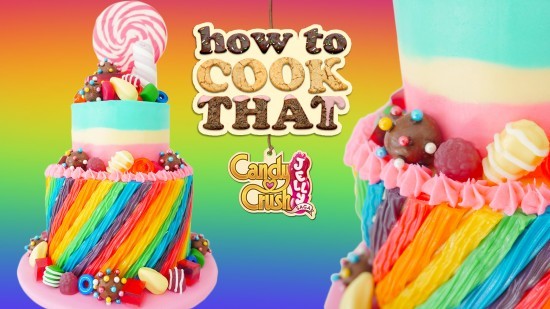 This week we are making a candy covered, colorful cake that is really easy to make. No fondant skills required! There is a tiny bit on the cake and covering the cake board, but you can skip it if you like. With thanks to King the developers of Candy Crush Jelly Saga for sponsoring this video. Sponsors help the website and videos to run.
Competition is now closed (terms & conditions). Thanks for all your lovely entries. Congratulations to the winners
Jessica Pawling (iPad mini), Hayden Elrod (iPad mini) and Maria Arroyo (iPad). Well done.
To make this Candy Crush Jelly Saga Cake you will need
One and half times my fluffy sponge cake recipe bakes in three 8inch (20.32 centimetres) round tins
1 quantity of my rich chocolate cake recipe baked in two 8inch (20.32 centimetres) round tins
White Chocolate Ganache Recipe
700g (24.69 ounces) white compound chocolate
230millilitres (7.78 fluid ounces) or 1 cup less 1 Tbsp and 1 tsp cream (35% fat)
Pour the cream over the chocolate. Microwave for 30 seconds then stir well, microwaves heat unevenly so do stir or it will burn. Zap it again for another 30 seconds and you'll see it is just starting to soften. Microwave for 30 seconds, stir again and then give a final 20 seconds and stir until it is smooth. If you still have lumps keep giving 10 second bursts at a time and stir until smooth. Pour that into a flat container, spread it out and place it in the freezer for 30 minutes to chill. Or you can leave it in the bowl at room temperature overnight.
Butter Cream
120g (4.23 ounces) or 1/2 cup plus 1 Tbsp butter or margarine
2 1/2 cups or 315g (11.11 ounces) icing sugar
Whip together the butter and icing sugar until light and fluffy then mix in the thickened ganache to make a creamy irresistible frosting.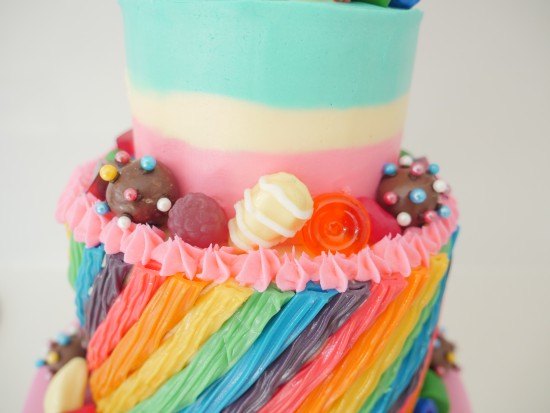 Candy
1 large lollipop
twisted marshmallow for the puffler
yellow starburst chews
chocolate coated raspberries
sugar pearls or sprinkles and a little chocolate to attach them
red jelly beans
orange barley sugars (for the lozenges)
blue life savers
berry bursts
40g (1.41 ounces) green fondant or if you can find it green bubblegum
20g (0.71 ounces) white fondant to make some candy striped
50g (1.76 ounces) pink fondant to cover the board
Other:
pink gel food colour
blue gel food colour
9inch (22.86 centimetres) cake board
5inch (12.7 centimetres) cake board
3 cake pop sticks
piping bag or you can use plastic bags (see piping bag hacks for a star shape without a piping tip).
Jelly
Cut each of your cakes into two layers.
Spread some frosting onto the 9″ cake board to stop the cake from slipping then place your first layer of sponge cake in the middle. Spread that with your creamy frosting then add a layer of chocolate cake. Continue to layer up six layers alternating chocolate and sponge cake, then cover the whole thing in frosting. Smooth out the sides and flatten the top.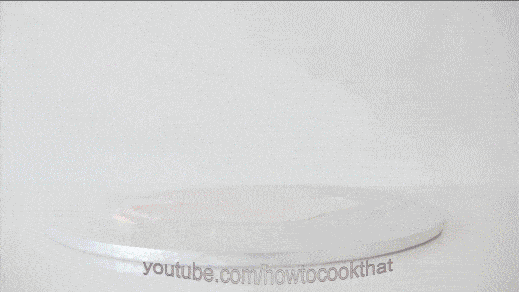 Take a twizzler and place it diagonally across the side of the cake. Then add another one right next to it. Continue to add more right around the cake in a rainbow of colours. Tip: Trim the top and base of the twizzlers on an angle so it sits more neatly around the top and base of the cake.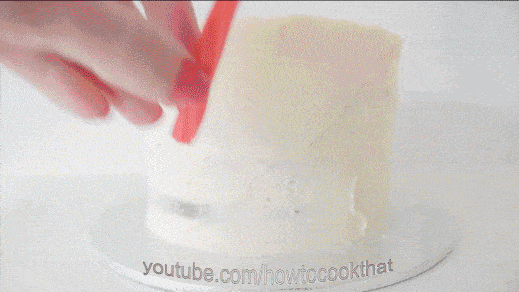 For the top tier use a bowl to cut out a smaller circle of cake out of the remaining layers. Add them to the 5″ cake board layering and covering in frosting like you did for the first tier. Place that it in the fridge to allow the frosting to firm up.
To support the top cake poke three cake pop sticks (the height of the cake) into the middle. This will take the weight of the top tier so it doesn't squash the bottom cake.
Take the left over frosting and split it into three bowls. Colour one pink and another blue. Pipe some pink frosting around the base of the top layer, cream in the middle, blue around the top and on the top of the cake.
Flatten out the top using a spatula then smooth out the sides taking off the excess frosting. The use a warm spatula to make it really smooth.
Use the remaining pink frosting to pipe stars around the top of the base layer. This helps even up the edges if your twizzlers are not quite level.
Add your top layer into place.
Cover the board with pink fondant and then add the candy to the cake.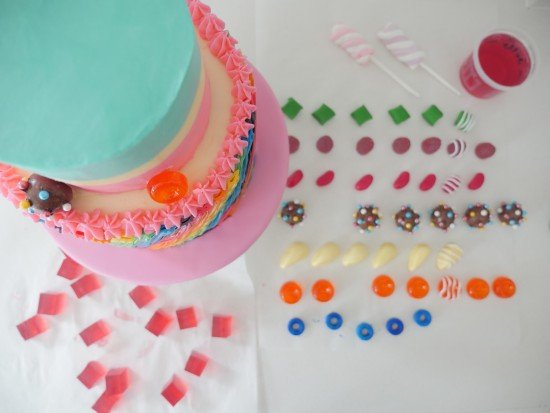 © All Rights Reserved Reardon Media PL 2020
My Cookbook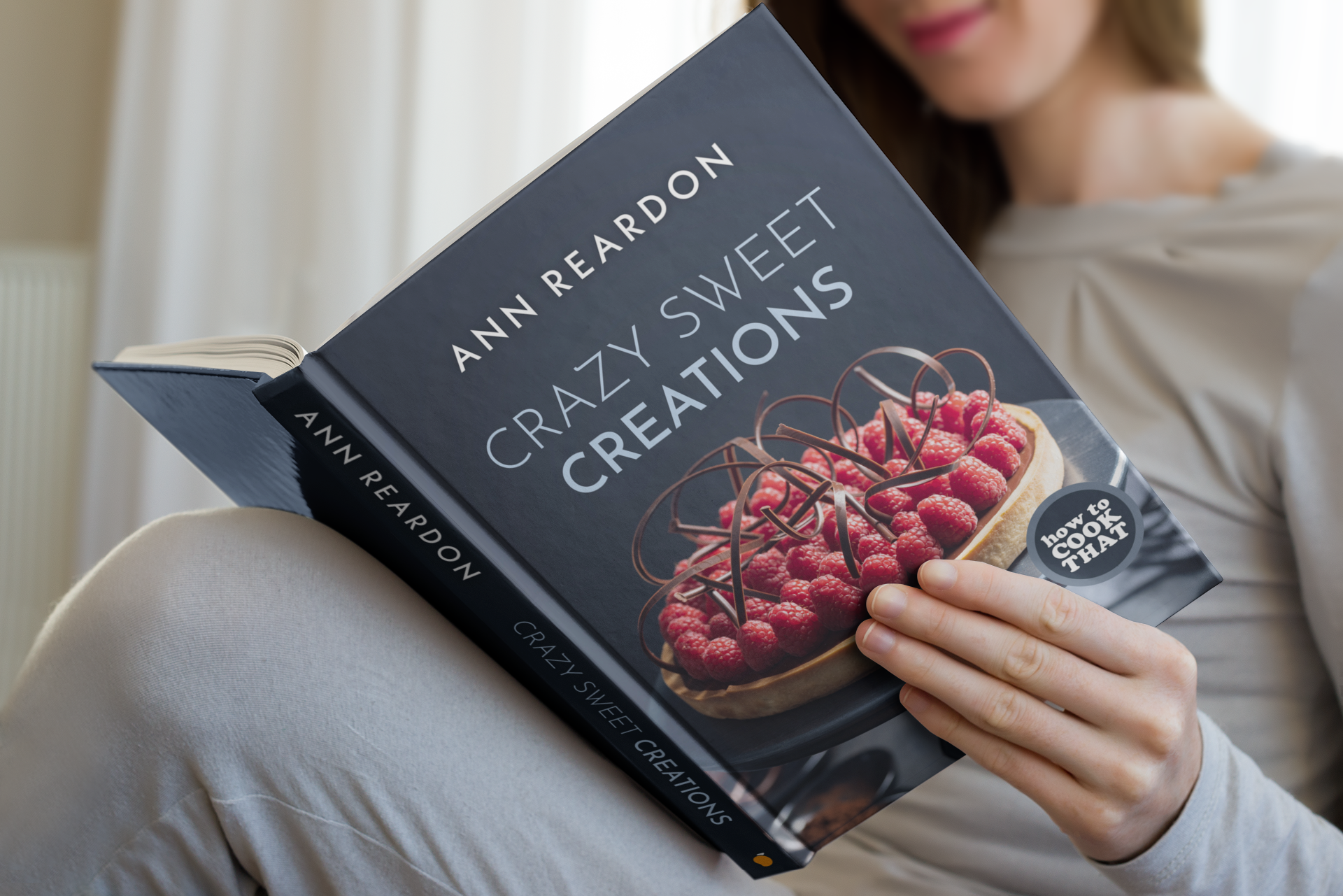 Stores that sell my book listed by country: http://bit.ly/ARcookbook All recipe quantities in the book are in grams, ounces and cups.