LEGO Cake – LEGO City Police Cake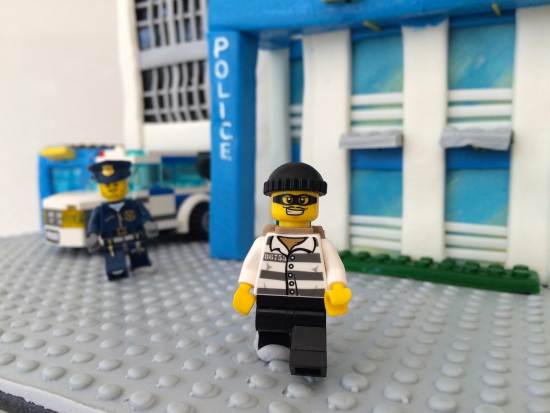 My four year old is obsessed with LEGO. He loves to build his own creations and engage in imaginative play. And having two older brothers means there is a vast supply of Lego bricks to play with as well as experienced builders to help fuel his imagination. As his birthday approached this year, he was very specific about what he'd like – not just a Lego cake but a Lego City police station cake with real Lego figures out the front. And a police car. I did wonder if the 'real' figures and car were a ploy to get more Lego. In any case, it worked and the cake was a hit with his little friends too.
As this post goes live, I will be in L.A. at VidCon.  If you want to come by and say hi, I'm going to be doing some meet-and-greets at VidCon over the next couple of days.
To make this LEGO city police cake you will need:
Fondant
500g (17.64 ounces) white fondant
350g (12.35 ounces) black fondant
350g (12.35 ounces) blue fondant
500g (17.64 ounces) light grey fondant
50g (1.76 ounces) yellow fondant
50g (1.76 ounces) dark green fondant
blue and gold luster dust and a dry soft paint brush
Cake and fondant cutting template
Lego Base mat, lego blocks
Re-useable food grade molding gel
1x batch of vanilla buttercream
1x batch of ganache made with 130millilitres (4.4 fluid ounces) cream and 350g (12.35 ounces) milk chocolate
1½ quantities of my chocolate cake recipe baked in two trays (my trays are 38cm (14.96 inches) x 25cm (9.84 inches) ) Bake at 180C (356 degrees Fahrenheit) for 25 minutes.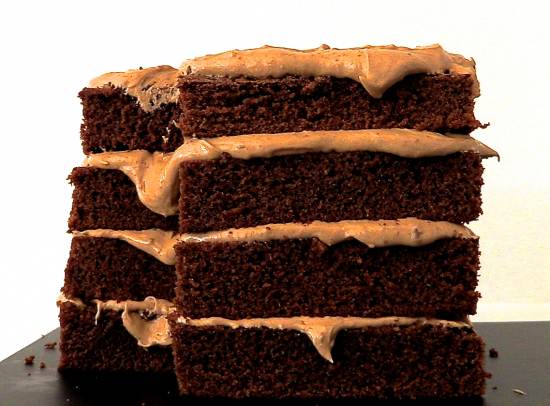 Cake board (mine is 12″ square).  If you want to make the garage wider you can – but you'll need a wider cake board.
tylose (optional)
Make the ganache and leave overnight at room temperature to firm up. Bake, cool and level the chocolate cakes.
Make one batch of buttercream, add the ganache and whip together.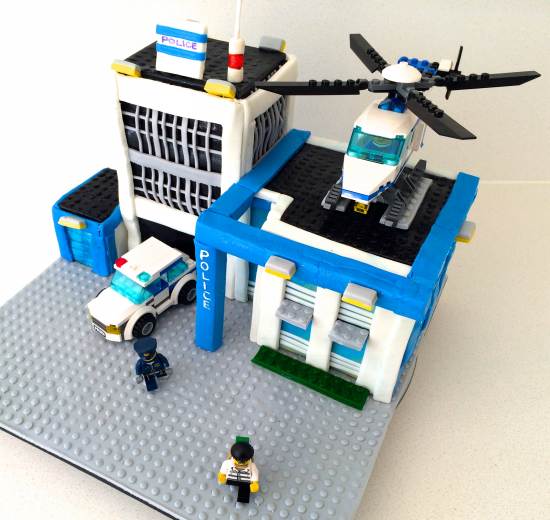 Use the reusable molding gel (you can get it online here) to make a lego texture mat (see video)
Place your top building templates on one of the tray cakes and cut around the shape of the first building.
Place it on a spare cake board or a plate and add a thin layer of frosting. Then continue to cut more layers and stack them up until it reaches the height of the side template for each building.
Then cover the whole thing in frosting and place in the fridge.
Base board: Place some light grey fondant over the cake board and roll it out. Add the texture mat over the top to make an imprint. Trim around the edges of the board.
Helipad: Take some more light grey fondant and use the texture mat to make an impression. Using a pizza cutter cut out a 7 x 8 rectangle. Then cut out a section from the top and base to make the H for the helipad.
Roll out some black and put the texture mat over the top. Cut out the shapes for the top of the building making them a little larger to allow for frosting and fondant on the sides (at least one dot wider and taller).
Grass: Make some green 2 by 10's for grass.
Lights: To make the lights roll out some yellow and grey fondant. Rub a little water on the yellow and add the grey on top.
Slice it into little pieces the size of a two by one.
Police Office building windows: Roll out some white and cut it out using the template for the front, side and the back. Mark off the centre line with a slight indent and add a vertical line too.
Using a dry brush add some gold luster dust in each window corner and then brush blue over the top.
Add some strips of white across the base of each window, trim to size.
Add a strip of blue and place it across the top of each window and another up between each window and along the edges.
Roll out some thin strips of white and add them to the top of the front fondant police station part.
Add a strip and a half a strip to the other smaller front bit and leave the last one plain.
Prison: Cut out some black fondant and brush with a little silver luster dust.
Add snakes of light grey and place across, using your template as a guide for where to put the bars. Place strips of grey down and thick strips of grey across. Cut a strip of white and add it across the top. Add another one along the bottom of the jail cell and then add a thinner strip down each side on two of the jail sides.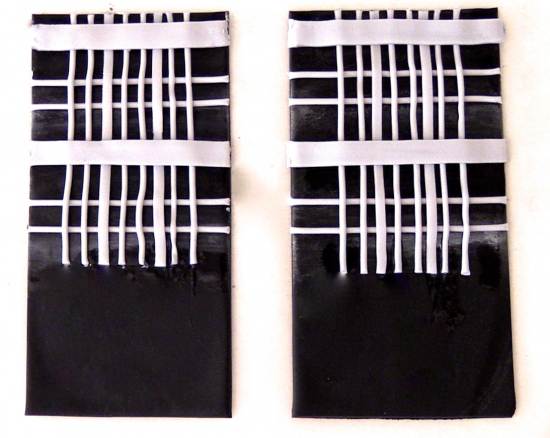 For the garage door. Cut a square of white then make indents across and down. Brush it over with blue luster dust and add a strip of white across the top.
Front thick blue bricks Roll out some blue using lego on the sides to guide how thick it needs to be.
Then cut some strips the width of a two block.
Using edible white food colouring write police down the front of the blue support.
Police Sign: Cut a square of white and put two blue strips across the top.
Assembly: See video for step by step instructions.
Photo Tip: Be sure to take a photo of the finished cake with your child before the party starts.  It is very hard to get a good photo when lots of kids are excitedly crowding around.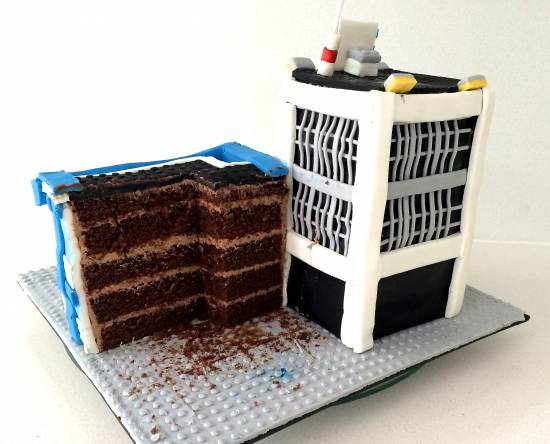 by Ann Reardon How To Cook That
2015
Subscribe below, for a new sweet video every Friday!
My Cookbook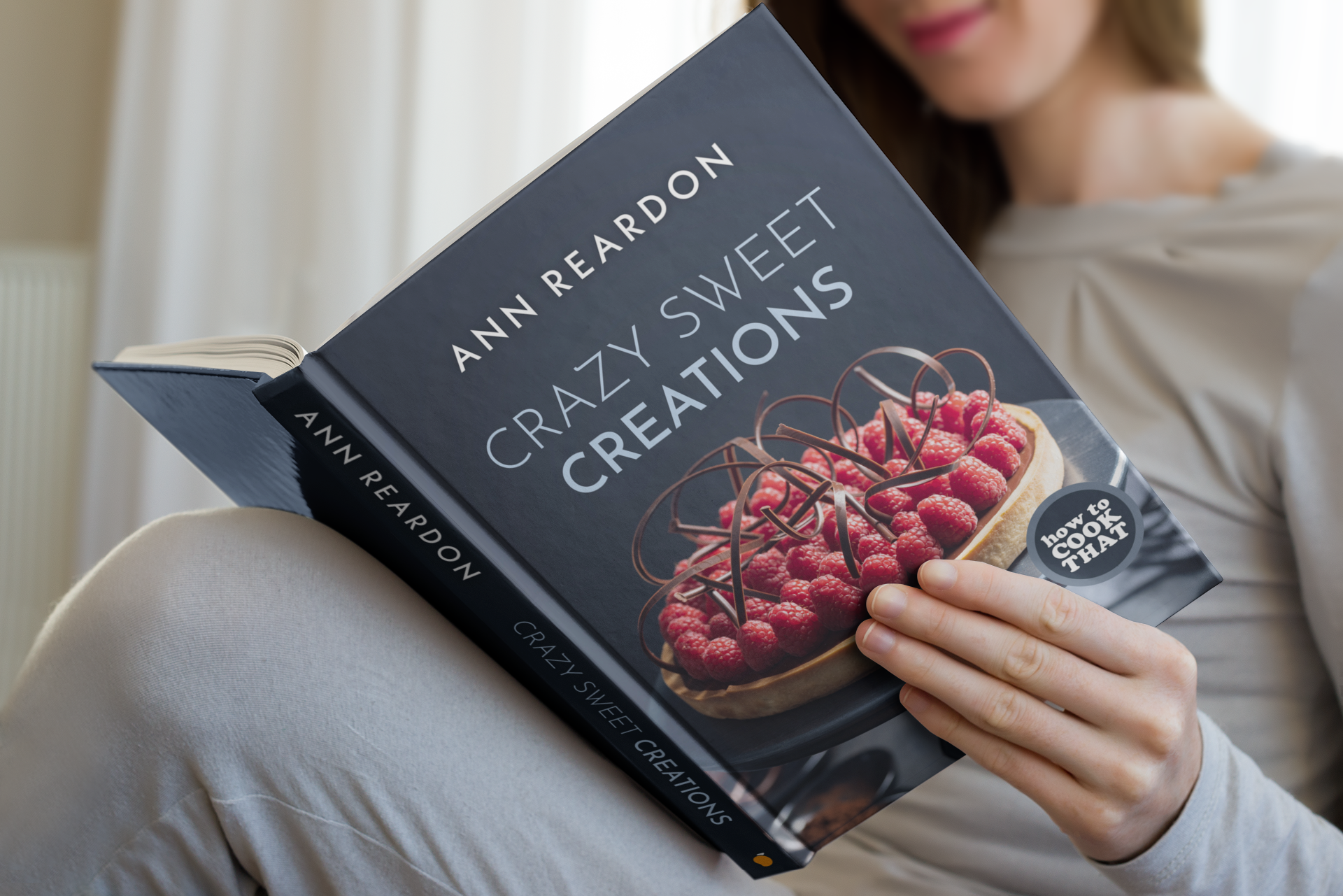 Stores that sell my book listed by country: http://bit.ly/ARcookbook All recipe quantities in the book are in grams, ounces and cups.