Louis Vuitton Hand Bag Cake
Inspired by the $20K Louis Vuitton alma bb alligator skin bag in lively pink, this handbag cake is a delicious and affordable alternative for those of us who would never dream of spending that much on an accessory.
I'm frequently asked about the process involved in designing a cake like this. First I decide what to make, often based on viewers' requests on my YouTube channel, which in this case was a Louis Vuitton bag. I go looking for lots of photos of the item or, better still, get my hands on the actual item if it's not too expensive (yes, $20K was well out of my price-range this time). Then I set about creating a 2D template – measuring and replicating each element and drawing them out on my computer. Once the template is ready, I print it out, calculate how much cake will be required and decide which baking tins to use. Finally once the technical side is out of the way, I get down to the actual baking and decorating.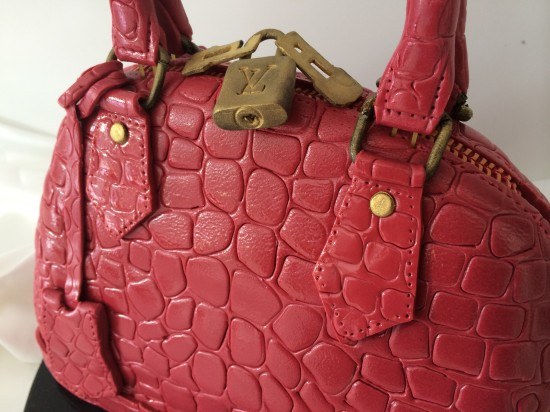 I always smile when people comment on YouTube that 'she must have made it hundreds of times before'.  The video you see is actually me making the cake for the first time. So who taught me to do a zip like that? Well I just looked at the zip on the bag and tried to figure out what else has evenly-spaced thin parts that could make those little indents?  I did some tests on scraps of fondant until I had it down. The aluminum flashing for the alligator pattern is a similar method that I used to make my Twitter and iPad cakes.  You can actually buy alligator pattern texture mats but they're expensive and most people will only make a cake like this once, so this is a much cheaper alternative. Hope you enjoy.
To make the cake you will need:
Hand Bag Cake Template with guides for cutting the cake and fondant pieces.
This cake is modeled on the size of the Louis Vuitton Alma BB which is 25 x 19 x 11 cm (4.33 inches) (Length x Height x Width) and will make about 35 serves.
If you want the larger Alma PM (32cm (12.6 inches) length), MM (36cm (14.17 inches)) or GM (38cm (14.96 inches)) you will need to enlarge the template and increase the quantities accordingly.
Double the quantity of the chocolate cake recipe baked in two trays 38cm (14.96 inches) x 25cm (9.84 inches) x 2.5cm (0.98 inches)
400g (14.11 ounces) red fondant
1400g (49.38 ounces) white fondant
200g (7.05 ounces) black fondant
To make the lively pink fondant mix the red and white fondant and add a tiny bit of yellow and blue gel colour.
edible gold luster dust
Shine spray (optional)
2 quantities of Chocolate Buttercream frosting mixed with 1 quantity of chocolate ganache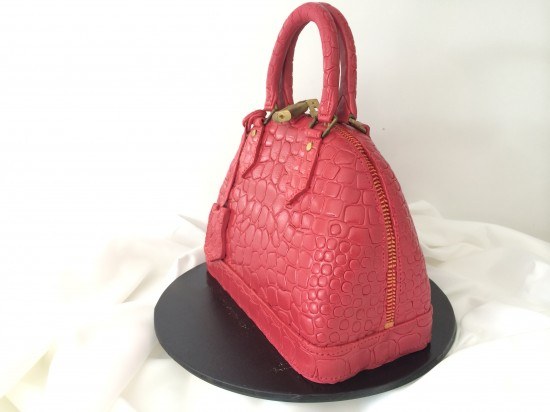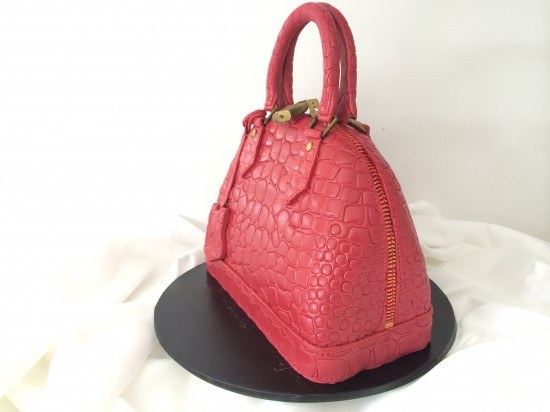 2014
by Ann Reardon How To Cook That