Youtube Cake & 100th video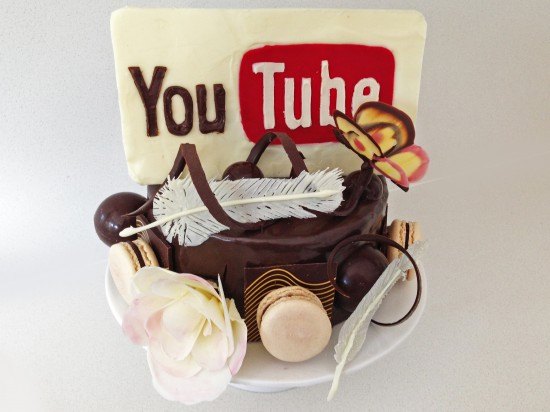 This week is my 100th YouTube video! So to celebrate I have made a very chocolatey youtube cake that incorporates some of my favourite chocolate recipes and inventions from the past two years. If you have been following for a while now you should be able to recognise many of the creations and even have a go at making your own over-the-top chocolate youtube cake.
A huge thankyou to everyone from around the globe who has subscribed to the blog and YouTube … never in my wildest dreams would I have imagined millions of friends EVERY MONTH would be watching, learning and smiling along as I bake away in my little kitchen.
Many people tell me that they like 'dropping by for a visit' even if they never plan to cook anything, which I think is a lovely complement. But there's also a growing army of culinary adventurers who love to bake along, enjoying both the eating and the kudos from admiring friends and family. So to celebrate YOU, my amazing subscribers, this week's video also includes a selection of 100 photos sent in to my Facebook and blog featuring the wonderful desserts, decorations and cakes that you've been whipping up.
Recipes used to make this youtube cake:
My favourite chocolate cake
chocolate cremeux
chocolate ganache
crispy base
chocolate glacage glaze
chocolate feathers
chocolate spheres
chocolate butterflies
chocolate transfer sheets
Macarons
chocolate roses
Bake your cakes in 20cm (7.87 inches) tin and split each cake into two layers. Make your crunchy base and place at the base of a lined 20cm (7.87 inches) round container, add a layer of cremeux followed by cake, then cremeux… Finish with a layer of ganache. Freeze overnight, remove from the container and glaze.
Add your chocolate decorations.
For the YouTube logo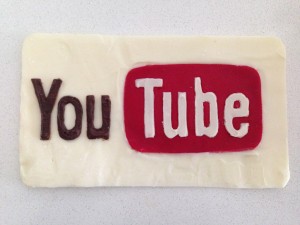 100g (3.53 ounces) white chocolate
50g (1.76 ounces) Dark chocolate
50g (1.76 ounces) Red fondant
To make the youtube logo cut the letters out of plastic or thick acetate. Place on a sheet of nonstick baking paper or aluminium foil and spread a layer of chocolate over the top. Allow to firm just slightly and then remove the stencil leaving the letters on the foil. Allow to set.
Cut the red shape out of fondant then spread tempered white chocolate around the red. Allow to firm slightly and add in the 'YOU' letters and trim the white chocolate to size. Add the 'Tube' letters onto the red fondant. Leave for the chocolate to set and the fondant to harden.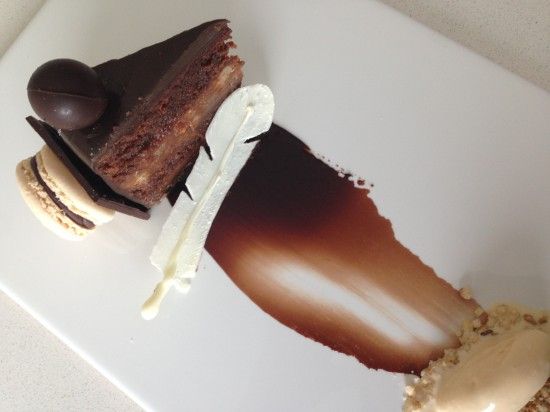 by Ann Reardon How To Cook That
2013
BIG ANNOUNCEMENT
I have been busy over the last year planning, writing and overseeing the photography and layout for my first ever cookbook! There are heaps of my favourite dessert recipes in there with a chapter on pastries, ice-cream, yummy cakes, artistic desserts and of course chocolate desserts. Each chapter has its own intro explaining the food science that you'll need to know for success every time. Booksellers where you can purchase your very own copy: http://bit.ly/ARcookbook
All recipe quantities in the book are in grams, ounces and cups.